South of Boston/Plymouth boasts state and local parks with fun activities all year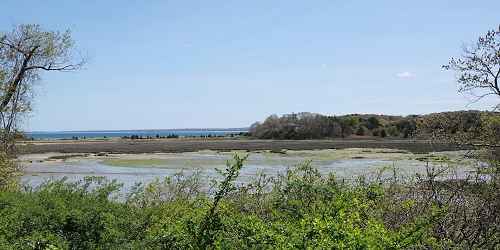 Route 3A Plymouth, MA Phone: 508-866-2580
Good for scenic landscapes and coastal views; hiking & walking, and fishing.
At Ellisville Harbor State Park, you'll encounter wildlife, the 18th-century Harlow family farmstead, salt marsh, meadows, and a red pine forest. This scenic site is a natural gem on the South Shore coastline. Picnic on the shore and watch the fishing boats go by, or go take a hike and discover the wide variety of natural wonders that await you in this serene spot. Watch for seals in fall and winter!
204 Union Street Hingham, MA Phone: 617-749-7160
Popular for for camping, fishing, hiking. Some campsites have electricity.
A half-hour drive from Boston, this park has wooded campsites, half of them with electricity. The park is popular with trailer campers; electric hookups, a dumping station, and potable water are all available. Camping and rest rooms are wheelchair accessible. Cyclists will find 12 miles of paved bicycle trails, and many miles of wooded bridle paths and hiking trails. Fishing is allowed in the Cohasset Reservoir. A boat ramp is provided for car-top boats, but no boat trailers. There are no swimming facilities at this park.Cross-country skiing is allowed.
Trail map.
Recommended hikes.
Season:
Camping Season is mid-May through mid-October
Long Pond Road Carver, MA Phone: 508-866-2580
Good for camping, hiking & walking, water activities, and natural science enthusiasts.
This 14,651-acre forest in Plymouth and Carver offers visitors plenty of opportunities to enjoy the great outdoors. Coastal plain "kettle" ponds are carefully preserved ecological gems. There are two Wildlife Management areas, which allow hunting in season, so be aware and wear bright orange in these areas when necessary. There are five camping sites. The College Pond day-use area is a prime spot for a picnic, a dip in the cool waters, fishing, or paddling. There are also 13 miles of hiking trails which take you through the deep woods.
Scusset Beach Road Sandwich, MA, 02563 Phone: 508-888-0859
Trailer camping; salt water fishing; biking along Cape Cod Canal
Scusset Beach State Reservation is on Cape Cod Bay at the east end of the Cape Cod Canal. Best for swimming and camping, particularly trailer camping. The camping area has 98 sites, and it is used heavily by trailer campers. Visitors to this reservation love to watch the variety of boats and ships passing through the canal. For salt water fishermen, there is fish pier, a breakwater, and two miles of frontage along the canal. A picnic area and bicycling along the canal are also available.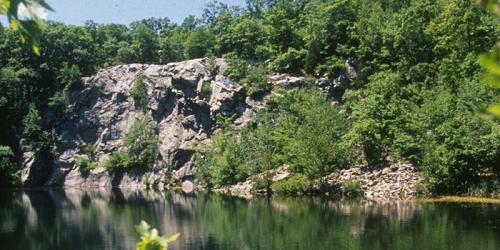 Slab Bridge Road Assonet, MA Phone: 508 644-5522
Walking & hiking, winter sports, mountain biking, horseback riding, fishing
On your journey through this large, wooded area, you'll come upon brooks and streams, the rocky silhouette of the legendary Chief Massasoit at Profile Rock, a cranberry bog, and a watershed area. The day use area is near the entrance to the forest and contains a wading pool, picnic sites, open fields, and restrooms. Be aware of hunters, dog sleds, horses, mountain bikers, and snowmobiles in season.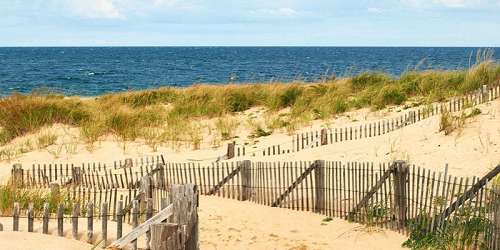 Route 88 South Westport, MA, 02790 Phone: 508-636-8816
Good for boating, fishing, swimming, and camping.
Horseneck Beach State Reservation is a popular spot for campers and sunbathers. Its main feature is an ocean beach for sailing, swimming, or just soaking up the sun. There is ample campground and amenities like showers, restrooms, and dumpsters. Birdwatchers flock to the beach and salt marsh to catch glimpses of unique New England bird species. Swimming is permitted only at designated beaches. Pets are not allowed at swimming areas.
Season: mid-May - mid-October