South of Boston/Plymouth welcome guests to historic homes and sites
137 Warren Avenue Plymouth, MA, 02360 Phone: 508-746-1622
Open: Mid-March through Thanksgiving; daily, 9 a.m.-5 p.m.
Plimoth Plantation is a world class living history museum located in Plymouth. Situated along the Eel River wetlands overlooking Cape Cod Bay, the 100-acre main campus presents a recreated 17th English and Wampanoag Native American communities. History comes alive with modern relevance for visitors of all ages at this immersive museum featuring costumed interpreters and modern day artisans throughout our award-winning exhibits, including the 17th Century English Village, Wampanoag Homesite, Craft Center and Mayflower II docked at the State Pier in picturesque Plymouth Harbor. Exhibits are open from late March through the end of November after the Thanksgiving holiday.
134 Court Street Plymouth, MA, 02360 Phone:
A Landing Site and a Touchstone of American History
A band of brave English people stepped off the tiny ship Mayflower in 1620 near present-day Plymouth, Mass. Oddly, maybe, a rock that they sighted from offshore has become a solid metaphor for the Pilgrims and their ideals of freedom and self-determination that became the foundation of American political life. The 400th anniversary of the Pilgrims' arrival will be celebrated through 2021 with exhibits, festivals, arts and educational events. A traveling exhibit about the Native Wampanoag people, who greeted the English and helped save their lives in their first winter, is now underway. Coming up are Embarkation and Youth Festivals, Sunrise and Thanksgiving celebrations, and many other opportunities for Americans to re-learn the idealism and physical grit of a legendary band of our founders.
Plymouth Rock
Water Street Plymouth, MA Phone:
The real thing. Plymouth Rock commemorates the site where the Pilgrims first came ashore in 1620.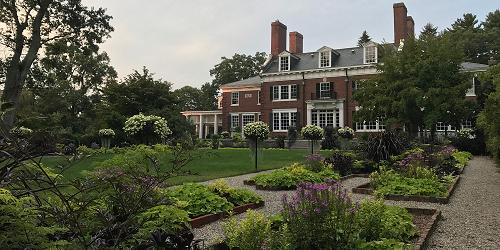 2468B Washington Street / Route 138 Canton, MA, 02021 Phone: 781-821-2977
sprawling gardens on an historic estate
Once a Colonial farmstead, the property was transformed into a country estate. The property includes a country house, landscaped grounds, and a complex of farm and estate buildings, manicured lawns, a walled garden, and a brick-edged garden. Visitors may explore more than 60 acres of meadow and woodland along three miles of trails.
Hours: Year-round, daily, sunrise to sunset. No charge.
Harlow Old Fort House
119 Sandwich Street Plymouth, MH Phone: 508-746-0012
This Pilgrim home was built in 1677.
Paragon Carousel
205 Nantasket Avenue Hull, MA Phone: 617-925-0472
A working antique carousel with authentic wooden horses. Visitors ride to music on a 1928 Wurlitzer organ.
Hours: April 1 to June 19, weekends, 11 a.m.-5 p.m.; June 19 to Labor Day, daily, 11 a.m.-9 p.m.; Labor Day to Halloween, Friday, 4 p.m.-dusk and weekends, 11 a.m.-dusk. Closed Halloween to late March.
$2.50 per ride
Information: www.paragoncarousel.com
Alden House Historic Site
105 Alden Street Duxbury, MA Phone: 781-934-9092
Two of the Mayflower's most famous passengers, John and Priscilla Alden, lived in this home in the 17th century.
Hours: June 1-September 30; Wednesday-Saturday, noon-4 p.m.
Admission: Adults, $5; children under age 18, $3.
Information: www.alden.org/
Mayflower II
State Pier Plymouth, MA Phone: 508-746-1622
A reproduction of the original Mayflower, the ship in which the Pilgrims journeyed to America. Visitors will get a sample of what life was like during their voyage in 1620.
Hours: Mid-March-end of October, plus Thanksgiving programming.
Admission: Adults, $10; children age 6-12, $7; seniors, $9. Combination tickets for Plimoth Plantation also are available.
Information: http://bit.ly/iYXlFA
Battleship Massachusetts
Battleship Cove, 5 Water St Fall River, MA Phone: 508-678-1100
The battleship Massachusetts, submarine Lionfish, destroyer Joseph P. Kennedy Jr., are among the World War II vessels docked at this location. Visitors will enjoy tours of the vessels and related exhibits.
Hours: Year-round, daily, 9 a.m.-5 p.m.
Admission: Adults, $16.50; seniors, $14.50; children aged 6-12, $10; children under age 6, free.
Information: www.battleshipcove.com/
Plimoth Grist Mill (formerly Jenney Grist Mill)
48 Summer Street Plymouth, MA Phone: 508-746-1622
A replica of a grist mill built on this site in 1636 and used by the Pilgrims to grind corn for flour. Visitors can see the water wheel turning and watch the miller grinding grain. Owned and operated by Plimoth Plantation.
Hours: Contact Plimoth Plantation for hours of operation
Information: www.plimoth.org/mill
Rotch-Jones-Duff House and Garden Museum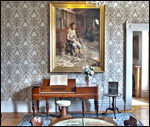 396 County Street New Bedford, MA, 02740 Phone: 508-997-1401
This 28-room Greek Revival mansion was built for whaling merchant William Rotch, Jr. in 1834. The house and formal gardens chronicle 150 years of economic, social and domestic life in New Bedford. Greek Revival in style, it was designed by architect Richard Upjohn. The gardens are well-planned and historically interesting. Admission includes a 30-minute self-guided tour of the Museum and access to the exterior grounds and gardens.
Hours: Monday-Saturday, 10 a.m.-4 p.m.; Sunday, noon-4 p.m.
Admission: Adults, $6; seniors over age 65, $5; students, $5; children age 12 and younger, $3.
Information: www.rjdmuseum.org
Mayflower Society Museum
4 Winslow Street Plymouth, MA, 02360 Phone: 508-746-2590
The museum grounds host the 18th-century dwelling built by Edward Winslow. Behind the mansion are the offices and library of the General Society of Mayflower Descendants. The property overlooks a snug harbor where a reproduction of The Mayflower is moored.
Hours: Open occasionally; call ahead for hours of operation.
Information: www.themayflowersociety.com/museum
Careswell and Webster streets Marshfield, MA Phone: 617-837-5753
Built in 1699, this home served as Daniel Webster's law office in the 18th century. Of particular interest it the carriage house, featuring a stagecoach, phaeton and brougham. Guided tours cover the Winslow house and herb garden. On some dates the carriage shed and blacksmith shop may be open. Tours last one hour.
Hours: Early May-late October. Call ahead to arrange a tour.
Admission: Donations requested.
Fall River Carousel
At Battleship Cove, 5 Water Street Fall River, MA Phone: 508-678-1100
On the Fall River waterfront, this carousel was built in the 1920s and placed in Lincoln Park. It has been fully restored. It is located in a Victorian pavilion and has nearly 50 carved horses moving to classic carousel organ music.
Hours: Open seasonally.
Admission: $1 per ride or $5 for 7 rides
Information: www.battleshipcove.com/carousel.asp
Martin House Farm
22 Stoney Hill Road at Route 6 North Swansea, MA Phone: 508-379-0376
The Martin House Farm is a rare example of an 18th and early 19th century farm which still retains the character of its original setting. It consists of the house, two barns and cultivated fields surrounded by dry stone walls and woodlands. A rose garden is a stunning feature.
Hours: Open for tours on Sundays,June 10-October, 1-4 p.m.. Group tours can be arranged by appointment.
Admission: Fee is charged.
Information: www.nscda.org/ma/martin_house_farm.php
Forefathers Monument
Allerton Street Plymouth, MA Phone: 508-746-1620
Monument to the pilgrims made out of solid granite. The largest of its kind in the United States. Free admission.
La Salette Shrine
947 Park Street, Route 118 Attleboro, MA, 02703 Phone: 508-222-5410
These historic statuary gardens were designed as areas for meditation and worship. During the Christmas holiday a unique and decorative light display is offered. Information: www.lasalette-shrine.org