Farmers markets in the South of Boston/Plymouth are rich with local foods, culture
Plimoth Plantation, 137 Warren Avenue Plymouth, MA Phone:
This robust and lively outdoor celebration of seasonal food features local and organic vegetables, fruits and herbs. Artisan breads and baked goods, goat cheese, honey, eggs, cut flowers, jams, sauces, soaps and more are available here. Rain or shine.
Winter Indoor Market Dates and Hours: November to May, second Thursday of each month; 2:30-6:30 p.m.
Summer Market Dates and Hours: June-October; Thursdays, 2:30-6:30 p.m.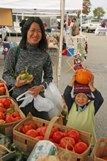 Hingham Beach Parking Lot, 95 Otis Street (Route 3A) Hingham, MA Phone:
Hingham Farmers Market is the third oldest in Massachusetts, and vendors here sell fresh produce, baked goods, flowers, plants, eggs, jam with native strawberries, granola mix, live lobsters, jewelry, pottery, and furniture.
Dates and Hours: May 6-November 18 on Saturdays, 10 a.m.-2 p.m.;
John Hancock Municipal Parking Lot, Chestnut Street Quincy, MA Phone: 339-225-2607
This rain-or-shine market includes three farms, three bakers, one local nursery, one dairy and a community table offering locally-grown surplus fruit and vegetables from Quincy gardeners.
Dates and Hours:June 23-November 17 on Fridays, 11:30 a.m.-5:30 p.m
Old Rochester Regional High School 135 Marion Road Mattapoisett, MA Phone: 508-498-9900
This community market brings together local growers and producers of food and gifts, like honey, handmade kid's clothing, and more.
2016 Dates and Hours: June 7-October 18 on Tuesdays, 3-7 p.m.;