Great campgrounds and state parks welcome you to South of Boston/Plymouth
Among the choices of lodgings and accommodations South of Boston, Massachusetts, are public and private campgrounds. Massachusetts campgrounds are operated at many of the dozens of state forests, state parks, and reservations. A stay at an MA campground at Horseneck Beach State Reservation, Massasoit State Park, Miles Standish State Forest, Wompatuck State Park is a wonderful and inexpensive outdoor-oriented vacation for children and families, and people who love the beach, fishing, swimming, boating, and hiking. Just a step away from Boston, Cape Cod, and Providence, Rhode Island, this region is home to Plymouth and Plymouth Rock, landing place of the Mayflower, and the wonderful Plimoth Plantation, a living history museum. Other highlights of the region are the city of New Bedford, a historic old whaling capital, and Battleship Cove, in the city of Fall River, and where visitors can explore a Naval warship.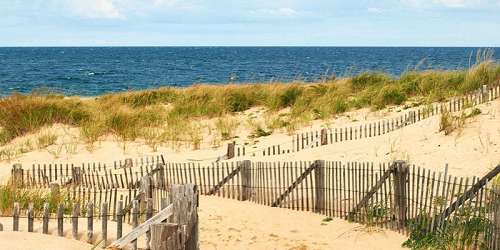 Route 88 South Westport, MA, 02790 Phone: 508-636-8816
Good for boating, fishing, swimming, and camping.
At the eastern end of the Reservation lies a 100-site campground near Gooseberry Neck. Amenities include restrooms, water, dumpster, public telephone, and parking area. See
Horseneck State Reservation
for full description of this park.
204 Union Street Hingham, MA Phone: 617-749-7160
Good for camping, with many electrified campsites. Also: fishing, hiking, and walking
Wompatuck State Park has 262 wooded campsites; 140 of them offer electricity. The park is very popular with trailer campers: electric hookups, a dumping station, and potable water are all available. See
Wompatuck State Park
for full description of this park.
Long Pond Road Carver, MA Phone: 508-866-2580
Good for camping, hiking & walking, water activities, and natural science enthusiasts.
Camping at Barretts Pond, Charge Pond, Curlew Pond, and Fearing Pond. Amenities include showers and dumping sites. See
Myles Standish State Forest
for full description of this park.
Scusset Beach Road Sandwich, MA, 02563 Phone: 508-888-0859
Best for trailer camping; salt water fishing; bicycling along Cape Cod Canal