South of Boston/Plymouth beaches offer excellent sand, swimming and water sports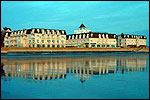 45 Hull Shore Drive Hull, MA, 02045 Phone: 781-925-4500
Stay, Play and Relax Just Steps From the Beach
Situated on a 3-mile stretch of sandy white beach stands the Nantasket Beach Resort, tall, white and brilliant with a sense of New England charm felt from the moment you arrive. Close to Boston, Close to the Cape, Hull is your gateway to historic Plymouth, and to New England's popular tourist attractions and historic sites. Here you can stay and play just steps from the beach - with all the fun, sun, and activity.

Enjoy spectacular sunrises and views of three of Boston's historic lighthouses. Full service amenities include Concierge service, our on-site restaurant, indoor pool, full fitness club, oceanfront conference center, and an array of excellent restaurants and attractions within walking distance, scattered among eclectic shops and boutiques.
Scusset Beach Road Sandwich, MA, 02563 Phone: 508-888-0859
Best for trailer camping; salt water fishing; bicycling along Cape Cod Canal
At the east end of the Cape Cod Canal, Scusset Beach State Reservation is popular for swimming and trailer camping. There is a two-mile frontage along the canal as well as a picnic area. People enjoy watching the variety of boat traffic up and down the canal. See a full description of
Scusset Beach State Reservation.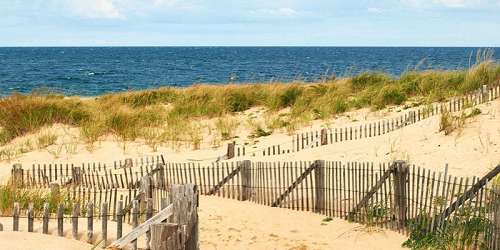 Route 88 South Westport, MA, 02790 Phone: 508-636-8816
Good for boating, fishing, swimming, and camping.
Horseneck Beach State Reservation has handicap-accessible beaches. At the western end of Buzzards Bay lies a two-mile beach area. Pets not permitted on beach. See
Horseneck Beach State Reservation
for full description of this park.
Nantasket Avenue Hull, MA Phone: 781-925-1777
Ocean beach; open year-round; life guards on duty June to September
Nantasket Beach has been a popular summer destination since the 1850s. The reservation covers 25 acres across more than a mile of ocean shoreline. Riding the Paragon Carousel, band concerts and public dance lessons are popular . Open year-round, dawn to dusk. Lifeguards on duty from late June to early September.
Daily parking fee is $10 for Massachusetts-registered vehicles and $12 for out-of-state vehicles
Onset Avenue Wareham, MA Phone:
Sandy beach on Buzzards Bay; concessions and life guards
Onset Beach, on the warm and sheltered water of Buzzard's Bay, is smooth and sandy. Prepare to share the beach with lots of other people, because it is a popular one. There is a bandstand for summer events. Lifeguard, food concession, bathrooms, charge for parking.
Warren Avenue (Route 3A) Plymouth, MA Phone:
The entrance to Plymouth Beach is just past Plimoth Plantation (137 Warren Avenue). Life guards through the summer but not past Labor Day. There are restrooms and a snack bar at the beach. From April 1 through September 30 leashed dogs will be allowed on Ryder Way and the beachfront from the main parking lot north to the day parking area, excluding areas closed for shorebird nesting.
Fees: Weekdays, $10; weekends, $15
Canal Street Duxbury, MA Phone:
Oceanside barrier beach; parking fee; bathhouse and services
Duxbury Beach is a sand barrier six miles in length, extending from Marshfield to Gurnet Point and Saquish (part of Plymouth). Life guards, bathhouse, restrooms, showers, ice cream, snacks, and Blakeman's restaurant.
Access"
People with parking stickers (resident and oversand) should go to the beach via the Powder Point Bridge in Duxbury. People who want day parking at the Duxbury Beach Park should go through Marshfield and take Canal Street to Gurnet Road in Duxbury.
Parking Fees:
Daily fee is $15 per car. Non-resident parking stickers for the season are $294-$325. Contact
Town of Duxbury.
Hours:
Daily, 9 a.m.-8 p.m.