South of Boston/Plymouth has many lovely wedding locations
180 Water Street Plymouth, MA, 02360 Phone: 508-747-4900 Toll-Free: 866-719-8185
Create an extraordinary wedding in a historic corner of New England
Stop worrying. Hotel 1620 has the size -- and the courteous staff has the expertise -- to handle the most ambitious celebration or wedding, with 15 function rooms, as well as a bar and breakfast restaurant on-site. Customize your menu and then stay worry-free about dining details, which can be left to our professional catering staff, and benefit from our experience with countless happy weddings, receptions and special celebrations. You and your guests will be well taken care of, with dry cleaning service and laundry facilities for practical matters as well as hot tubs and sauna for enjoying yourselves. Mimosa in hand, you can lounge by the spacious pool between laps. Whatever your needs, rest assured they will be satisfied.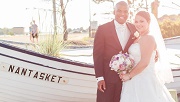 45 Hull Shore Drive Hull, MA, 02045 Phone: 781-925-4500
A wedding to remember along Boston's south shore
This seaside resort is the perfect romantic setting for a New England waterfront wedding. Set just minutes from Boston at the gateway to many of New England's most popular attractions, you'll celebrate your special day on a 3-mile stretch of sandy white beach with breathtaking views of three of Boston's historic lighthouses. The resort's expert management team will ensure that your dream wedding is everything you hoped for from your first inquiry to your first dance in the Surf and Nantasket Ballroom with its panoramic floor to ceiling views of the Atlantic. You and your guests will enjoy tastefully appointed guest rooms, an indoor pool and fitness club and within walking distance are several fine restaurants, eclectic shops and boutiques.