Gardens in North of Boston/Merrimack Valley
572 Essex Street Beverly, MA, 01915 Phone: 978-921-1944
From 1916 to 1979, Long Hill was the summer home of author Ellery Sedgwick and his first wife, Mabel Cabot Sedgwick, an accomplished horticulturist and gardener. Five acres of cultivated grounds are laid out in a series of separate garden rooms and accented by garden ornaments, structures, and statuary. There is a pleasant but not long (1.2-mile loop trail) in the nearby woodlands, filled with spring pools and imposing boulders.
Hours: Year-round, daily, sunrise to sunset. No charge.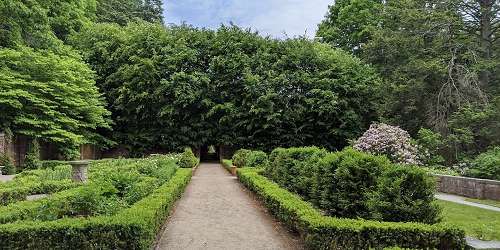 Curzon Mill Road Newburyport, MA Phone: 978-465-7223
Magnificent gardens of mountain laurel and, in May and June, rhododendron and azalea. See
full description
of Maudslay State Park.