North of Boston/Merrimack Valley has lots of fresh and salt water fishing locations
Woodland Road Winchester, MA Phone: 781-322-2851 or
Natural refuge set on over 2,000 acres. Visitors here can enjoy biking, hiking and cross-country ski trails. Canoeing, fishing, and swimming areas are offered, as well as a visitor's center with historic information.
1 Jackson Street Lawrence, MA Phone: 508-794-1655
Park describes the history of this early industrial city and its immigrant workers
This is the place to learn about this city's industrial and immigrant history in the mills and boarding houses where generations of immigrants toiled. The site's neighboring Pemberton Park, off Canal Street near the Central Bridge, is popular for fishing.
See
full description
of Lawrence Heritage State Park
Beach Road, Route 1A Salisbury, MA, 01952 Phone: 508-462-4481
Fantastic, sandy ocean beach with all waterfront sports; popular for trailer camping
This gorgeous ocean beach and reservation welcomes fishermen among other waterfront activities like swimming, boating, and paddling. The south end of the trailer campground has two boat ramps on the Merrimack River.
See full description of
Salisbury Beach State Reservation.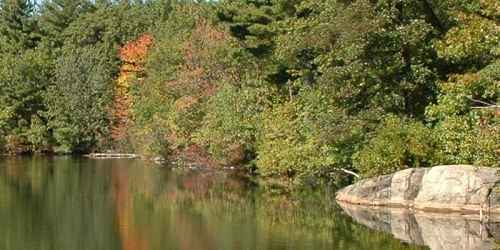 177 Forest Street Saugus, MA Phone: 781-233-0834
Large forest with 2 freshwater lakes; swimming; fishing; walking trails; extensive views
Visitors enjoy fishing at Pearce or Silver lakes in this vast space of hardwood forest and hiking trails. See
full description
of Breakheart Reservation.