North of Boston/Merrimack Valley beaches offer excellent sand, swimming and water sports
Off Route 127A (Thatcher Road) to Long Beach Road Gloucester and Rockport, MA Phone:
Beach is long, flat and sandy with a easterly view that includes the two lighthouses on Thatcher's Island. Beach crosses the border of Gloucester and Rockport. From Gloucester, go past Good Harbor Beach to the fork at Rockport Road. Near here are some small private paid parking lots a short walk near the beach. There is no public parking on the Gloucester end. From Rockport, take Route 127A to Seaview Street and the parking lot there. Rockport beach sticker is required here. Beach has life guards.
Fee: Rockport parking sticker is required. Buy it at the Rockport Chamber of Commerce (Main Street) or Rockport Town Hall (Broadway). It is $25 per season.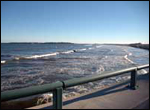 Lynn Shore Drive Lynn, MA Phone: 781-485-2803
Four miles of waterfront offers swimming at Long Beach and King's Beach. A public walkway for walking, jogging, and bicycling extends for two miles across the reservations, facing Nahant Bay. Lots of packed sand is visible and accessible at low tide at King's Beach and Long Beach on Nahant Bay. Visitors also enjoy the sand dunes along Long Beach and tide pools at Red Rock Park. Open year round, dawn to dusk
The property also has ball fields, racquetball and tennis courts, a play area, a visitor center, a bathhouse Very large parking lot at Long Beach requires a fee May through September, from 8 a.m. to 6 p.m.. On-street parking on Lynn Shore Drive is close to Red Rock Park and King's Beach.
Directions: Lynnway (Rt. 1A) to Carroll Parkway to Nahant Rotary and, then, either Nahant Causeway to boat launch and Long Beach at Nahant Beach Reservation, or, Lynn Shore Drive to Red Rock Park and King's Beach at Lynn Shore Reservation.
Route 127 (Western Avenue) to Hough Avenue Gloucester, MA Phone:
This is a large, friendly park with walking paths, ball fields, bathrooms, and room for picnics. The park has two beaches.
Half Moon Beach
is a small quiet beach with good swimming waters. Lots of boat traffic to atch. Life guards on duty daily, 9 a.m. to 5 p.m. from Memorial Day to Labor Day. Bathrooms and picnicking areas are nearby. Parking costs $10 on weekdays and $15 on weekends and holidays. The beach is handicapped accessible with a concrete ramp to the sand.
Cressy's Beach
is sand and rocks and less crowded by Half Moon. Less good than Half Moon Beach for swimming and better for solitude, reading, and walking.
Fees:
Parking costs $10 on weekdays and $15 on weekends and holidays. Stickers for the season also my be purchased from the
town of Gloucester.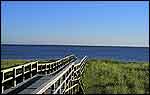 Argilla Road Ipswich, MA, 01938 Phone: 978-356-4354
The four miles of white sand of Crane Beach form one of the most picturesque swimming beaches in all of New England, and is also among the world's most important nesting sites for the threatened piping plover. Rustic elevated boardwalks protect an extensive dune habitat complex. In-season visitors will find lifeguards and rangers, bathhouses with toilets and changing areas, outside showers, picnic tables, bicycle racks, the Crane Beach Store, and water fountains. Voted "Best Beach" by Best of Boston three years in a row.
119 Beach Street Manchester-By-The-Sea, MA Phone: 978-526-2019
Singing Beach is about one-half mile wide. It has a bathhouse and parking for 120 vehicles. Open from Memorial Day to Labor Day.
Beach Road, Route 1A Salisbury, MA, 01952 Phone: 508-462-4481
Fantastic, sandy ocean beach with all waterfront sports; popular for trailer camping
This very beautiful ocean beach stretches almost 4 miles along the Atlantic. People flock to this lovely place to do ocean swimming, boating, fishing, and trailer camping. The property has a large parking area for day visitors, bathhouses for swimmers and sunbathers, comfort stations, boardwalks over the dunes, a pavilion and a playground.
See full description of
Salisbury Beach State Reservation.