North of Boston and Salem are filled with wonderful things to do and see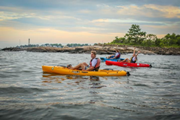 40 Doaks Lane Marblehead, MA, 01945 Phone: 781-990-3552
Harbor fun on the water all summer long
Kayak and Standup Paddle Board FUN for the whole family at Boston's North Shore hidden gem Little Harbor Boathouse! Just 15 miles north of Boston, spend the day at our pristine beach, paddle around Little Harbor Islands and Marblehead Harbor and stroll our historic seaside village shops & cafes. Choose from pedal, paddle and sail Hobie Kayaks (singles & tandems) and Standup Paddle Boards. Hourly rentals and Groups of up to 50 paddlers are welcome. Summer Adventure Program (ages 8-14), Guided Tours and Kayak Fishing Guides. Helping people have unforgettable on-water experiences is what we're all about.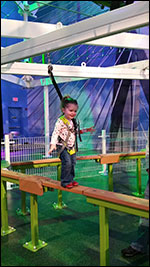 50 Walkers Brook Drive Reading, MA, 01867 Phone: 781-942-9816
Exciting indoor ropes course adventure in Reading
Jordan's BeanStalk™ Adventure Ropes Course in Reading Massachusetts, gets you moving from one activity to the next to test your agility and balance. Make your way across this one-of-a-kind sky ropes course and head up 12 or 24 feet onto zig zag beams, crisscross angled rope ladders, and spaghetti hand lines. Walk the plank at 24 feet then travel out on a 6 inch standalone beam, pivot and return. Enjoy two levels of challenging ropes course, 30 exciting activities and for young adventurers, there's BeanSprout™, a specially designed course for children 2-7. Adventurers must be at least 48" tall or 42" if accompanied by a chaperone. Groups of 10 or more paying on the same transaction receive a 10% discount.
149 Pond Street Stoneham, MA, 02180 Phone: 617-541-5466
A century's old great place to visit
This popular century old year round attraction sits on 26 acres and is home to exotic animals from around the world. You'll meet "Major" the Polar bear and an arctic fox, bald eagle, black bear, lynx and reindeer in Yukon Creek. There's Boston's only white-cheeked gibbon exhibit featuring monkeys, lynxes, snow leopards, Mexican gray wolves, river otters, and the capybara. There's, flamingos, tamarins, sloths and Meerkat in Windows to the Wild. See jaguars, cougars, coati and falcon at the Treasures of the Sierra Madre exhibit. The Safari Grill offers kid friendly food and you'll find gifts and souvenirs at the Peacock Place Gift Shop. Opening Thanksgiving evening is Zoolights that runs through the end of the year.
61 Market Street, Unit 1C Lowell, MA, 01852 Phone: 978-459-6150
Great things await in the Greater Merrimack Valley
There's no end in sight to the great things waiting for you just 30 minutes north and west of Boston In the scenic and vibrant Greater Merrimack Valley. A singular leisure and business travel destination the valley offers charming towns and cities each with their own unique flavor, not-to-miss attractions and activities, and a history dating from the very beginnings of the nation. There's fun to be found in fairs and festivals, sightseeing adventures, shopping, sports and entertainment; things to learn in museums, educational tours and programs; and health benefits to savor in spas and retreats. Get out into the Valley's state and national parks, watch a concert, hold a meeting, shoot a film. You can do it all here.
50 Ferncroft Road Danvers, MA, 01923 Phone: 978-777-2500
The Largest Indoor Water Park in New England!
Make a splash with the family at the largest indoor water park in Massachusetts. A tropical indoor paradise where it's always 84 degrees and open every day for every kid of every age. There are water slides, a lazy river, a splash pad and dip-in-the- theater arcade, private, cozy cabanas and lots more where they came from. Hold one of a kind birthday parties, group swims, or even buy out the whole park for a day. Then enjoy a night at the Doubletree Hotel Boston North Shore adjacent to the Park with luxurious bedding and jumbo pillows, flat screen television, on-demand movies and premium cable channels. Look for Coco Key Discounts and packages that include overnight accommodations, water resort access, and breakfast in the family-friendly TradeWinds Restaurant.
Plum Island
is an 11-mile long barrier Island off the shore of
Newburyport
, with miles of public beaches and the Parker River National Wildlife Refuge, home to over 800 species of birds, plants and animals.
Sandy Point State Reservation
on the southern tip of Plum Island is a wonderful place to swim or explore the life of the tide pools (kids love this!).
the Audubon Society's Joppa Flats Education Center
is located on Plum Island Turnpike on your way to the island. Find chances to join bird watching tours and other educational programs for adults or the whole family. Join a kayaking excursion with
Plum Island Kayak
– entrancing!
You will find a unique art space and a place to buy a perfect memento of your
Marblehead
trip at
Hestia Creations
, off the main thoroughfares at 13 Hawkes Street in Marblehead. Hestia artists build handmade and custom-designed commemorative gifts and home décor accessories. Popular items are the VillageScape building miniatures, showing buildings in Boston, Salem, Marblehead or Swampscott, and AmeriScape ornaments. Also popular are ceramic items, Nativity sets, and Judaica. Ceramic pieces can be personalized for a special gift for important occasions in the lives of family members and friends. See
artists at work
. Open daily except Sundays. 781-639-2727
A visit to the
Essex Shipbuilding Museum
in
Essex
is a wonderful way to be immersed in the shipbuilding culture of Massachusetts. The museum tells the story of a New England village that built more two-masted wooden fishing schooners than any other place in the world. Exhibits are housed in the old Essex Central School House, built in 1835. Features include antique tools, photographs, documents, and exhibits. Tours include video presentations and hands-on activities. A gift shop offers ship plans, maritime gifts. Hours: June-October, Wednesdays-Sundays, 10 a.m.-5 p.m.; at other months, weekends, 10 a.m.-5 p.m. 978-768-7541
Garden in the Woods
at 180 Hemenway Road in
Framingham
is the botanic garden of the New England Wild Flower Society. Fifteen hundred native plants live throughout the gardens, along with two miles of paths meander under a canopy of trees past a pond, a wooded bog, springs, and a brook. You can come for guided tours and for classes and other educational opportunities. Bring or buy a boxed lunch for a picnic and browse the Garden Shop, with a charming selection of native plants, books, tools, gifts, and snacks. Check out the
family programs
, too. 508-877-7630.
deCordova Sculpture Park & Museum
at 51 Sandy Pond Road in
Lincoln
is a significant premier destination for contemporary art and sculpture, a mere 20 miles west of Boston. The vast grounds, covered with lawns and copses of woodlands, are the backdrop to a constantly changing landscape of large-scale, outdoor, modern and contemporary sculpture. Indoor space in the museum building also has exhibit space. The park and museum offer year-round activities, like snowshoe tours, yoga outdoors, nature tours, artist conversations, and screenings. Enjoy revolutionary artistic visions and stretch your muscles outdoors. Phone: 781-259-8355