Central Region boasts state and local parks with fun activities all year
7 Industrial Park Road West Sturbridge, MA Phone: 508-347-9316
Swimming, fishing, & picnicking next to reservoir. Boat ramps. Wheelchair access
This park is adjacent to the East Brimfield Reservoir. The public may use the park year-round for fishing, swimming, picnicking at tables near the lake, and boating of all kinds. Life guards are on duty during the summer. Boating ramps are on Route 20 – outside the park – and are managed by the U.S. Army Corps of Engineers. The park is mostly wheelchair-accessible, on mostly paved sidewalks, Restrooms are available. There is a very large parking area.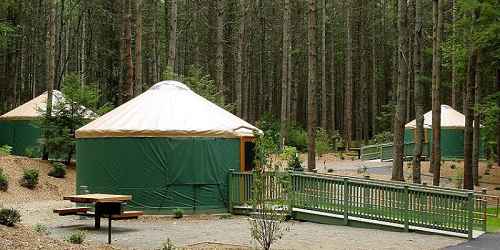 86 Winchendon Road Baldwinville, MA Phone: 508-939-8962
Camping, water sports, hiking
Otter River State Forest is a popular camping and day-use property. It encompasses the Lake Dennison Recreation Area, which has swimming, canoeing, and fishing areas. The state forest also has developed facilities on Beaman Pond. There are 85 campsites, including yurt camping; a swimming beach; a ball field; and picnic areas. Trails for hiking and cross-country skiing are available.
Season & Hours: May through October; campground office hours are 10 a.m.-10 p.m. Swimming is permitted in designated areas only from 10 a.m. to 8 p.m.
Trail map.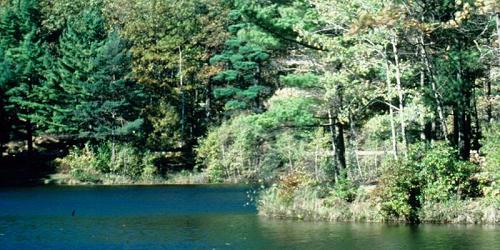 90 Fitchburg Road / Route 31 Leominster, MA Phone: 508-874-2303
Forested property with 2 ponds, swimming, fishing, paddling, skiing & snowmobiling. No camping
Leominster State Forest is a 4,300-acre forest with two ponds. People can hike, ride mountain bikes, swim, fish and picnic in summer and to cross country ski and snowmobile in winter. The forest is an easy distance from Boston and Worcester. From Memorial Day to Labor Day, parking fees are charged in the paved parking lots. There is no camping at this forest.
The Midstate Trail passes through the western end of the forest. People may do rock climbing at Crow Hill Ledges. Mountain bikers may not use hiking trails. The terrain for mountain bikers includes unpaved fire roads to single track, multi-use trails. Bikers are supported by the
New England Mountain Bike Association
A swimming beach at Crow Hill Pond has two picnic areas with tables, grills, and a bathhouse. Lifeguards are on duty from mid-June until Labor Day. Crow Hill Pond is stocked with trout. Kayakers, canoeists, paddlers and fishermen enjoy Paradise Pond. Winter recreation includes snowmobiling, only on unpaved roads and the multi-use trails.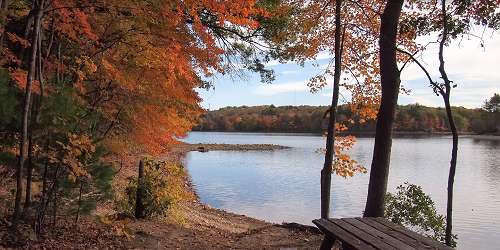 164 Cedar Street Hopkinton, MA, 01748 Phone: 508-435-4303
Located on a reservoir; activities include water sports, hiking, picnicking, skiing and snowmobiling. Boat ramp
Hopkinton State Park includes the beautiful Hopkinton Reservoir. Recreational activities including two swimming beaches (staffed by life guards May through Labor Day), stocked fishing, a group picnic site and a dozen shaded, picnic areas with picnic tables and charcoal grills, on a first-come, first-served basis. There are 10 miles of marked trails, open field space and a concrete boat ramp only for canoes and kayaks. Seasonal boat rentals are available. Call 617-299-3392. Restrooms are open except in winter.
Trail system is for all users, including hikers, mountain bikers, horseback riders, and cross country skiers are welcome. Snowmobiles are allowed when snow cover is at least four inches deep.
On busy summer days and holidays, this park may reach its parking capacity and be closed for limited periods of time. For closure updates, follow the park on Twitter at @MassDCR or call 617-626-4973.
Trail map.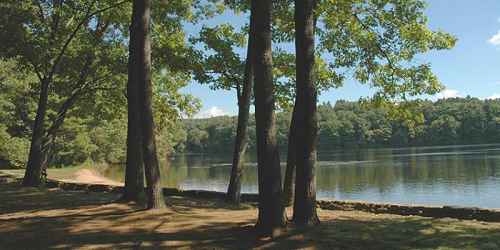 159 Walker Pond Rd. Sturbridge, MA, 01566 Phone: 508 347-9257
Best for camping and hiking; swimming beach for campers only; 5 miles from Old Sturbridge Village
The major activities at the park in the woods are camping and hiking. The campground has 60 sites. Campers only may use the swimming beach at Walker Pond . The pond also is liked for fishing and canoeing. During the summer, Wells offers guided walks and evening campfire programs. Hiking trails on the property total 10 miles of walking; ORVs may not be used on hiking trails. A well-liked walk goes to the vista at Carpenter Rocks. Wells is five miles by car from
Old Sturbridge Village
, a living history museum of New England village life in the 17th century.
Trail map
.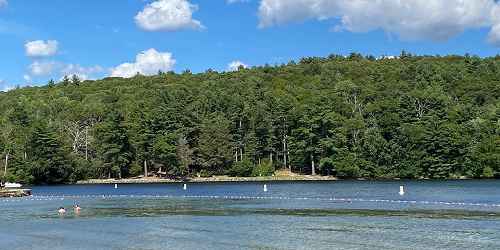 107 Wallum Lake Road Douglas, MA Phone: 508-476-7872
Popular state forest on lake with many activities: water sports; horseback riding; hiking trails
The state forest in Massachusetts also borders on Connecticut and Rhode Island. Activities at the park include water sports -- swimming, boating, paddling, fishing -- on Wallum Lake. There is a boat ramp and parking for boat trailers. Fish species includes trout, largemouth bass, and pickerel. Also: trails for horse riding and, in the winter, cross-country skiing and snowmobiling. There are picnic grounds, a beach for swimming, and bathrooms.
The Midstate Trail, a hiking trail through the center of Massachusetts, runs through the park. The park includes a 5-acre expanse of white cedar swampland, and a boardwalk trail to view the swampland.
The park is popular and can reach capacity on some days in summer. To receive a tweet when Douglas State Forest reaches capacity, check Twitter at www.Twitter.com. Enter "MassDCR" into the search field.
Map of
Midstate Trail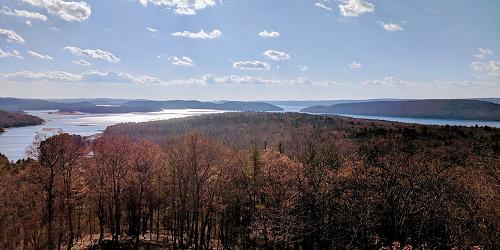 West Street Petersham, MA Phone: 978-544-3939
Good for fishing, walking, and nature viewing. No pets allowed.
This property is southwest of the the Quabbin Reservoir and on land of the reservoir's watershed. Wooded roads pass through pine, maple, birch and hemlock groves. A wildlife sanctuary of 140 acres is in the center of the park. Good for bird watching for wild fowl, Limited-service campsites are available. Fishing and cross-country skiing also are allowed. No pets are allowed on Watershed Property.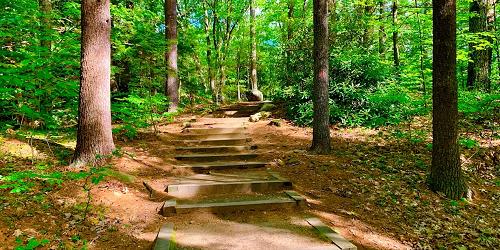 289 Pearl Street Gardner, MA Phone: 508-632-7897
Water sports on pond; walking trails; Nordic skiing and ice skating. Fully wheelchair accessible
This park revolves around a pond, where swimming, fishing and non-motorized boats are allowed. Several walking trails, which also accommodate cross country skiers. Picnicking and playground. In winter, walking trails are available for cross country skiing and ice skating is done on the pond. Often, a wood fire is lit in the visitor center. All activities in the park are wheelchair-accessible.
Parking fees: Cars, $5; annual pass, $35 state resident and $45 out of state resident; free for disable veterans and seniors over age 62 with a Massachusetts Senior Citizen Pass.
Map and trails guide
Route 20 and East Brimfield Holland Road East Brimfield, MA Phone:
This large recreation area encompasses the East Brimfield Lake and Holland Pond and the Quinebaug River, which links the two water bodies. It is managed by the U.S. Army Corps of Engineers. Activities include: Trout fishing from stocked pond; controlled water release in April with canoe races on the Quinebaug River; swimming, boating, and water skiing on East Brimfield Lake; canoeing on the Quinebaug River Canoe Trail from Holland Pond to East Brimfield Lake; hunting for deer, turkey, and other small game; fishing; ice fishing for Northern pike, pickerel, and bass. Facilities include:
Long Pond boat launch
north side of Route 20. Paved; parking for vehicles with boat trailers. Open year round. Ice fishing access.
Reservoir boat ramp
on south side of Route 20. Parking for vehicles with boat trailers. Closed in winter.
Champeaux Road fishing area
off Route 148 at north end of reservoir. Shore fishing area with handicap accessible fishing platforms. Open year round. Ice fishing access.
East Brimfield dam site
at Riverview Ave off Route 20. Scenic overlook of the reservoir and dam. One-half mile nature trail. Motorized vehicles prohibited. Open to Nordic skiers and snow shoeing. Access for shore fishing. Open year round.
Canoe trail launch area
on Pond Bridge Road, where the river flows out of Holland Pond at the upstream end of the canoe trail. Parking and launch at downstream end of trail is available at the Reservor Boat Ramp on Route 20.
Quinebaug River Canoe Trail
is a 5-mile flat water canoe route from Holland Pond to East Brimfield Reservoir. It is a potion of the larger Quinebaug River water trail, a series of paddling sections along the Quinebaug and French Rivers in Massachusetts and Connecticut.
Lake Siog recreation area
off Dug Hill Road. Swimming beach, picnic tables and grills. 3/4 mile nature trail. Open Friday-Sunday from June to Labor Day, 10 a.m.-6 p.m. Free admission
Holland Pond boat ramp
is a gravel boat launch ramp on Pond Bridge Road. Parking for vehicles with boat trailers. Open year round. Ice fishing access.
Grand Trunk Trail
has trailhead parking lots on Five Bridge Road and Route 20 in Brimfield. A two-mile long multiple use trail along the former trolley line. Open to snowshoes and cross-country skiing in winter.
East Brimfield Lake nature trail
travels through five acres of open fields and pine-hardwood forest.
Map of East Brimfield Lake
Map of East Brimfield Lake Nature Trail
Map of Holland Pond, Lake Siog, and Quinebaug River