Central Massachusetts/Sturbridge is filled with enticing pick your own (PYO) Farms

1125 Pleasant Street Leominster, MA Phone: 978-840-3276
PYO Produce: Apples, raspberries, and pumpkins
Season and Hours: August through November; daily; 10 a.m. to 5:30 p.m.
Also: Opening Week August 23-30 with live entertainment, apple picking, hayrides, hiking; classic auto display the last Sunday of each month; farm store with apples, candles, jelly, honey, cider, gourds, mums, squash, pumpkins, desserts; weekend concession stand with hot dogs, apple crisp, cider, coffee, cookies; hay rides; scarecrow festival.

9 McClellan Road Sutton, MA Phone: 508-865-6706
PYO Produce: Apples and pumpkins
Hours: Daily, May through December 24, 9 a.m. to 6 p.m.
Also: Hay rides through the orchard; farm stand with peaches, pears, plums, cherries, strawberries, vegetables, and gifts; pies; fresh apple cider; jams and jellies; gift baskets; special events such as festivals and tastings throughout the season

327 Ayer Road, Route 110 and 111 Harvard, MA Phone: 978-772-4139
PYO Produce and Seasons: Berry picking begins the weekend after the Fourth of July and runs at least through mid-August. Call for specific days and hours. Apple picking begins Labor Day Weekend and runs daily through late October, 10 a.m.-5 p.m. Christmas tree cutting begins Friday after Thanksgiving and continues on weekends from 10 a.m.-4 p.m. until sold out.
Hours: Open daily 10 a.m. to 5 p.m. starting Labor Day weekend, rain or shine (apples). Call after July 4 for blueberry hours
Also: Peaches are available at the farm stand from the middle of July until mid-September. Cider and honey and Christmas trees. Farm has 60 acres to wander and enjoy.

44 Old Worcester Road Charlton, MA Phone: 508-248-7820
PYO Produce: apples, pears, blueberries, raspberries, blackberries, and peaches Season: June through October.
Hours: Daily, June through January, 9 a.m.-5 p.m. except for 10 a.m. opening on Sunday and Monday. Weekends January through May, noon to 4:30 p.m.
Also: Farm store with tomato, cucumber, potato, and winter squash, pies, apple dumplings, apple cider, and cider donuts, honey, jam, jelly, relish and salad dressing, wine. Picnic tables, wagon rides during apple season. Strawberry Festival in June, Blueberry Festival in July, Peach Festival in August, Harvest Festival in October, Christmas at Charlton Orchards first week in December.
315 South Bradford Street North Andover, MA Phone: 978-682-6332
PYO Produce: Strawberries, raspberries, sweet purple and tart red cherries, blueberries, currants, gooseberries, heirloom tomatoes, peaches, apples, pumpkins, squash and Christmas trees
Hours: Monday-Friday, 7 a.m.-2 p.m.; Saturday and Sunday, 7 a.m.-5 p.m.
Also: Farm Stand with fresh produce, baked goods, lunch items, cider donuts, pies and gingerbread houses, dining area, and free Wi-Fi. Petting barn with farm animals, family photos, seasonal festivals

178 Mass Avenue Harvard, MA Phone: 978-456-8363
PYO Produce: Pick your own blueberries starts in mid-July; pick your own apples from early September to mid-October.
Hours: June through December; open daily 10 a.m. to 6 p.m. For PYO apples, open 10 a.m. to 4 p.m. Closed Tuesdays.
Also: Converted turn of the century dairy barn is filled with gourmet food, fresh fruits and vegetables, cider, cheeses, baked goods, lunch sandwiches and soups, as well as a wide selection of gifts. Lunch served daily, 11 a.m.-3 p.m.; breakfast served on weekends, 9 a.m.-11 a.m.Handicap access. Wagon rides to the pumpkin patch. Live bluegrass music the covered porch every Sunday June to Columbus Day.

25 Lovell Street Mendon, MA Phone: 508-473-7418
PYO Produce: Blueberries and pumpkins, along with 80 varieties of daylilies. Cut Your Own Christmas trees in December
Seasons: Blueberries and day lilies begin early July
Hours: Blueberry picking, Wednesday and Saturday, 8 a.m. to noon; pumpkin season opens late September, weekends, 9 a.m. to 5 p.m. and Columbus Day.
Also: Wagon rides during pumpkin season.

582 George Hill Road South Lancaster, MA Phone: 978-365-4331
PYO Produce and seasons: Raspberries (early July to mid-August), blueberries (early July to late August), peaches (July), apples (late August to late October), pumpkins (October)
Hours: July through October, Sunday, 9 a.m. to 6 p.m.; Tuesday to Thursday, 9 a.m. to 6 p.m.; Friday, 9 a.m. to 5 p.m.; closed Saturday and Monday
Also: Sundays in season, hayrides, pony rides, petting zoo, face painting, maze, cider doughnuts, candy and caramel apples, pies, live music

38 Eldridge Road Harvard, MA Phone: 978-456-9616
PYO Produce: Fall raspberries and apples in late summer and autumn
Hours: Wednesdays to Sundays and holidays, 10 a.m. to 5 p.m. Season is late August through mid-October.

115 Oak Hill Road Harvard, MA Phone: 978-456-3916
PYO Produce and season: Blueberries, July and August; raspberries, August and September; nectarines, peaches, August and September; apples, August through October.
Hours: Pick your own, daily, 10 a.m. to 5 p.m.; retail store is open until 6 p.m. Monday through Saturday, open until 5 p.m. on Sunday.
Also: Farm stand with apple cider, gourmet lemonade for sale, pre-picked produce.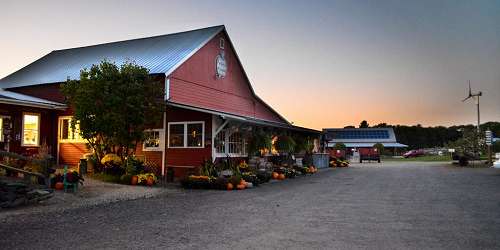 455 Highland Avenue Phillipston, MA Phone: 800-628-4851
PYO Produce: Blueberries (mid-summer), apples (end of July through fall)
Hours: Daily, 9 a.m. to 6 p.m.; November and December, 9 a.m. to 5 p.m. The farm stand is open daily from mid-July through December, 9 a.m.-6 p.m.
Also: Farm stand, farm animals, forest and field walking trails, hay rides, wagon rides, weekend barbecue in September and October, fresh cider, picnic pavilion, pies and dumplings, cheeses, ice cream

234 Ball Street Northboro, MA Phone: 508-393-6406
PYO Produce and Seasons: Strawberries, early June to mid-July; blueberries, early July to early September; raspberries, mid-August to late September; peaches and nectarines, August to mid-September; apples. late August through late October; and pumpkins, mid-September through late October
Hours: Call for hours, which vary with seasons
Also: Farm includes a bakery featuring fresh made fruit desserts, ice cream, and refreshments. Children's play area and barnyard animals.
294 Chase Road, Route 13 Lunenburg, MA Phone: 978-582-6246
Hours: Monday through Sunday, 8 a.m. to 6 p.m.
PYO Produce and Seasons: Raspberries (July); blueberries (July); apples, start the end of August. Varieties include MacIntosh, Cortlands, Macouns, Royal Gala, Golden Delicious, Red Delicious, Honey Crisp and Paula Reds
Also: Farm store with kale, herbs, greenhouse tomatoes, greenhouse cucumbers, Swiss chard, snap peas, rhubarb, strawberries