Great campgrounds and state parks welcome you to the Central region
Among the choices of Central Massachusetts lodgings and accommodations are public and private campgrounds. Mass. campgrounds are operated at most of the state forests and state parks throughout the region. A stay at an MA campground is a wonderful and inexpensive outdoor-oriented vacation for children and families, and people who love the beach, fishing, swimming, boating, and hiking. Highlights of Central Massachusetts, in addition to the lovely towns of Sturbridge, Worcester, and Marlborough, are Old Sturbridge Village, a replica of a 19th-century New England farming town; Quabbin Reservoir, with fishing, hiking, and picnicking; Wachusett Mountain Ski Area in Princeton; Southwick's Zoo in Mendon; and lots of wonderful farms and orchards that welcome visitors.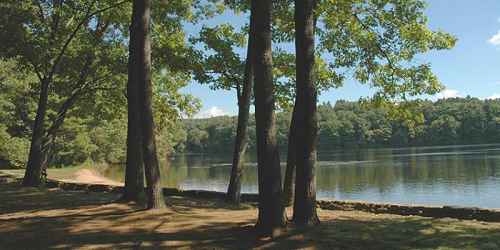 159 Walker Pond Rd. Sturbridge, MA, 01566 Phone: 508 347-9257
Best for camping and hiking; swimming beach for campers only; 5 miles from Old Sturbridge Village
The major activities at this wooded park are camping and hiking. The campground has 60 sites. The swimming beach at Walker Pond is limited only to campers. Wells is five miles from
Old Sturbridge Village
, a living history museum of New England village life in the 17th century and a popular, year-round family attraction. See a full description of
Wells State Park.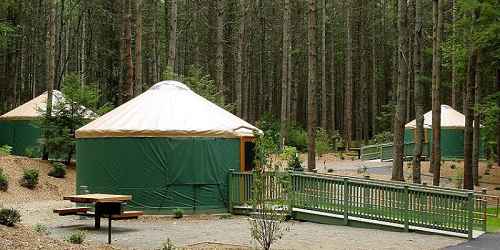 86 Winchendon Road Baldwinville, MA Phone: 508-939-8962
Camping, water sports, hiking
Otter River State Forest is a popular camping place with a pond, and lake, water sports, and hiking trails. It encompasses the Lake Dennison Recreation Area. There are 85 campsites, including yurt camping
Season & Hours: May through October; campground office hours are 10 a.m.-10 p.m. Swimming is permitted in designated areas only from 10 a.m. to 8 p.m.
See
full description
of Otter State Park.
Set along the shores of a 200-acre lake, the Tully Lake Campground is a walk-in, tent-only campground offering modern conveniences and superb recreational opportunities in a wilderness-like setting. Paddle around Tully Lake in a canoe or kayak, hike the shoreline footpaths or the 18-mile Tully Trail, mountain bike on nearby trails, or take a day trip to scenic waterfalls and overlooks. Amenities include a modern bathhouse with hot water, toilets and showers, ice and firewood for sale onsite, volleyball, horseshoes, and canoe and kayak rentals.