Greater Boston / Cambridge scenic drives unveil rivers, villages, and fine fall foliage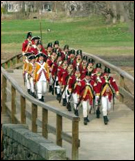 Along Massachusetts Avenue, Route 2A and other local roads Arlington, Lexington, Concord, MA Phone:
Length: 14
Battle Road Scenic Byway follows the approximate path of the British regulars during the battles that marked the start of the American Revolution on April 19, 1775 – where the "shot heard round the world" was fired. The byway runs roughly parallel to Route 2A along approximately 14 miles of roads in the communities of Arlington, Lexington, Lincoln, and Concord, including part of the Minute Man National Historical Park. Not only is this route famous for its role in the American Revolution – the Battle Road Scenic Byway follows literary, environmental, and technological revolutions throughout its history through today.

Directions: In Arlington, get on Massachusetts Avenue (Mass Ave) toward Lexington. At Lexinton Green, follow Mass Ave through a left turn. When Mass Ave ends, turn right onto Route 2A. Follow Route 2A through Lincoln and through the Minute Man National Historical Park to Concord Center. Bear right on Lexington Road. At concord Center, at the end of the square, turn right onto Monument Road to the North Bridge. Pass the North Bridge and turn left on Liberty Street to Lowell Road. Turn left on Barrett's Mill Road. The byway ends at the Colonial Barrett House, 448 Barrett's Mill Road.