Winter Weddings in Western Massachusetts & The Berkshires (MA)
30 Main Street Stockbridge, MA, 01262 Phone: 413-298-5545
Celebrate your wedding in the beauty of a Stockbridge winter
Few places are more iconic in winter than the Red Lion Inn. Immortalized in Norman Rockwell's painting "Stockbridge Main Street at Christmas," the Inn is a constant in America's winter imagery and fantasy. It's also stunningly historic, beautiful, charming and welcoming and the most perfect place for your winter wedding. There are private function rooms and unique and cozy spaces throughout for your rehearsal dinner, ceremony, reception, and/or morning after brunch. The Inn's experienced staff will assist you with every detail and help you identify vendors for everything you desire. Award- winning Executive Chef Brian Alberg and his staff will see to it that you and your guests enjoy the finest foods that reflect the best New England culinary traditions.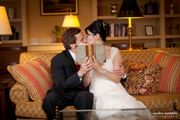 30 Boltwood Avenue Amherst, MA, 01002 Phone: 413-256-8200 Toll-Free: 800-742-0358
The Lord Jeff welcomes your winter wedding
Winter is fast becoming a very popular time for weddings. The feeling of joy that fills the season makes it an easy choice. Plan a romantic winter wedding at this classic New England Inn. All decked out in holiday green, gold and red, you'll love the lit candles and soft light, the crackling fire places and warm drinks, and the celebratory gathering of family and friends to share your happiest day in this scenic winter land. The on-site wedding planning staff will assist you with every detail whether an intimate wedding or a grand affair Choose from extraordinary wedding and reception venues, relax in cozy guest rooms and intimate banquet spaces, and savor the offerings from specially created menus.