Unique Wedding Venues in The Berkshires & Western Massachusetts (MA)
231 River Street North Adams, MA, 01247 Phone: 413-664-0400
Restored Victorian row houses now a fabulous wedding venue
Known for its unique and extensive renovations of sturdily built 19thcentury Victorian row houses adjacent to the MassMoCA, Porches welcomes you to celebrate your special day within its highly evocative and colorful spaces. Every detail will be addressed with the help of event planners, caterers and other vendors in the Berkshire region. 6 indoor and outdoor function spaces can accommodate from 16-40 guests for a banquet and/or reception. You'll have your choice of old-fashioned blackboard walls, a twenty-foot ceiling, space filled with contemporary art, and state-of-the-art media systems. Take your vows in abundant natural light indoors, or on a hill in a native woodland garden with its own gazebo at the top that is also wired for electricity and WiFi.
37 Corey Road -- Route 43 Hancock, MA, 01237 Phone: 413-738-5500 Toll-Free: 800-882-8859
Berkshires backdrop makes for spectacular ceremonies
Imagine opening your wedding photo album to the first page: There you and your now-spouse are, exchanging your vows on top of a mountain in the Berkshires. (Remember how you traveled there in the Berkshire Express chairlift?) Or maybe you are standing with a smaller group, saying your "I do's" next to a glistening brook. Other pages show you and your guests dining on seafood stuffed shrimp in a mountain lodge with a fire flickering in a huge stone fireplace. Or dancing on a large stone patio with jaw-dropping vistas of Berkshire peaks as logs crackle in a fire pit. The dedicated wedding staff at Jiminy Peak Mountain Resort will be delighted to help you make those pictures come true.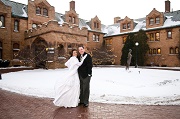 Route 20 - Lee Road Lenox, MA, 01240 Phone: 800-272-6935
Plan your one-of-a-very special kind of resort wedding
The unique qualities of this romantic wedding venue cannot be overstated. The scenery alone is worth a visit. The peerless service and amenities are worth the fare. Choose a winter wedding and get the same for less and let the romance of cozy fireplaces light your way. 114 gracious guest rooms, three acclaimed restaurants and a world class spa and fitness center are here. The only challenge is to decide in which space to hold your special event. The Rose Terrace provides a 60-mile view of the surrounding hills. The historic 3,000 square-foot Sloane's Ballroom has a marble dance floor and 16 foot high windows. Plan a tented outdoor event or the dining room at Meadow View with a spacious terrace, or the elegant and brightly set Mansion dining rooms.
297 North Street Pittsfield, MA, 01201 Phone: 413-358-4741
Hotel's historic backdrop, modern touches perfect combination for weddings
By combining modern, urban-feel touches with a sensibility that celebrates its Victorian-era roots as a legendary menswear emporium, Hotel on North can offer wedding couples a place like no other to exchange their vows. Imagine 200 guests clinking cocktail glasses in the dramatic Hall, with its centuries-old exposed brick, vintage chandeliers, 11-foot ceilings and panoramic mountain views. And then there are the meals catered by the hotel's award-winning culinary staff (oysters! roasted pumpkin risotto!) and impeccable service, Hotel on North aims to please your wedding party, whether you stay in one of the 45 individually designed rooms or just celebrate your union in the hotel's cozy confines.
30 Main Street Stockbridge, MA, 01262 Phone: 413-298-5545
Historic and heralded inn has a venue suited to every wedding couple
At the Red Lion Inn, named one of Conde Nast Traveler's best hotels in New England, wedding venues are as individual as wedding couples. Have a casual outdoor reception in a flower-filled courtyard, or visit the past with a candlelit dinner in a cozy private room. Have your reception, catered by the inn's award-winning culinary staff, in an antique-filled gathering room or in the very sweet Side Parlor. Cozy common areas, indoors and out, are perfect for cocktails. Or do the whole thing in one of nine distinct – and distinctive – guesthouses, from the Stafford House with its formal living room, fireplace and baby grand piano to the turn-of-the-century Firehouse, where receptions can accommodate up to 50 people.