Berkshires and Pioneer Valley welcome romantic vacationers
The historic Berkshire Mountains and the Pioneer Valley are in the western end of Massachusetts. Year-round attractions include skiing at Butternut ski area, art museums around North Adams and Stockbridge, live summer music at Tanglewood, and much more. Visitors enjoying a romantic getaway -- for a weekend or longer -- have a choice of luxurious hotels and resorts. The rural nature of the region also lends itself to small, cozy bed and breakfast inns.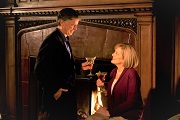 Route 20 - Lee Road Lenox, MA, 01240 Phone: 800-272-6935
The Berkshires' only Spa and Golf resort
The Cranwell Resort, Spa and Golf Club is centrally located in the scenic Berkshires Hills. High on a hilltop with breathtaking views our resort offers something for everyone. The combination of traditional elegance and modern comfort is the hallmark of Cranwell Resort. Choose from a total of 96 distinctive guest rooms, suites, cottages and townhouses. For rest and relaxation, come and enjoy the Spa at Cranwell and choose from 50 revitalizing and soothing spa services. For a more active vacation experience, take advantage of our state-of-the-art Fitness Center or 18-hole Championship Golf Course. At the end of your day, our resort offers a medley of dining experiences with three distinctive, award-winning restaurants located throughout the resort.
30 Main Street Stockbridge, MA, 01262 Phone: 413-298-5545
Romance is in the air at famed Stockbridge inn
No one is more passionate about creating romantic ambiance than the staff at the historic Red Lion Inn. With the Berkshires as a backdrop, the gorgeous Stockbridge inn positively radiates romance. From the antique-filled guest rooms with feather duvets to the flower-filled courtyard, the inn offers all you need for an intimate getaway. Dine in the splendid main dining room or tavern, catch some live entertainment at the Lion's Den, or arrange for private dining in the Plumb Room. Don a plush bathrobe and sneak down to the heated outdoor pool or get a massage at the Seven Salon Spa. And don't forget to ask for champagne and chocolate-covered strawberries for your room when you make your reservation.
297 North Street Pittsfield, MA, 01201 Phone: 413-358-4741
A boutique hotel that combines Victorian elegance with a modern vibe
People have been coming to the Berkshires for 200 years for its natural wonders, high culture, and restful beauty. The names Lenox, Tanglewood, Rockwell, The Clark, and The Mount signal a vacation of historic and fresh pleasures. The Hotel on North, in downtown Pittsfield, offers chic hospitality in a restored menswear store. The hotel's signature lounging sofa greets you with notice that you will find older beauty, like brick walls and tin ceilings, along with modern services like WiFi, rooms with fireplaces, and a great casual restaurant and bar. As you head for your room be sure to check out the antique birdcage elevator - while it's no longer in operation, it's a great piece of our heritage. A short drive takes you to museums, live theater, and mountain vistas.
Route 7 Lenox, MA, 01240 Phone: 413-637-1469
A Berkshire's hideaway for you and the love of your life
Nestle in to this cozy and secluded resort framed by towering pine and 223 acres of breathtaking scenery. Inventor/Industrialist George Westinghouse built a late 19th century cottage on this land for his wife, Marguerite. Today you can rent a one or two bedroom condominium with master bathroom and Jacuzzi, a fully equipped kitchen, fireplace, living and dining areas, a deck overlooking the pond, and entertainment tech for whatever your needs may be. There are indoor and outdoor pools, an exercise room with hot tub and sauna, tennis, rowboats and canoes, and trails for walking hand in hand. The magnificent Berkshire's offer a lover's paradise of historic sites, old inns and taverns, great food, art, music and more. Don't miss a moment.
Warm your hearts this summer in the Berkshires
The allure of the Berkshires in summer is a savory blend of sweet mountain air, migratory birdsong; rare wildflowers found in forests and open fields, and the return of locally grown foods to our tables. Come discover all the romance the Berkshires has in store during the most-welcomed season of all. Whether you simply want to relax by the pool with a good book at one our many quaint New England inns or if you are looking for some rejuvenation time together at one of our many world-class spas (many which offer couples packages). Be sure end your day over a delicious farm fresh meal cooked to perfection by one of our great local chefs. To learn more visit us at berkshires.org or find us on Facebook at Visit the Berkshires of Western Massachusetts.
81 Old Main Street Deerfield, MA, 01342 Phone: 413-774-5587
A Romantic Getaway set in an Historic Village
It's easy to see why New England is often called "the romantic heart" of America with places like this classic, historic inn. Set on a street with a landmark pedigree, there is more than enough romance to forge the perfect getaway: cozy rooms with private bath and chamois robes, a convivial tavern with a mahogany dining bar, craft beers, inviting seating, and warming fireplaces. Enjoy classic favorites with a contemporary twist and local, seasonal produce. Don't leave town and discover the treasure trove that is Deerfield with museums, 18th and 19th-century homes open to the public, colonial burying ground, and other attractions. Stay in for a couple's massage in the Relaxing Room. Head out in any direction and you'll find nearby towns and villages just made for lovers. Check out the KISS special.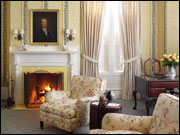 16 Blantyre Road Lenox, MA, 01240 Phone: 413-637-3556 Toll-Free: 844-881-0104
Romance is in the Berkshires air at this luxurious Gilded Age hotel
If you have ever wanted to slip back in time, to the luxurious and carefree Gilded Age, you need look no further than the Berkshires and the romantic Blantyre hotel. As you drive up to the estate, on 110 acres of rolling lawns, gardens and meadows, the Main House's ivy-covered walls and Tudor-style turrets will make you feel like you've stepped into a castle. Inside, everywhere you look are period pieces, glittering chandeliers, fabric-covered walls and fireplaces. Whether your room is an elegant suite in the Main House, a loft suite in the charming Carriage House or a separate, secluded cottage, you will feel pampered. Gourmet dining, an exquisite spa and lots of places to just snuggle up and talk, are all part of the Blantyre experience.
Visit our sister properties - Ocean House Resort - Weekapaug Inn - Watch Hill Inn
190 Meadow Street South Lee, MA, 01260 Phone: 413-243-3500 Toll-Free: 866-300-6480
Intimate Escape in the Beautiful Berkshire Mountains
Romance is in the air at Holiday Inn Club Vacations® Oak n' Spruce Resort in the heart of the Berkshire Mountains. The resort features everything needed for an intimate getaway, from a spacious villa with a dining area perfect for a candlelit dinner with a special someone to a welcoming private patio/balcony for champagne and a late-night dessert. Guests can also enjoy each other's company at one of two onsite bars, while savoring a cocktail or other specialty drink. Plus, there's a host of activities for couples to enjoy including indoor/outdoor pools, a mini golf course, movie theater and more. And for those wanting to explore nature together, there's nearby hiking and biking paths along the Appalachian Trail.