Gardens in Berkshires/Pioneer Valley/Mohawk Trail
Routes 102 and 183 Stockbridge, MA, 01262 Phone: 413-298-3926
Both functional and ornamental, the Berkshire Botanical Garden is among the oldest in the United States. The collections emphasize plants that are indigenous to or thrive in the Berkshires; more than 3,000 species and varieties are represented. Classes, workshops, lectures and special events are offered year-round.
Major annual events include the Plant Sale, the Flower Show, the Fete des Fleurs Garden Party, the Harvest Festival and the Holiday Fair. The Harvest Festival was first held in 1934 as the Garden's first fundraising event and has since become the Berkshires' best-known community gathering.
Hours: May to October, daily, 10 a.m.-5 p.m.
Admission: Adults, $12; seniors and students, $10; children under age 12, free.
Mission House
19 Main St. Stockbridge, MA, 01262 Phone: 413-298-3239
Stroll this historic home's courtyards and explore brick path Colonial gardens and a kitchen garden with over 100 medicinal and cooking plants. See
full description
of Mission House
Naumkeag
Prospect Hill Road Stockbridge, MA, 01262 Phone: 413-298-3239
Three decades of dedicated planting and landscaping gave New England this stunning cottage garden. Climb heavy fountain steps among white birch trees, and check out all the special gardens here, from Roses to Evergreens. See
full description
of Naumkeag
Botanic Garden of Smith College
15 College Lane Northampton, MA, 01063 Phone: 413-585-2740
Get your oxygen here! Thousands of plants adorn these gardens, which include ancient and modern species and give off the fresh smell of nature. Check out separate greenhouses and specialty gardens on Smith College's scenic campus. Discover information about gardening and conservation of the environment. Major events include the two-week Spring Bulb Show and Fall Chrysanthemum Show.
Hours: Daily year-round.
Admission: Free.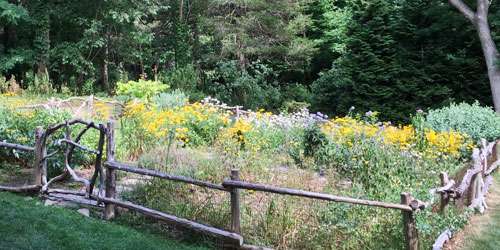 Sodem and Main Roads Tyringham, MA, 01238 Phone: 413-298-3239
Traditional and modern floral and landscape design meets creative perfection at Ashintully Gardens, the product of a composer. These gardens are alive with sights, smells, and sounds of blooming nature, from fountains to trellises to ponds on paths and back! A short trail will lead you to the ruins of the Marble Palace.
Hours: Mid-June to mid-September, Wednesday and Saturday afternoons, 1-5 p.m.