Intimate & Small Wedding Venues in the Berkshires & Western Massachusetts (MA)
297 North Street Pittsfield, MA, 01201 Phone: 413-358-4741
Stylish Surroundings and Polished Service Complement Your Wedding
For a smaller wedding with genuine polish in a unique setting, make your way to Hotel on North, a restored 19th-century men's haberdashery in the heart of Pittsfield that's been re-created with a cool urban feel. Exposed brick walls, warm wood cabinetry and re-envisioned Americana antiques of the last century mix with velvet, leather and Art Deco for a luscious ambiance. The expert staff and fine dining facilities will make your intimate wedding feel just right in a properly size space with any trimming you desire. Your overnight guests will sink into comfort in rooms creatively furnished with bits of the homes and farms of the Berkshires. All modern conveniences, including fast WiFi, support the classic and classy service.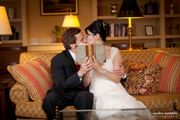 30 Boltwood Avenue Amherst, MA, 01002 Phone: 413-256-8200 Toll-Free: 800-742-0358
An historic Inn with modern amenities for a magnificent wedding
Find an extraordinary collection of fully customized wedding packages and experiences here. From the luxurious ballroom or picturesque garden tent, to the more intimate rooftop terrace, couples will discover a truly personalized New England weekend wedding destination for up to 180 guests. Every detail is covered from the customized catering menus, wedding photographer and flowers, to cakes, entertainment, wedding décor, and guest accommodations. Special amenities just for you two include a complimentary bridal suite, breakfast in 30Boltwood the morning after, champagne and chocolate-covered strawberries in the bridal suite, a champagne toast, banquet captain and wait staff, a personalized server for the bridal couple and party, a portable dance floor, linens, glass and silverware and special discounts on additional guests' overnight rooms.
37 Corey Road -- Route 43 Hancock, MA, 01237 Phone: 413-738-5500 Toll-Free: 800-882-8859
Resort has big ideas, and vistas, for small weddings
The mountains surrounding the Jiminy Peak Mountain Resort are huge (and spectacular, four seasons of the year), but that doesn't mean your wedding ceremony and reception have to be, too. Couples seeking more intimate gatherings will find wedding planners at Jiminy Peak who are happy to make that happen. Exchange your vows under the trees, by woodland flowers and a babbling brook. Or, reserve the cozy Clark Room at the Country Inn, with doors leading to a deck and mountain views, perfect for groups of 40 or less. For something slightly larger, the Fisher Room at the inn is a lounge with comfy couches and chairs and a large stone fireplace. Creative catering menus can be designed for any size group.