Lodgings welcome families in Berkshires and the Pioneer Valley
Family friendly hotels, motels, inns and other lodgings are abundant in the Berkshires region of Massachusetts, including Great Barrington and Stockbridge. MA family friendly lodgings and accommodations can be found in every price range. Family friendly hotels and motels generally offer the convenience of restaurants and swimming pools, as well as close proximity to family attractions, beaches and water sports, skiing, hiking, and other forms of family fun. In the Berkshires region and in the Connecticut River Valley towns of Springfield, West Springfield, Northampton, and Amherst, family attractions include Six Flags New England; the Zoo in Forest Park; the Catamount, Jiminy Peak, and Bousquet ski areas; Berkshire Theatre Festival; Norman Rockwell Museum; Eric Carle Museum of Picture Book Art; and Historic Deerfield.
297 North Street Pittsfield, MA, 01201 Phone: 413-358-4741
Hotel on North is a Hospitable Base for a Family Trip
Hotel on North in downtown Pittsfield is centrally located in the wonderful Berkshires region, a great place for a family vacation with kids. From this home base – where the family can kick back in comfort before or after the day's excursions – you can explore the hiking, biking, swimming, and picnicking at the region's state parks; drive up magnificent Mount Greylock; attend concerts, live theater, and dance shows; and explore fascinating historic homes and gardens of the Gilded Age. For a more-restful interlude at the hotel, unleash your children in the kids' playroom, where they can play games, ping pong table, foosball, or tuck into books in a bean bag chair. The restaurant welcomes young ones with a kids menu. The hotel's downtown location makes it easy to explore.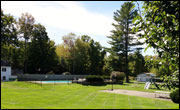 247 Stockbridge Road (Route 7) Great Barrington, MA, 01230 Phone: 413-528-3272 Toll-Free: 888-592-7314
Fun-seeking families stay and play together at Berkshires hotel
Families who stay at the Monument Mountain Motel will find plenty to love, both inside and outside the property. At the hotel, the kids will have fun in the outdoor pool, basketball court and horseshoes area. Mom and Dad might opt for the fitness room or the patio area, perfect for picnics. In historic Great Barrington, families enjoy walking the boardwalk along the scenic Housatonic River Walk, picking apples at Windy Hill Farm and skiing at the Butternut Ski Area. The area's crystal-clear lakes offer fishing, swimming and boating, and trails for every level of hiker come complete with spectacular views (especially the sights from the hotel's namesake, Monument Mountain). It's a short drive to the Norman Rockwell Museum and outlet shopping.
372 Main Street Great Barrington, MA, 01230 Phone: 413-528-3150
Something for every member of the family while staying in Berkshires
So every member of your family has a different interest they want to pursue on vacation? The Berkshire Days Inn has the perfect solution: Come stay at the motel in the heart of the Berkshires, where there is an activity sure to please each member of your brood. Your son is a skier? Check out the slopes at Ski Butternut. Daughter adores the arts? Visit the Mahaiwe Performing Arts Center or the Norman Rockwell Museum. Dad's into antiques? It's a short drive to one antiques dealer after another. And Mom wants a night out? Try Shakespeare & Co., Jacob's Pillow or Tanglewood. Or take the whole family for some serious shopping at the Prime Outlets or exploring the Berkshires' towns and trails.
The Berkshires has a full range of family friendly lodgings
Not only does the Berkshires of Western MA have your family fun covered, they've got a mix of lodging options to fit your family's needs and budgets. Be it a bed and breakfast, local resort, rental property or hotel, you can find one to accommodate your family from the rolling hills of Williamstown to the quaint streets of Great Barrington and anywhere in between. So pack up the entire family and get out & about in the Berkshires. Whether you choose to spend your time indoors or out, the Berkshire region is a welcome respite in the summer. To learn more visit us at berkshires.org or find us on Facebook at Visit the Berkshires of Western Massachusetts.
231 River Street North Adams, MA, 01247 Phone: 413-664-0400
Family fun and lodging in North Adams near Mass MoCA
The entire family will love this quirky and colorful restored Victorian Inn in one of New England's storied mill towns. Named for its long verandas set directly across from the Massachusetts Museum of Contemporary Art (MASS MoCA), Porches offers spacious rooms and suites, complimentary continental breakfast, a fitness center and outdoor pool. Spend a day or more discovering the many pleasures of Mass MoCA with something for everyone's taste in arts and crafts. North Adams, in the heart of the northern Berkshires, has cultural and recreational activities plus restaurants and shops. The surrounding area is home to colleges, museums, parks, and just a short drive to year round outdoor activities including golf, skiing, tennis, swimming, fishing, boating, camping and more.
Route 7 Lenox, MA, 01240 Phone: 413-637-1469
Pack the car and head for the Hills
The perfect family vacation awaits in the Berkshire Hills with breathtaking scenery and unlimited recreational activities. You'll find lots of room and every amenity in a home away from home. Set on a 223-acre estate, the resort features one and two bedroom condominiums with master bathroom with Jacuzzi, kitchen, dining and living areas, fireplace, entertainment tech, and a deck overlooking the pond. The library/computer room has a wide assortment of games, puzzles, and outdoor sporting equipment. There's an indoor and outdoor pool, exercise room with hot tub and sauna, a playground, tennis, basketball, rowboats and canoes, and trails for walking, hiking, or cross country skiing. Off site adventure is yours plus historic places, museums, great food, music, shopping and more.
37 Corey Road -- Route 43 Hancock, MA, 01237 Phone: 413-738-5500 Toll-Free: 800-882-8859
Your family belongs here
Jiminy Peak Mountain Resort offers lodging perfect for any Berkshire getaway. Choose from Country Inn Suites,or two or three bedroom mountainside Vacation Homes. Amenities and activities include shopping and dining in the Village Center and Country Inn, outdoor heated swimming pool, the In-Touch Day Spa, fitness room, game room and more. Jiminy Peak is also home to the largest ski and snowboard resort in southern New England. Jiminy's 45 trails and 9 lifts cater to all skill levels and fun for all, while our three terrain parks provide rails and jibs for the new and experienced park riders.
Since opening in 1948 Jiminy Peak has evolved to become a 4 season resort, our mission to provide memorable, Mountain Resort experiences with outstanding service in beautiful surroundings.
Route 7 - 306 Stockbridge Road Great Barrington, MA, 01230 Phone: 413-528-3000
From this fun, affordable motel, launch your family's Berkshires adventure
The folks at the Briarcliff Motel, a re-imagined classic 1960s motel on scenic Route 7 between Stockbridge and Great Barrington, like to say that their comfy, stylish rooms are Instagram-worthy, which will appeal to the kids. But so will everything about your stay in the bed and breakfast, from the homemade granola and muffins in the morning to making new friends around the firepit at night. And there is so much to do in between, from skiing at nearby Butternut to hiking Monument Mountain (the trail is right across from the Briarcliff) to touring the Norman Rockwell Museum or MassMOCA to sitting on the lawn for a Tanglewood concert. Everything it just minutes away, and your hosts will be happy to help you plan a fun family itinerary.
190 Meadow Street South Lee, MA, 01260 Phone: 413-243-3500 Toll-Free: 866-300-6480
Spacious Villas and Exciting Amenities for the Family
Guests can discover fun-filled amenities and spacious villas in the heart of the Berkshire Mountains at Holiday Inn Club Vacations® Oak n' Spruce Resort. The resort features one-, two- and three-bedroom villas with fully equipped kitchens, a private balcony/patio as well as complimentary Wi-Fi and parking. The resort also offers a host of activities that the whole family will enjoy including indoor and outdoor pools, a miniature golf course, movie theater, playground, fitness center and an activity center. Additionally, guests can experience fresh, outdoor air with nearby hiking or biking along the beautiful paths of the Appalachian Trail or visiting the neighboring ski areas for fun in the winter months.