Great campgrounds and state parks welcome you to the Berkshires
Among the choices of Massachusetts lodgings and accommodations are public and private campgrounds. Massachusetts campgrounds are operated at many of the dozens of state forests and state parks throughout the state, in the Berkshires region of Massachusetts, including Great Barrington and Stockbridge, and in the Connecticut River Valley towns of Springfield, West Springfield, Northampton, and Amherst. Many private campgrounds also operate in the Berkshire Mountains region of Mass., including Mount Washington and Mount Greylock. A stay at an MA campground is a wonderful and inexpensive outdoor-oriented vacation for children and families, and people who love the beach, fishing, swimming, boating, and hiking.
Cape Street, Route 112 Goshen, MA Phone: 413-268-7098
Good for boating, hiking, fishing, horseback riding, and winter sports; pets permitted except on sandy beach; non-motorized boats only.
This park offers 51 wooded campsites with showers and a private beach. Everyone can enjoy nature in this forest: wheelchair accessible campsites are available. Camp here from mid-May through mid-October. Reservations are recommended. The group forest site is comfortable for large groups of up to 75 persons, with limited amenities. Campground office hours are 8 a.m.-4:30 p.m. Off-season camping is available from October through April. Be aware of black bears in the area! See
DAR State Forest
for full description of this park.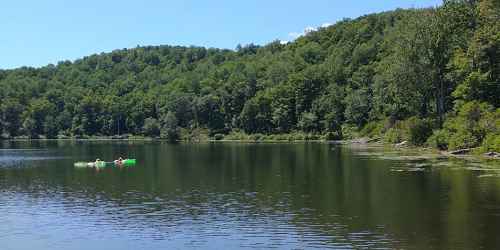 260 Central Shaft Road Florida, MA Phone: 413-663-8469
Handicap-accessible hiking and camping; water sports, picnicking, hiking, camping, paddling, pets allowed
Forty-five campsites and one group site are located in an old apple orchard. Four log cabins are available for year-round rental. Handicap accessible. Reservations are suggested. Camping season is from mid-May to mid-October. Amenities include showers and restrooms. See
Savoy Mountain State Forest
for full description of park.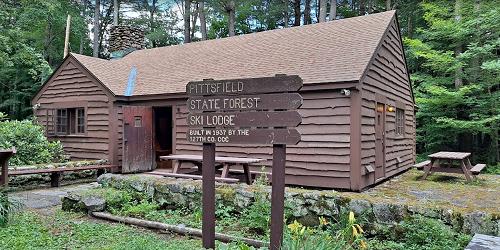 1041 Cascade Street Pittsfield, MA Phone: 413-442-8992
Good for handicap-accessible recreation, fishing, walking & hiking.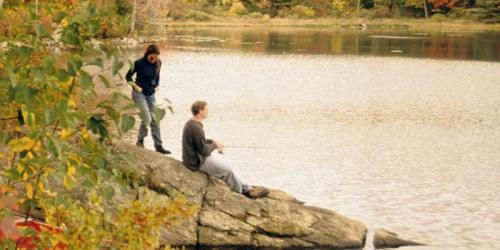 69 Bluehill Road Monterey, MA, 01245 Phone: 413-528-0904
Good for non-motorized boating, walking & hiking, camping, snowmobiling; fishing; leashed pets allowed
Even in the off-season, intrepid hikers camp at Beartown State Forest. Advanced reservations are available up to six months ahead of time, and even 24 hours before, if you're feeling spontaneous. Reserve a minimum of 2 days, and share nature with the vast wildlife of the rich forests.
See
full description
of Beartown State Forest.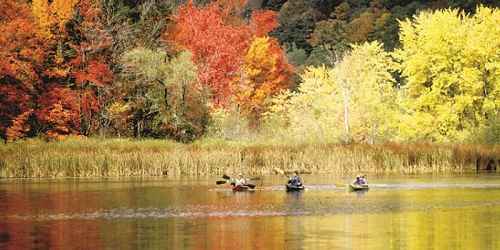 Woodland Road Lee, MA Phone: 413-243-1778
Forty seven campsites are available at this mountainside park. Camping season is from May to October in designated campground. Maximum RV size is 34 feet. No electric hook-ups. Alcoholic beverages are prohibited. Stay clear of bears. See full description of
October Mountain State Park
175 Mohawk Trail / Route 2 Charlemont, MA, 01339 Phone: 413-339-5504
Good for year-round camping, viewing nature & wildlife, and trout fishing.
This state forest offers 47 wooded campsites, available seasonally. For a unique and rustic camping experience, stay in one of six overnight log cabins, available year-round. Camping season: mid-April - mid-October. Recreational vehicles are permitted on designated sites. Pets are permitted on tent sites only, on leash. See
Mohawk Trail State Forest
for full description of park.
1199 Middle Road Clarksburg, MA Phone: 413-664-8345
Good for camping, hiking, boating; non-motor boats only
Forty-five wooded campsites are located near the lake. Camp here from late May to early September. Campground office hours are from 8 a.m. - 6 p.m. on weekdays, and 8 a.m. - midnight on weekends. Reservations are recommended. Wheelchair accessible campsites and comfort station available. See
Clarksburg State Park
for full description of this park.