Berkshires and Pioneer Valley offer a dynamic vacation for visitors of all ages
The region's attractions and
things to do
include historical sites, music, theater and dance, along with the unique Basketball Hall of Fame in Springfield, where you can shoot baskets on a regulation court and take clinics. Crab Apple Adventures offer rafting trips for every age in guided rafts or inflatable kayaks. Springfield Museums & Dr Seuss National Memorial Sculpture Garden feature life-size statues of Springfield native Dr. Seuss and his favorite characters including Horton, the Grinch and the Lorax. Fly through the treetops on angled ropes and ziplines, or spend a
family day
at beautiful Look Park.
66 Thunder Mountain Road Charlemont, MA, 01339 Phone: 413-339-6617
Scenic New England amidst the shrieks of the adventurous
New England's largest zip line destination has been featured by USA Today as one of the Top 10 zip lines of the country. The Base Tour is your introduction. The Mountain Top Tour includes seven zips, two hikes, and two great ski lift rides. The adrenaline-filled Valley Jump tour includes two half-mile-long zips, a scenic chairlift to the mountaintop, some hiking and it's all downhill from there at speeds up to 50 mph at an altitude of almost 200 ft. Coming this fall is the wild new Mountain Coaster - an alpine slide that requires no experience but propels you down 3,870' of track with G-force inducing twists and turns and gravity defying drops that take you through scenic valleys and gorgeous woodlands amidst the shrieks of fellow riders.
Route 2 Charlemont, MA, 01339 Phone: 800-553-7238
Let this family take your family on a rafting adventure
This family owned business knows families and has been providing outstanding whitewater fun and adventure to kids and families since 1983. You'll find a wide range of trips from full day rafting trips for kids 8 and up on Class 1-3 rapids, for teens on more aggressive Class 3-4 rapids, and half-day trips on mild whitewater in guided rafts or inflatable kayaks for kids ages 5 and up. The dam controlled Deerfield River has spectacular scenery, rich history, and frequent sightings of bald eagles, beavers and other critters are common. All trips are led by family members with a personal touch and feature great food and service plus excellent equipment and knowledgeable guides. You'll find the riverside base camp to be comfortable and convenient.
Naismith Memorial Basketball Hall of Fame
1000 Hall of Fame Avenue Springfield, MA Phone: 877-446-6752
The Naismith Memorial Basketball Hall of Fame is home to more than 300 inductees and more than 40,000 square feet of basketball history. Hundreds of interactive exhibits share the spotlight with skills challenges, live clinics, and shooting contests. Basketball fans will find exhibits, interactive kiosks, memorabilia, and hands-on activities. Children and adults can spend the day in the 80,000-square-foot facility shooting baskets on a regulation court, measuring their skills against sports legends in an interactive game. Kids are invited to coaches' clinics on Tuesdays and Thursdays.
Hours vary by season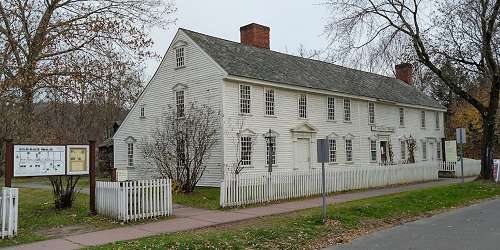 5 Main Street Greenfield, MA, 01301 Phone: 413-773-5463
Downshift off Interstate 91 and travel one of the country's original highways - through the surprisingly unspoiled time warp that is Franklin County. Its countryside is beautiful, its history rich and its culture eclectic. Franklin County is the most rural county in the Commonwealth of Massachusetts, and it shows! Farms, Farms, and valleys form our historic villages and bustling towns. There is so much to do here - in our fine museums, educational institutions, and cultural centers - but most of all, in our great outdoors! If you like New England, you'll love Franklin County!
Springfield Museums & Dr Seuss Nat'l Memorial Sculpture Garden
21 Edwards Street Springfield, MA, 01103 Phone: 413-263-6800
The Springfield Museums consists of five institutions at one location: the D'Amour Museum of Fine Arts, the Smith Art Museum, the Springfield Science Museum, the Connecticut Valley Historical Museum and the Museum of Springfield History. In addition, the property includes the Dr. Seuss National Memorial Sculpture Garden, with life-size statues of Springfield native Dr. Seuss and his favorite characters including Horton, the Grinch and the Lorax.
IN the five art, science and historical museums, guests can find Samurai armor and weaponry; an internationally-acclaimed collection of Oriental bronze, jade and porcelain; intricate Middle Eastern rugs; fine American and European paintings and sculpture; a savannah of animals in the R.E. Phelon African Hall; Dinosaur Hall with its towering Tyrannosaurus Rex; Astronomy Hall complete with a planetarium; and exhibits about Connecticut River Valley history. Curriculum-based tours and programs are available.