Berkshires and Pioneer Valley have many lovely wedding locations
37 Corey Road -- Route 43 Hancock, MA, 01237 Phone: 413-738-5500 Toll-Free: 800-882-8859
Mountain weddings beyond memorable at resort
It's an understatement to say weddings at Jiminy Peak Mountain Resort are spectacular. That's not only because the romantic venues, from the mountaintop with sweeping views of Jericho Valley to a quiet brookside among the trees and wildflowers, are awe-inspiring four seasons of the year. It's also because the resort's wedding planners provide meticulous service for couples, from deciding if a reception will be held on a stone patio, mountain lodge or lounge at the cozy Country Inn to planning an exquisite menu (Will it be quail stuffed with chanterelle, sage and figs? Duck confit ravioli? Grilled salmon?). Wedding parties who stay at the resort can choose a suite at the inn in the alpine village or a mountainside condo.
297 North Street Pittsfield, MA, 01201 Phone: 413-358-4741
Host Your Wedding in a Space Warmed by a Chic Restoration
From the moment you step into Hotel on North and gaze across the signature scroll-armed chaise lounge in the foyer and whimsical restored antiques you know you are in the land of good taste. Bring your family and friends to your elegant wedding at this historic downtown property that blends 19th century architecture with a smooth urban feel. Group spaces within the hotel – warmed by exposed brick, highly polished wood cabinetry, velvet or leather seating – can be adapted for a wedding, rehearsal dinner, party, or reception. An experienced staff delivers impeccable service that will make your guests feel like Ginger Rogers and Fred Astaire just strolled in. Guests who stay overnight will find rooms with comfortable bed, lush bathrooms, and one-of-a-kind mix of furniture and décor.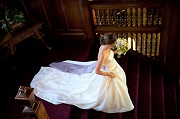 Route 20 - Lee Road Lenox, MA, 01240 Phone: 800-272-6935
Celebrate in a magnificent Berkshire's setting
Celebrations of any size and purpose are welcome at this magnificent Berkshire's resort and spa. There's room for up to 200 in The Rose Terrace which provides a 60-mile view of the surrounding hills, and the historic 3,000 square-foot Sloane's Ballroom with marble dance floor and 16 foot high windows. Plan a tented outdoor event or indoors in the dining room at Meadow View with a spacious terrace, or the elegant and brightly set Mansion dining rooms. With breathtaking scenery, 114 gracious guest rooms, three acclaimed restaurants and a world class spa and fitness center you and your guests are in for a time of joyous celebration, flawless service and endless amenities. Weddings, anniversaries, reunions and parties of all kinds will find the essential elements to make your gathering unforgettable.
30 Main Street Stockbridge, MA, 01262 Phone: 413-298-5545
Exchange your vows amidst the grace and elegance of this historic Inn
Celebrate your special day at this historic Inn set in a quintessential New England Village immortalized by Norman Rockwell. Specializing in smaller events, the Red Lion Inn invites civil unions, wedding & commitment ceremonies, and other relationship celebrations. The Inn's experienced and LGBTQ –friendly staff will consult with you at every step - from initial inquiry, through planning the event, to last minute special arrangements. You'll find a variety of wedding venues for the rehearsal dinner, ceremony, reception, or brunch, including private event rooms, the flower-filled courtyard, and other unique spaces. Your reception can feature both buffet and seated dinners prepared by the Inn's renowned culinary staff with menus honoring New England culinary traditions with a fresh and contemporary flair.
231 River Street North Adams, MA, 01247 Phone: 413-664-0400
Celebrate your wedding in retro style with modern comforts
Plan an intimate wedding at this restored and distinctive, 19th century Victorian Inn. You'll have your choice of 6 function spaces that can accommodate from 16-40 guests for your wedding banquet and/or reception. Spaces may feature old-fashioned blackboard walls, a twenty-foot ceiling, walls decorated with contemporary art, and state-of-the-art media systems. There' a space with abundant natural light and a deck on a hill in a woodland garden behind Porches that has a nifty little "clubhouse" gazebo that was built at the top of the garden and is also wired for electricity and WiFi. Porches works with a number of caterers and event planners in the Berkshire region to provide space design, food, and refreshments for wedding ceremonies and receptions.