Affordable Weddings in Western Massachusetts & The Berkshires (MA)
30 Main Street Stockbridge, MA, 01262 Phone: 413-298-5545
A Red Lion Inn wedding to fit your budget
The wedding of your dreams can fit your budget when you celebrate at the historic Red Lion Inn. Be it a civil union, wedding & commitment ceremonies, or other relationship celebration, the Inn's experienced and LGBTQ –friendly staff will assist you every step of the way. There are affordable options for wedding venues for the rehearsal dinner, the ceremony, reception, and/or morning after brunch. And the Inn will help you identify vendors for everything from Justices of the Peace, limousines, and photographers, to flowers music and more. Executive Chef Brian Alberg and his staff will offer menus that reflect New England culinary traditions, natural flavors and local ingredients to create fresh and contemporary dishes for both buffet and sit down dinner.
37 Corey Road -- Route 43 Hancock, MA, 01237 Phone: 413-738-5500 Toll-Free: 800-882-8859
Venues (and views) for every budget at mountain resort
At Jiminy Peak Mountain Resort, you can have the wedding of your dreams without the nightmare of coming home to a huge after-the-honeymoon bill. Let the resort wedding planners help you craft a ceremony, reception and menu to fit your budget. And that doesn't mean skimping on the details to make your day memorable, from a breath-taking mountaintop ceremony and lodge reception for all your friends and family, up to 350 folks, to a more intimate setting of up to 40 people in a cozy country inn. One thing every venue features that comes totally free: the amazing vistas seen from 2,380 feet up. That panoramic view, coupled with the resort's impeccable service, is guaranteed to make your wedding a dream.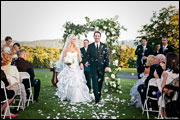 Route 20 - Lee Road Lenox, MA, 01240 Phone: 800-272-6935
A variety of options for your wedding day at this Berkshires spa
You can have your wedding ceremony at one of the largest spas in the Northeast, complete with historic buildings and the beautiful Berkshires in the background, without breaking the bank. Wedding staff at the Cranwell Spa & Golf Resort will work with you to choose the perfect package, which includes the wedding suite on your wedding night and special rates for guests. Would you like your ceremony on the Mansion front lawn? Your rehearsal dinner or reception in the newly renovated Harvest Barn? A Music Room farewell brunch buffet prepared by award-winning chefs? Or, to take advantage of lower rates, consider asking about last-minute availability. And, if it's just the two of you, ask about the elopement package, which includes the ceremony and a two-night stay in the wedding suite.
297 North Street Pittsfield, MA, 01201 Phone: 413-358-4741
A Berkshire wedding can be yours without breaking the bank
You can be treated like royalty at your wedding without having to pay a king's ransom to make it happen. Talk with the experienced staff at Hotel on North, a Berkshires boutique hotel that celebrates its Victorian-era roots and its urban-chic touches. They will work with you to create an affordable package for your big day, to include everything from pre-ceremony parties to post-ceremony lodging in one of the hotel's individually appointed luxurious rooms or suites. Whether you are seeking an intimate ceremony in a comfortable room or a dramatic reception in The Hall, with its 11-foot ceilings and vintage chandeliers, Hotel on North is ready to make your wedding spectacular without a spectacular bill.