Ski areas in Massachusetts welcome skiers and snowboarders
The profile of ski area locations in Massachusetts is very distinct: almost all ski areas are in the central and western region of the beautiful and historic Berkshire Mountains, reaching nearly to the border with upstate New York. An important exception is the small but very dynamic Blue Hills ski area in Canton, just 10 miles from Boston and a great resource for people on a vacation or ski trip in eastern Massachusetts.

In addition of several solid and well-serviced downhill ski mountains in the Berkshires, the areas is also awash in excellent cross-country (Nordic) skiing, much of it at farms that have groomed and prepared fields, trails and woodlands for cross-country skiing. The Western Massachusetts Cross Country Ski Areas Association is a great resource for that sport, which is great for all ages.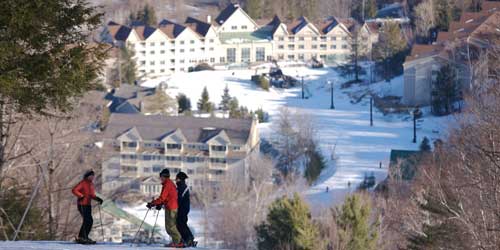 Massachusetts Snow Conditions
See below on this page for
Nordic (Cross Country) Ski Areas
, and
Ski Area Listings
.
Cross-Country (Nordic) Ski Areas
Lots of great cross-country ski areas can be found in Massachusetts. A trade group, the The
Western Massachusetts Cross Country Ski Areas Association
, offers a great Sampler Pass that is in effect for two years, and is good for one visit apiece to six areas that are members of the group. Pass can be shared and it costs $45. See more detail at our
cross country skiing page.
Canterbury Farm, Becket. A B&B and lodge with a system of 32 km, both wide and narrow, groomed daily for ski skating and for track skiing. Trails available for all skill levels. Rentals and lessons for cross country skiing and ice skating by professional instructors. Lodge with fireplace and food. Group nature tours on Saturday mornings.
Cranwell Resort, Lenox. Ten 10 kilometers of scenic, groomed trails open for Nordic skiing and snowshoeing. Ski center rents ski and snowshoe equipment, accessories, and healthy trail snacks.
Hilltop Orchards, Richmond. Working apple orchard operates a farm-based winery and a Nordic Ski Center. Trails in the orchard accommodate track skiing and skating-style skiing and snowshoeing. Good for beginners and intermediates.
Maple Corner Farm, Granville. This working farm includes a cross country ski center, lodge, 20 kilometers of marked trails appropriate for beginners to experts, prepared and groomed for track and skate-skiing. Snowshoe trails available with scenic views. Ski and snowshoe rentals, lessons.
Northfield Mountain, Northfield. Two dozen miles of trails are groomed for track and skate-skiing Nordic skiing, Beginner-to-intermediate trails includes some that require an 800-foot vertical climb for the most-fit skiers.
Notchview, Windsor. Notchview has a high base elevation of 2,000 feet, meaning plenty of snow over a long ski season. There is a safe area for children to ski and 30 to 45 groomed backcountry trails through woods and meadows over an expansse of three thousand acres.
Stump Sprouts, Hawley.This little ski area on a mountaintop farm has a long-snowy season because of its high altitude. Twenty-five kilometers of trails are designed for track skiing and snowshoeing. Beautiful wooded glades.
Ski Area Listings