Massachusetts stores stand ready to help with specialty shopping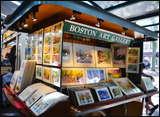 Massachusetts is a creative place with lots of fun
things to do
for people on vacation . It is also well-stocked with artists and crafts people who want to present their unique goods to visitors.
Enjoy a long, leisurely stroll through specialty store like those you will find at Faneuil Hall and Quincy Market in Boston or at the gorgeous gift shops of the state's many art and science and history museums. Go home with memorable gifts for yourself and friends!
Information Centers on Boston Common and Prudential Towers (Center Court) Boston, MA, 02116 Phone: 888-733-2678
The Best Shopping in New England
Shopping may very well be considered an art in Boston and its surrounding towns given the high quality designs and decorative shops, boutiques and malls that provide every objet for the shopper's discerning eye. There's upscale Newbury Street, Copley Place, the Shops at Prudential Center in Back Bay and the outdoor kiosks and indoor stalls at Faneuil Hall Marketplace. Whatever your desire, be it men's and women's apparel, dramatic eyewear, luggage, fine leather goods and jewelry, it's nearby. In Cambridge across the Charles River from downtown there's the trendy and the relaxed Harvard Square and the CambridgeSide Galleria for lingerie, bookstores, gift shops, sports attire and running shoes, body care and outdoor gear. And what shopping spree would be complete without some specialty foods and the some delicious sweets and chocolates to take home. There is no sales tax on clothing valued under $175 and only a 5% sales tax on everything else, so shop away. Don't say we didn't invite you to.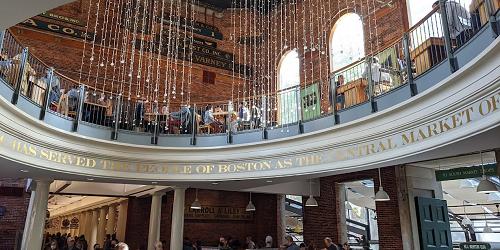 4 South Market Bldg. Boston, MA, 02109 Phone: 617-523-1300
Faneuil Hall Marketplace rests adjacent to historic Faneuil Hall, which was built by merchant Peter Faneuil in 1742 and is now a prominent stop on The Freedom Trail. It began in 1764 as "The Cradle of Liberty. Sam Adams and the Sons of Liberty rallied colonists to assert their independence during the American Revolution. Today it's Boston's central meeting place. The Marketplace is a treasure trove for shopping and dining in the Greek Revival-style Quincy Market filled with 45 international eateries and the flanking North and South Market buildings with 80 specialty shops. For information call 617-523-1300.