North of Boston/Merrimack Valley have comfortable & historic inns
From a pair of old brownstones on Beacon Street in the Greater Boston area to a lodging that first opened as a crossroads public house in Concord in 1716, Massachusetts inns are smaller, quiet, extremely luxurious lodgings that reflect the historic character and regions of MA. Inns are found in every corner of Mass, including North of Boston, Marblehead, Rockport, and Salem. Inns usually offer personal luxuries like hot tubs and Jacuzzis, fine dining, gardens and walking trails, spectacular scenery, and nearby cultural attractions. North of Boston region, including picturesque Cape Ann, is a place to go whale watching in Gloucester, visit museums of witchcraft in Salem, learn about New England's seafaring past at the Peabody Essex Museum, enjoy art and beautiful harbor vistas in Marblehead and Rockport, see the history of the Industrial Revolution in Lowell, and dine on lobster and seafood at every stop.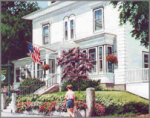 Several Locations Rockport, MA, 01966 Phone: 978-546-7260
Rockport Is a Cape Ann Seaside Vacation
The Innkeepers of Rockport, Massachusetts, are pleased to welcome you to our seaside village. You will have the vacation of a lifetime. Rockport offers a multi-vacation experience. This is why so many visitors return each year. There is always more to see and do. Cape Ann's beauty has attracted painters including Winslow Homer and Fitz Hugh Lane. Gloucester's seaport is the nation's first, and is still active.
Explore and enjoy. Take a cruise along the Essex River, go whale watching, enjoy a performance at the Gloucester Stage Company or the Shalin Liu Performance Center. Walk to beautiful beaches, art galleries, exhibits, go for a bike ride, enjoy unique restaurants, charming vistas including "Motif No.1", and visit the shops on Main Street and Bearskin Neck.
58 Washington Street Marblehead, MA, 01945 Phone: 781-631-2186
An elegant Federalist mansion in the heart of the historic harbor district.
Two Federalist mansions with many working fireplaces have been connected to form this elegant Inn, located in Old Town. The Inn offers first class accommodations, dining and amenities. All rooms are equipped with private baths, televisions and air conditioning. Many of our rooms have working fireplaces. Some rooms have double Jacuzzis, sundecks or patios. Most rooms have large-screen HDTV televisions. Free WIFI throughout Inn. An extensive breakfast buffet is included with all rooms as are afternoon tea, coffee and snacks. Breakfast includes: fresh coffees, teas, juice, seasonal fruits, yogurts, freshly baked breads and assorted quiches and casseroles. We are in the heart of the historic harbor district of fine shops, galleries and great restaurants. The harbor is just around the corner.
17 High Street Rockport, MA, 01966 Phone: 978-546-7260 Toll-Free: 800-789-7260
Local flavors to savor and celebrate
Set on a quiet residential street just minutes from the town center, great seafood restaurants, art galleries, shops, museums and historical sites this award-winning Inn is housed in a 1790's colonial home on the tip of "Massachusetts' Other Cape." Known for its hospitality and service, it features classic and studio rooms, family and honeymoon suites and an efficiency apartment furnished and decorated with antiques and/or reproductions, quilts, and original paintings by local artists. Every non smoking accommodation offers a private bathroom, A/C, and Wi-Fi, while some rooms also have outside entrances and/or decks. The home-baked breakfast buffet is a celebrated, decade's long tradition with everything made from scratch. Close to Portsmouth NH with daily train service to Boston and Salem, MA.