Martha's Vineyard and Nantucket boasts state and local parks with fun activities all year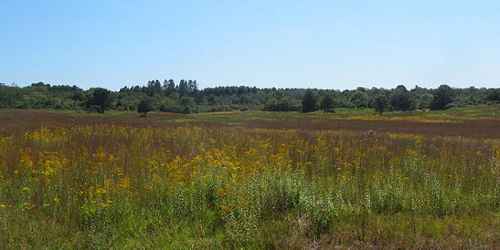 Barnes Road Edgartown, MA Phone: 508-693-2540
Hiking and biking through varied ecosystem
Correllus State Forest occupies over 5,100 acres in the center of Martha's Vineyard. It is best for hiking and cycling on its 15 miles of bicycling and walking paths. It is also the focus of one of the largest environmental restoration projects in the country. Here, visitors can see many rare species and examples of grasslands, heathlands, barrens, and woodlands, dominated by mixed oak-pine. See
Trail map
for hiking and biking.
Dike Road (on Chappaquiddick Island near Martha's Vineyard) Edgartown, MA, 02539 Phone: 508-627-7689
Magnificent barrier beach with sandy shoreline & salt marsh and pond; good for walking, natural beauty
Chappaquiddick Island is separated from Martha's Vineyard by a narrow strait. Access is by boat or by ferry that shuttles back and forth continuously from Edgartown. On this lovely and uncrowded island visitors find a sandy beach, salt ponds and meadows, great blue heron, sandpipers and fishermen casting in the surf. The eastern barrier beach extends seven miles from Wasque Point past the Cape Poge Lighthouse to Cape Poge Gut.
Hiking of moderate difficulty can be done on 14 miles of trails for walkers and over-sand vehicles. Tours of the lighthouse, and kayak and seaside exploration tours are offer daily from Memorial Day to Columbus Day. Van transportation is offered for tour participants directly from the Chappaquiddick side of the ferry landing. Call 508.627.3599 for more information.
Trail map.