Martha's Vineyard and Nantucket are home to nature and science centers
Maria Mitchell Association Aquarium
28 Washington Street Nantucket, MA, 02554 Phone: 508-228-5387
Open: Seasonally; call for hours.
Satwater and freshwater tank exhibition and a gift shop with unique gifts for all ages. The aquarium is the starting point for marine ecology field trips led by staff members. There is an admission fee.
Lobster Hatchery and Brush Pond
Shirley Road Oak Bluffs, Martha's Vineyard, MA Phone: 508-696-0552
Learn more about the natural habitat and propagation of lobsters. The hatchery is open daily. Found just off County Road.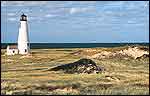 Wauwinet Road Wauwinet (on the island of Nantucket), MA, 02554 Phone: 508-228-5646
Coskata-Coatue Wildlife Refuge is known for its historic lighthouse, white sand beaches, and world-class fishing. Rolling maritime dunes cover more than 200 acres. Refuge includes 16 miles of over-sand vehicle and walking trails and beach front. Gray and harbor seals feed in the Great Point riptide. Facilities include public restrooms between the Wauwinet Gatehouse and Great Point Lighthouse and at the lighthouse. Both are open May 1 to October 31. Bike rack at the Wauwinet Gatehouse. Seasonal tours of the Great Point Lighthouse and the natural wonders of the refuge. Hours: Year-round, daily, 24 hours (10 p.m.-5 a.m. - fishing access only). Cost: Free to all pedestrians and boaters.
Shellfish Hatchery
Winyah Lane Vineyard Haven, Martha's Vineyard, MA Phone:
A marine research and propagation center. Stairs lead down to the lagoon and a dock.
Felix Neck Wildlife Sanctuary
Edgartown Road Edgartown, MA Phone: 508-627-4850
Vistors to this nature center will find plenty of self-guided trails, as well as live native birds. Of particular interest are ospreys nesting in their natural environment. There is an admission fee.
Maria Mitchell Association Natural Science Museum
7 Milk Street Nantucket, MA, 02554 Phone: 508-228-0898
The historic Hinchman House property features a museum of natural history, focusing on plant and animal life on Nantucket. A cross between a classic natural history museum, a zoo, and a science center, the Maria Mitchell Natural Science Museum is a great place to learn about the plants, animals, and birds of Nantucket. Classes, lectures, nature walks and other events are scheduled throughout the season. Gift shop. Hours: Open in summer, but science activities are offered year-round. Admission: Adults, $5; children, $4. Information: www.mmo.org/science-museum.html
Cedar Tree Neck Wildlife Sanctuary
Indian Hill Road West Tisbury, MA Phone:
This preserve along the Martha's Vineyard north shore features several trails with numerous scenic views.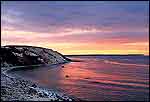 North Road, Chilmark Martha's Vineyard, MA Phone: 508-693-3678
The highlight of Menemsha Hills is Prospect Hill, one of the highest points on Martha's Vineyard, whose spectacular view includes the village of Menemsha, the Elizabeth Islands, and Gay Head Light. Former woods roads and footpaths pass through several distinct ecosystems, including perched wetlands. At Menemsha Hills bluffs, a view of the Great Sand Bank provides a reminder of the Vineyard's glacial origin. Views are spectacular.
Directions: Starting from State Road in West Tisbury, turn right onto North Road heading westerly toward Chilmark and follow for five miles. Entrance, with parking spaces, is just past Tabor House Road, at right.
Loines Observatory of the Maria Mitchell Association
Milk Street Extension Nantucket, MA, 02554 Phone: 508-228-9273
Open: Seasonally; call for hours.
Astronomy is the order of the day here. Programs include astronomy classes for children and lectures by astronomers of the Maria Mitchell Association. Open nights for telescope viewing are held year-round on Friday nights. There is an admission fee.

Off Long Point Road West Tisbury (on the island of Martha's Vineyard), MA Phone: 508-693-7662
At more than 600 acres, Long Point is one of the largest publicly accessible properties on Martha's Vineyard. It encompasses beach, dune, and woodland. Popular in summer, the property is also an off-season treasure, especially for birders and other nature-watchers. The property has 2.1 miles of flat trails through woods and open areas, plus beachfront. Easy walking. Hours: Mid-June to mid-September, 9 a.m.-5 p.m. (gate closes at 6 p.m.). Mid-September to mid-June, daily, sunrise to sunset. Allow a minimum of two hours. Facilities: Public restrooms. Picnic tables. Bike rack. Small visitor center.