Gardens in Martha's Vineyard and Nantucket
Dike Road, Chappaquiddick Island Martha's Vineyard, MA, 02568 Phone: 508-627-7689
You'll want to stay forever in this Japanese-style garden set within an open pine forest. The flora includes mixed plantings of native and exotic trees and shrubs, some rare. The garden's signature feature is a small pond with an island that is reached by walking over an arched bridge. Winding footpaths take visitors through a birch walk, camellia dell, stone garden, and hillside garden. A rustic meditation shelter offers broad views of the garden and landscape.
Hours: Year-round, daily, sunrise to sunset. No charge.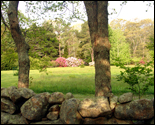 795 State Rd West tisbury, MA Phone: 508-693-9426
The Polly Hill Arboretum is a unique Martha's Vineyard landscape. Crisscrossed by old stonewalls surrounding open meadows, this living museum is home to a collection of more than 1600 woody plants that Polly Hill began planting from seed in 1958. At any season the Arboretum offers beauty, tranquility and abounds with horticultural and botanical rarities!
Admission: $5 suggested donation; free to children under age 12
Hours: Grounds open every day from sunrise to sunset. Visitor Center is open from Memorial Day to Columbus Day, daily, 9:30 a.m.-4 p.m.