Welcome to Massachusetts - Martha's Vineyard and Nantucket
Martha's Vineyard and Nantucket: Elegant & sweet seaside villages
Great Things to Do in Martha's Vineyard and Nantucket MA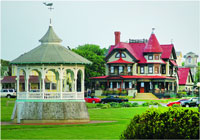 Martha's Vineyard and Nantucket, two island jewels off the coast of Cape Cod, are blessed with lovely
beaches
, elegant towns, and excellent dining and shopping. These beautiful islands, blessed with peaceful beaches and lighthouses, are familiar to many Americans as the vacation hideaway for U.S. presidents. They are visited heavily in summer, but, as will all of New England, winter on the islands holds many charms. Both islands are accessible by
ferries
from Harwich Port, Woods Hole, Hyannis and New Bedford, Massachusetts, and also from a ferry dock in North Kingstown, Rhode Island. Both islands have small airports.
Beaches
On Martha's Vineyard, the most dramatic display of outdoor beauty probably is the famous color-streaked Aquinnah Cliffs above Aquinnah (also known as Gay Head) public beach. Oak Bluffs Town Beach is in the heart of the town of Oak Bluffs, where the ferry dock is located. Another major town on the island is Edgartown, where Joseph Sylvia State Beach is large and well-managed. Chappaquiddick is a tiny island separated from Martha's Vineyard by a narrow isthmus; a small ferry shuttles people and cars back and forth. Chappy Point Beach has splendid views of the harbor on Chappaquiddick. Barrier beaches on the island are wonderful for ocean-facing walks.
Beaches are plentiful in Nantucket too. Like Jetties, Surfside and Madaket. One nature area that wraps up many of the island's delights is the Coskata-Coatue Wildlife Refuge, famous for its historic lighthouse, white sand beaches, and world-class fishing. Rolling maritime dunes cover more than 200 acres. Refuge includes 16 miles of over-sand vehicle and walking trails and beach front. Both islands have historic lighthouses. One Nantucket, Great Point Light is open to the public from May to October.
Kids and Families
Tons of fun for kids on these islands. In the town of Oak Bluffs, on Martha's Vineyard, kids can ride the Flying Horses carousel, considered the oldest working carousel in the United States. On Nantucket, children and parents find fascinating insights into the island's social history at the Nantucket Whaling Museum. In the present days, whales play safely in the waters off the island as people on whale-watch cruises hang over the rails and gaze in amazement. People of all ages enjoy seasonal festivals. Nantucket hosts many beloved town events around the Christmas season. On Martha's Vineyard, Illumination Night in mid-August is when hundreds of paper lanterns are hung on gingerbread cottage porches in the Martha's Vineyard Camp Meeting Association neighborhood.
Shopping and Dining
The towns of Martha's Vineyard: Oak Bluffs, Edgartown, Tisbury, and Chilmark, and the communities of Nantucket have plentiful shopping on main streets – these are places where affluent people have vacationed for generations. West Tisbury, on Martha's Vineyard, runs a twice-a-week farmers market that is much more than the name implies. In addition to fresh foods and baked goods, the markets devotes a building to local crafts makers and artisans. Their work is unique, sometime unpredictable, and always delightful.
Where to Stay
Plenty of lodging on the Island for all visitors: romantic waterfront lodgings, resorts, family-friendly and pet-friendly hotels and motels, campgrounds, boutique bed and breakfasts, LGBT-friendly inns, vacation rentals for families and big groups, and deals for under $100.