Cape Cod
2907 Main Street (Route 6A) Brewster, MA, 02631 Phone: 508-896-9000 Toll-Free: 800-343-6074
Say 'I do' by – or on – a Cape Cod Bay beach at this luxury resort
With Cape Cod Bay and a castle-like Carriage House as backdrops, how could you not fall in love with the idea of a wedding at the Ocean Edge Resort? It's a dream resort staff and coordinators can make happen, keeping in mind your individual style, culinary tastes and budgets. Do you want a clambake on the beach, exchanging vows by the bay? Cocktails on the terrace, dancing in a glittering mansion ballroom or soaring tented pavilion? A garden-style wedding, or walking down a petal-strewn aisle on a sweeping manicured lawn? Wedding packages, attentive staff, full spa services and luxurious accommodations for the wedding couple and guests are all part of making your dream come true at this seaside resort.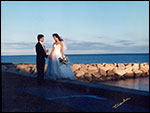 1 Lighthouse Inn Road West Dennis, MA, 02670 Phone: 508-398-2244
Wedding on the waterfront – a match made in heaven
Let the ocean stand beside you as you start your life together. If you've always dreamt of a wedding on the water, you'll find no location closer to the ocean or as uniquely Cape Cod as The Lighthouse Inn! Our extensive reception menu offerings include passed and stationary hors d'oeurves, plated meal and food station and, for a true seaside experience, a classic Cape Cod Clambake. In the spring and fall the Inn accommodates weddings up to 220 and during July and August up to 85. Using the expertise and experience attained over twenty years at Lighthouse Inn, our wedding coordinator will guide and assist you through the entire planning process to insure your special day is everything you've dreamed of!