Cape Cod has woods and beach places to walk
Cape Cod has very extensive biking trail, which also are used for walking. See
full description
of Cape Cod National Seashore bike trails.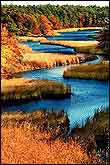 Quinaquisset Avenue and Meetinghouse Road Mashpee, MA Phone: 508-679-2115
Open: Year-round, daily, sunrise to sunset
Two miles of trails wind through Mashpee River Reservation to a pristine shoreline. Natural spawning areas and excellent water quality make the Mashpee River one of Massachusetts' finest sources of sea-run brook trout. The Reservation's woodland and shoreline trails form a link in the Cape Cod Pathways trail system, and offer excellent opportunities for bird watching and cross-country skiing.
Salt Pond Visitor Center at Nauset Road and Route 6 Eastham, MA, 02642 Phone: 508-255-3421
Lots of walking paths in Cape Cod National Seashore
Wellfleet Bay Wildlife Sanctuary
Route 6 and West Road South Wellfleet, MA, 02663 Phone: 508-349-2615
This nature center offers a variety of educational programs for children and adults, including walks and workshops. Enjoy a naturalist-led bird walk on our property or listen to an evening lecture. This sanctuary has a nature center, walking trails, trail to Goose Pond, seasonal classroom, gardens, and a campground. Picnicking, birdwatching, restrooms, wheelchair accessible. Of particular interest is the boardwalk trail through the salt marsh.
The Cape Cod Rail Trail follows a former railroad right-of-way for 22 miles through the towns of Dennis, Harwich, Brewster, Orleans, Eastham and Wellfleet. Its paved surface, few hills, and well-marked automobile crossings make it ideal for cyclists. The trail has a wide unpaved shoulder on one side to accommodate horseback riding, walkers, and runners.
There are many opportunities to get off the trail and visit a beach. Food and water are available and public restrooms can be found at Nickerson State Park, Salt Pond Visitors Center at Cape Cod National Seashore and the National Seashore Headquarters. Bike rentals are available at many points along the way.
Free parking for trail users is available at the trailhead at Route 134 in South Dennis; Headwaters Drive in Harwich; Underpass Road, off Route 137 in Brewster; Nickerson State Park in Brewster; Route 137 at Route 28 in Chatham; Winifred Road, off Old Queen Road in Chatham; Orleans Center at Old Colony Way in Orleans; Cape Cod National Seashore at the Salt Pond Visitors Center in Eastham; National Seashore at Marconi Area in Wellfleet; the trailhead at LeCount Hollow Road in South Wellfleet; Head of the Meadow Beach parking lot in Truro; High Head Road in Truro; and National Seashore's Province Lands Visitor Center in Provincetown.
Route 6 North near Snail Road Provincetown, MA Phone:
The trailhead is off Route 6 at Snail Road in Provincetown. There is a small parking area. You will be walking northward, away from the village of Provincetown, toward the ocean and away from Cape Cod Bay. You are walking through dune grass and parabolic sand dunes. Views of the dunes, ocean, and dune shacks are stunning. Bring water. Do not flip flops; the sand is very hot. Bring sunscreen. Walk to the shore takes about 45 minutes.
Parking: Trail head and parking on Route 6 North at Snail Road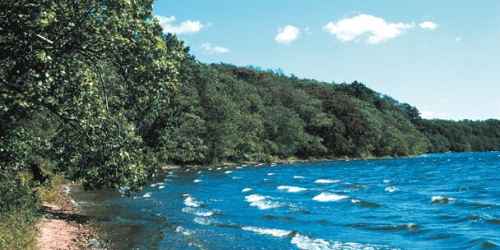 South Sandwich Road Mashpee & Sandwich, MA, 02563 Phone: 508-636-4693
Trails among holly and rhododendron gardens; stocked fish ponds
Four miles of foot trails and old carriage roads offer walking of moderate difficulty among groves of holly and rhododendron. Views of freshwater ponds.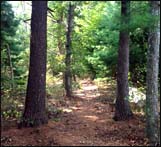 56 Highfield Drive Falmouth, MA Phone: 508-495-1878
Named after the Beebe Family that created the Highfield estate, Beebe Woods consists of 383 acres of land given to the Town of Falmouth in 1972. The woods were once part of the 700-acre property owned in the 1870s by James Madison Beebe. Beebe Woods has an extensive network of walking trails over varied terrain, exploring wooded ridges and steep-sided hollows, and he picturesque pond known as the Punch Bowl.
The trails connect at the southern end of Beebe Woods to Peterson Farm. The Beebe Woods Trailhead can be reached via Highfield Hall. Park at Highfield Hall and enter the property at the Ice House.
Trail map.
6 Discovery Hill Road East Sandwich, MA Phone: 508-888-6870
This gentle place celebrates the life and stories of Thornton Burgess, a popular children's author of the early 1900s. Lots of pleasant walks on the property. Relaxed and mellow for young kids. See
full description
of the Green Briar Nature Center along with a full calendar of nature activities.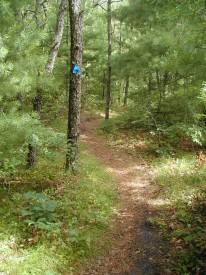 131 Waquoit Highway Waquoit (East Falmouth), MA Phone: 508-457-0495