Cape Cod boasts state and local parks with fun activities all year
Salt Pond Visitor Center at Nauset Road and Route 6 Eastham, MA, 02642 Phone: 508-255-3421
Magnificent national park encompasses all shoreline and interior features of Cape Cod
Forty miles of pristine sandy beach, marshes, fresh water ponds, woodlands, cranberry bogs, and historic lighthouses. Many walking and biking trails. Six oceanside swimming beaches are life guarded June through August. Eleven self-guided nature trails are open year-round.
There are two visitor centers: Salt Pond Visitor Center at 50 Doane Road, Eastham, offers orientation movies, a bookstore, a museum, and restrooms. The Visitor Center is near the Nauset Marsh and Buttonbush trails and the Nauset Bicycle Trail. Phone: 508-255-3421.
The Province Lands Visitor Center on Race Point Road, off Route 6, Provincetown, has an observation deck with a 360-degree view of the Province Lands dunes, the Outer Beach and the Atlantic Ocean. Exhibits about local plants and animals and the Pilgrims' landing in Provincetown. Phone: 508-487-1256.
Other highlights of the Seashore are the Fort Hill Area off Route 6 (Eastham); the Coast Guard and Nauset Light beaches, Nauset and Three Sisters Lighthouses off Route 6 (Eastham); the Marconi Station Site(Wellfleet); the Highland Lighthouse (Cape Cod Light) and Highland House (Truro); and the Old Harbor Life-Saving Station (Provincetown).
Beach Entrance Fees: Per day vehicle, $15; motorcycle, $5; walker and bicyclists, $3; annual pass, $45
Season & Hours: The Salt Pond Visitor Center (Eastham) is open year-round, daily, 9 a.m. to 4:30 p.m., with longer hours in summer. The Province Lands Visitor Center (Provincetown) is open Memorial Day to October 31, daily, 9 a.m. to 5 p.m. Parking lots are open year-round, daily, 6 a.m. to midnight. The park's six swimming beaches are lifeguarded from late June through August. Most restrooms that are not at park visitor centers are open seasonally; closed in winter.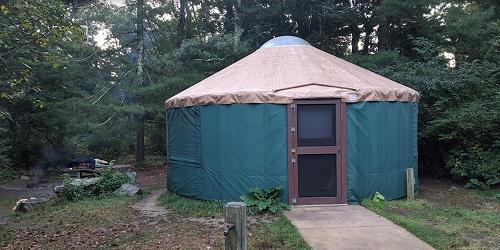 Route 6A Brewster, MA, 02631 Phone: 508-896-3491
Inland park offers lots of camping; fresh water swimming, fishing and paddling; hiking and biking
This is a large camping park in the inland pine woods of Cape Cod. Swimming and fishing is done at eight fresh-water kettle ponds. Ponds are stocked year-round with trout. The park is filled with walking, hiking, and biking trails. An eight-mile bicycling trail within the park connects to the 22-mile Cape Cod Rail Trail, a former railroad bed now dedicated to walking and biking. Visitors may swim and canoe and kayak at Flax Pond; enjoy the wildlife or fish (catch-and-release) at Higgins Pond, or enjoy staff-led nature learning programs. Four hundred camp sites include yurt camping. You cannot see Cape Cod Bay from this inland park, but the bay is within walking or bicycling distance.
Trail map.
Cape Cod Rail Trail
Campsite map.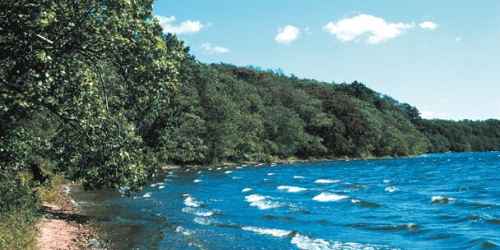 South Sandwich Road Mashpee & Sandwich, MA, 02563 Phone: 508-636-4693
Extensive walking trails among holly and rhododendron gardens; two ponds stocked with fish
Carriage roads and foot trails of moderate difficulty pass around and through groves of holly on this peninsula owned and managed by the Trustees of Reservations. The property has two freshwater ponds, and views of the large, freshwater Mashpee Pond and Wakeby Pond. Both ponds are stocked with fish. Area is good for bird watching. Four miles of walking trails. Seasonal parking is closer to the property than year-round parking.
Open: Year-round, daily, sunrise to sunset.
Free admission.