Cape Cod is home to nature and science centers
Salt Pond Visitor Center at Nauset Road and Route 6 Eastham, MA, 02642 Phone: 508-255-3421
Magnificent national park encompasses all shoreline and interior features of Cape Cod
Cape Cod is a peninsula extending five dozen miles into the Atlantic. It was created by glaciers that pushed and dropped rocky debris in a broad curved shape, creating and embracing Cape Cod Bay. At the tip of the peninsula, you can face westward and watch the sun set over the mainland. The seashore embraces a huge mixture of marine, salt meadow, fresh water, and inland ecosystems. Marine and estuary systems include beaches, sand and tidal flats, and salt marshes. Freshwater systems include kettle ponds, spring pools, bogs, and swamps. Visitors also find pitch pine and oak forests, dunes, and grasslands.
See
full description
for Cape Cod National Seashore.
Atlantic White Cedar Swamp Trail
This relatively short trail takes longer than you'd expect because the half-mile return is through soft sand. Start at the Salt Pond Visitor Center, reached by taking Route 6 to Eastham, where the site is well marked with National Park signs. (There are restrooms here, as well as abundant interpretive information. Note that the center is closed from mid-January to mid-March.) The trail is well marked; it drops through a stunted oak and pine forest into a mature woodland, then takes a boardwalk loop through the cedar swamp. In summer, be sure to use insect repellent. You'll enrich the experience of this trail if you soak up information at the visitor site first, to learn about the wildlife and vegetation ahead. Expect to spend 45 minutes on this ramble.
Race Point
This beach walk is at the tip of the Cape. From the ranger station to Race Point Light is a two-mile westward ramble along the shore. Seasoned hikers may sniff at such a distance, but by the time you reach the lighthouse, you'll have sampled the extra labor of walking in sand and be glad for a lunch break! Return the same way, but by now the tide will have changed the look of things, and you've got a fresh view, out into the Atlantic, to keep you in awe of the water and weather. Be prepared for stiff breezes, and wear sun block.
There are walking tour maps available at the Provincetown Heritage Museum (% 508-487-0666) at Commercial Street and Center Street. It's open from mid-June to mid-October. Or just do it on your own by walking up and down Commercial Street, poking your nose into the harbor at MacMillan Wharf, and heading uphill to the Pilgrim Monument and Provincetown Museum.
Taylor-Bray Farm
Bray Farm Road Yarmouth Port, MA Phone: 508-398-2231 Ext - 29
Picnic tables and walking trails offer you the chance to spend a leisurely afternoon. The farm was established in the late 1700s. It continues to be a working farm and is listed on the National Register of Historical Places. Open throughout the summer.
Botanical Trails of the Historical Society of Old Yarmouth
Route 6A Yarmouth Port, MA Phone:
Stroll through outdoor splendor of 50 acres with oak and pine woods, berry plants, rhododendrons and other Cape flora. Located behind the post office on Route 6A, the trails are open throughout the year during daylight hours.
Gay Head Cliffs
Lighthouse Road Gay Head, MA Phone:
This national landmark is a must-see for any Martha's Vineyard visitor. The cliffs, formed by glaciers, offer an almost other-worldly, multi-colored view.
Great Island Trail
Chequesset Neck Road Wellfleet, MA Phone:
This is on the Outer Cape, on the Cape Cod Bay side (west). The shifting sands have built a pathway out to Great Island, which is restricted to only walkers and boaters. Talk with the rangers at Race Point in Provincetown about conditions and timing for the tides. Sometimes there are ranger-led trips to Jeremy Point, considerably safer than going on your own. To reach the start of the trail, take Route 6 to Wellfleet and follow signs to the town pier. Turn right onto Kendrick Road, then left onto Chequessset Neck Road. There's a parking lot at the end of the road. This trail is somewhat strenuous, moving through woods, dunes, and swamps. During high tide it may be wet in places. Expect to spend nearly four hours if you walk the full length of the trails.
Sandy Neck Great Salt Marsh Conservation Area
Sandy Neck Road Barnstable, MA Phone:
This is the largest salt marsh on the East Coast, some 4,000 acres, and there's a nine-mile (round trip) trail to Beach Point that takes about four hours to complete. Summer birders have a chance to see the nests of the endangered piping plovers in the sand. But it's best hiked in the cooler seasons, as this is a vigorous trek. Reach the area in Barnstable by heading to the end of Sandy Neck Road, where there's a parking lot.
Crocker Neck Conservation Area
Ninety-seven acres of salt marsh to the east and a freshwater marsh to the south. Located on Popponesset Bay.
Indian Lands and Conservation Nature Trails
Scargo Hill Road East Dennis, MA Phone:
You'll find a plethora of Mid-Cape flora, marshlands, and views of Bass River along several trails. A 2½-mile round-trip trail to Cape Cod Bay at Crow's Pasture will take you past wild apple and cherry trees, honeysuckle, and beach plum. Don't miss Scargo Tower with views of Cape Cod Bay and beyond. A very romantic place. Follow Scargo Hill Road to the tower.
Cape Cod Bay Marine Life Cruise
This sanctuary comprises 1,100 acres of salt marsh, sandy beach, pine woodland, and freshwater pond, and is home to a wide array of wildlife. For fun and healthful activities, families can begin at the new Nature Center, visit the butterfly and hummingbird garden, and then wander along the five miles of trails. Indoor and outdoor educational activities for kids and adults, including walks, lectures, and cruises.
Sandy Neck Trail
A 4.8-mile round-trip marked trail at takes you past salt marshes and dunes, leading to the beach. The views of Cape Cod Bay are awesome.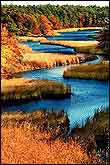 Quinaquisset Avenue and Meetinghouse Road Mashpee, MA Phone: 508-679-2115
Open: Year-round, daily, sunrise to sunset
Two miles of trails wind through Mashpee River Reservation to a pristine shoreline. Natural spawning areas and excellent water quality make the Mashpee River one of Massachusetts' finest sources of sea-run brook trout. The Reservation's woodland and shoreline trails form a link in the Cape Cod Pathways trail system, and offer excellent opportunities for bird watching and cross-country skiing.
Monomoy National Wildlife Refuge
Accessible only by boat, this refuge is home to more than 250 bird species. Visitors are also permitted to surfcast in certain areas. Commercial boats provide transport to the refuge in season.
Ashumet Holly Wildlife Sanctuary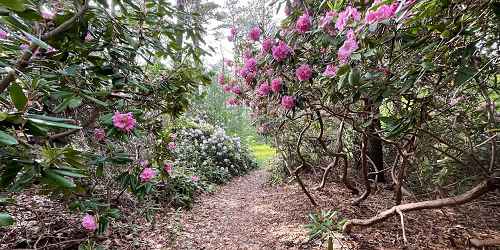 Off Nathan Ellis Hwy. East Falmouth, MA, 02536 Phone: 508-362-7475 Toll-Free: 800-AUDUBON
Rare wildflowers line the eight-acre coastal plain pond; there are 65 kinds of holly trees here, along with vernal pools and migrating birds. More than 30 species of dragonfly can be found at Ashumet Holly. See
full description
of Ashumet Holly Wildlife Sanctuary.
Wellfleet Bay Wildlife Sanctuary
Route 6 and West Road South Wellfleet, MA, 02663 Phone: 508-349-2615
This nature center offers a variety of educational programs for children and adults, including walks and workshops. Enjoy a naturalist-led bird walk on our property or listen to an evening lecture. This sanctuary has a nature center, walking trails, trail to Goose Pond, seasonal classroom, gardens, and a campground. Picnicking, birdwatching, restrooms, wheelchair accessible. Of particular interest is the boardwalk trail through the salt marsh.
Bass Hole Boardwalk
Once the site of a schooner shipyard, the boardwalk will take you past marshlands to Gray's Beach. At the end of the boardwalk are benches overlooking Dennis's Chapin Beach.