Cape Cod lodgings welcome your dog friend
Operators of hotels and motels in Cape Cod, Massachusetts, recognize the important role of a family dog, and several offer pet friendly hospitality, even including convenient maps of local walking trails. Check ahead at pet friendly and dog friendly lodgings in Cape Cod, MA, because some lodgings request a refundable cleaning deposit and place limits on the size of visiting pets. Pet friendly lodgings also remember to give the human owners the amenities they need, too, such as fine dining and close proximity to attractions, shopping, and outdoor activities from beaches and water sports to skiing.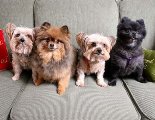 2504 Route 6A Barnstable, MA, 02630 Phone: 508-362-6823 Toll-Free: 800-909-6923
Cape Cod's premier pet friendly destination!
Your pet can also come along and enjoy the laid-back luxury of Cape Cod's most unique destination!
Traveling and lodging with your furry offspring can be challenging, and we'll admit Cape Cod is no different. We'll help point out dog-friendly beaches, fun things to do with your dog, pet-friendly ferries to the islands and whale watching, as well as pet-friendly outdoor dining. If nothing else, you and your dog can both relax poolside with a Cape Cod Beer and a bowl of cold water. Does it get any better?
Please check out our "Pet Etiquette" page before booking Fido.
134 Acapesket Road East Falmouth, MA, 02536 Phone: 508-548-4747 Toll-Free: 800-548-5556
Cozy rooms and all the room needed for man and beast
Humans and dogs looking to vacation together have found the right place. This Cape Cod friendly lodging and accommodations is very pet friendly and located on in a quiet residential area with acres of scenic, open space just right for walks, running, playing ball and dozing under a tree. And all this is set on a beautiful salt water cove. This waterfront getaway features a variety of amenities and outdoor activities including a private boating beach with ramp and dock, free rowboat and paddleboat use, a heated outdoor pool and barbecue grills. Each waterfront guest room offers one queen and one double bed, a private bath with tub and shower, cable TV, in-room coffee, microwave, and refrigerator, and, free high-speed Internet. Located just an hour's drive from Boston and Providence.
66 Route 6A Orleans, MA, 02653 Phone: 508-255-1216 Toll-Free: 800-342-4300
Spend the "dog" days of summer at this pet friendly destination
On Cape Cod, pets keep people smiling and walking and having something to talk about besides the weather. Bring your pooch to this cozy lodging half way up the arm of Cape Cod at the gateway to the National Seashore. Humans will like the rooms with a view, refrigerators, microwave, cable TV, and private bath. The fluffy one will love stretching out, rolling over and sleeping soundly. Outdoors, there are areas for walking, running hysterically, and fetching. There's also a resort size pool, picnic areas and barbecue grills. Play frisbee on the beach, bring a good leash when you stroll into town to check out great restaurants, shops or galleries. Fido can hang out the car window as you drive to Provincetown or Hyannis where dogs and humans also congregate.
1470 Iyannough Road Hyannis, MA, 02601 Phone: 508-771-4804
Pets need a little Cape Cod too!
The Best Western Cape Cod Hotel welcomes pets and provides a delightful mix of historic charm and modern features that make your stay in Cape Cod the perfect getaway. From a healthy morning buffet to free high-speed meeting rooms, we provide a comfortable and convenient atmosphere for our diverse clientele. Enjoy a swim in our indoor heated pool, relax in our sauna, work out in our fitness center, or lounge with friends on our private sun deck. When you're ready for a day or night on the town, we're just five minutes from the quaint shops and exciting activities of downtown Hyannis. Enjoy free long-term parking in Hyannis as long as you are a guest of the hotel.
543 Commercial Street Provincetown, MA, 02657 Phone: 508-487-1726
Let your dog enjoy fresh sea air
Water bowls can be seen throughout our property at Surfside Hotel & Suites in Provincetown, Mass. That's because we are truly a pet-friendly resort. After all, who vacations and leaves a family member behind? Pets are always welcome for a modest fee. Your pup will be welcomed with doggie treats on arrival. And we've got an outdoor doggie shower for apres-beach clean-ups. If you need dog grooming or pet sitting services, we can make recommendations. With its eclectic shops and fine restaurants, Provincetown is a fun town for walking, and its all the more enjoyable with your furry friend by your side. Find a quiet spot on a beach, and let your dog play in the surf. Or head to Pilgrim Bark Park, where dogs romp off-leash.