Gardens in Cape Cod
Route 28 on Pleasant Bay Chatham, MA, 02633 Phone: 508-432-5400 Toll-Free: 800-225-7125
Luxurious Gardens frame this renown Cape Cod resort
The luxury Cape Cod hotel, known for its unmatchable service and amenities, also features world-class gardens unlike anything else on Cape Cod. A collaborative creation, Wequassett outsources design, landscaping and maintenance to firms with projects at Boston University, the Prudential Center, and Battery Wharf. The resort's 27 acres of gardens include 12,000 tulips planted in spring along with an endless array of annuals, secret gardens, tropical gardens, gardens with vistas, gardens that are vistas, pocket gardens and a conservation area on the Pleasant Bay. The color scheme is highlighted by coral, yellow, blue and white to zones of red and white and pink and white with complementary backdrops of hydrangeas, roses and grasses. Window boxes and containers spill over with flowers and plants, reminiscent of a European villa.
Historic families and noble enterprises meet in the Garden
Here are 100 spectacular acres of trees, shrubs, beautiful flowers and sweeping lawns. This extraordinary environment offers unmatched horticulture, garden design, outdoor discovery, the exhibition of great collections and a year-round blaze of vibrant color. The region's moderate temperatures and rainfall mean happy plants totaling more than 500 cultivars spread over Heritage in the Labyrinth, the Hart Family Garden Maze, Hidden Hollow, Flume Fountain, the Parade Field, the Wicked Plants Garden, and the Windmill Garden where some of the most spectacular blooms can be found. Enjoy garden-related workshops, lectures, and activities throughout the year. Visitors from around the world come also to see three gallery buildings housing special and permanent exhibitions. Plan a special event or group tour and be sure to visit the Shop at Heritage.
6 Discovery Hill Road East Sandwich, MA Phone: 508-888-6870
This nature center, library, and gardens is a remembrance of the works of Thornton Burgess, a popular children's write of the early 1900s. Visitors can enjoy a
wild flower garden
and lots of nature activities for parents and children. See
full description
of the Green Briar Nature Center along with a full calendar of nature activities.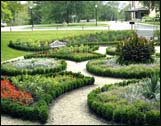 56 Highfield Drive Falmouth, MA Phone: 508-495-1878
Highfield Hall & Gardens is the magnificently restored 1878 estate of the Beebe family and is one of the few remaining examples of Stick-style Queen Anne architecture in the Northeast. From 2011 to 2013, the property's two magnificent gardens underwent restoration. The mansion and gardens are open to the public for visiting daily from April 15 to October 31. Estate walks are offered on the first and third Sundays of the month from April through October, from 12:30 to 1:30 p.m., weather permitting. Pre-scheduled docent led tours of Highfield Hall & Gardens are available year-round for group tours of 5 people or more for a fee of $10 per person. Admission is $5.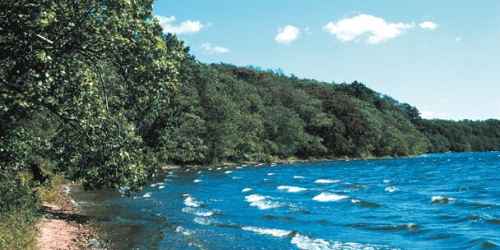 South Sandwich Road Mashpee & Sandwich, MA, 02563 Phone: 508-636-4693
Extensive walking trails among holly and rhododendron gardens; two ponds stocked with fish
Groves of holly and some rhododendron on a lovely peninsula with two freshwater ponds and picnic areas with soothing views of the water.
Ashumet Holly Wildlife Sanctuary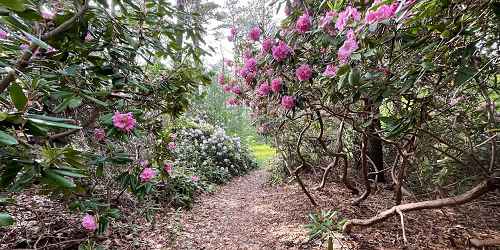 Off Nathan Ellis Hwy. East Falmouth, MA, 02536 Phone: 508-362-7475 Toll-Free: 800-AUDUBON
Ashumet's most spectacular feature is Grassy Pond, a globally rare ecosystem characterized by the species of rare wildflowers that bloom along its sandy shores during low water in late summer and early fall; the pink Plymouth gentian is particularly beautiful. As its name suggests, Ashumet Holly is well known for its 65 varieties of holly trees planted throughout the sanctuary. Self-guided trails take visitors through the sanctuary.
Admission: Adults, $3; children age 2-12, $2