Cape Cod has comfortable & historic inns
Cape Cod, Massachusetts, inns are smaller, quiet, extremely luxurious lodgings that absolutely reflect the historic character and regions of the Cape. Inns are found in every corner of Cape Cod, either in or close to the towns of Provincetown, Hyannis, Brewster, Falmouth, and Orleans. They offer quiet luxury, beach and ocean views, and often personal luxuries like hot tubs and Jacuzzis, fine dining, gardens and walking trails, spectacular scenery, and nearby attractions like the wonderful Cape Cod National Seashore.
543 Commercial Street Provincetown, MA, 02657 Phone: 508-487-1726
Relax to the rhythms of the sea
Situated along tranquil Cape Cod Bay, Surfside Hotel & Suites is an oceanside resort where the sound of ever-rolling waves sets your mind at ease. Our Provincetown hotel offers contemporary-styled guestrooms, Jacuzzi suites, and one- and two-bedroom apartments with kitchens and balconies overlooking the sandy beach. Lounge on our private beach, or sit by our heated outdoor saltwater pool sipping frozen drinks from our Lighthouse Bar. Stroll Commercial Street, the town's quaint but bustling center, and stop in one of the many fine restaurants for a seafood dinner. Take a whale watching cruise, and have your own marine adventure. Wake up to our complimentary breakfast, then spend another day relaxing and soaking up the sun. At Surfside, your vacation could be such a paradise.
Historic Shore Street Falmouth, MA, 02541 Phone: 508-540-3000 Toll-Free: 800-352-7100
Inn-credible lodging options
This exceptional 80 room Inn features unique lodging options to fit any preference or budget. Economy singles to standard and family rooms, to deluxe parlor rooms, suites, and longer term residences. Traditional or contemporary, all guest rooms feature private bath, Wi-Fi and refrigerator. Parlor rooms and one-bedroom residences offer kitchen facilities with cookware and dishes. Relax in delightful settings in six separate residences: former sea captains homes; contemporary hotel and motel-like accommodations; cottages with kitchen studios, a loft studio and an eight bedroom/eight bathroom residence for weekly vacation rental; one-bedroom extended stay residences; or the "Family Resort" option, offering a fitness center, indoor and outdoor pools, saunas, green lawns, and umbrella tables.
149 Main Street Historic Sandwich Village, MA, 02563 Phone: 508-888-3622 Toll-Free: 800-444-3566
Ol' Dan'l ate, drank and maybe even slept here
This historic boutique Inn and Spa, a Select Registry "Distinguished Inn of North America," has hosted guests for more than 300 years in the oldest town on Cape Cod. Forty-eight luxury rooms and romantic suites are elegantly appointed with hand-carved canopy and four poster beds, fireplaces and whirlpool tubs with balconies and heated floor tiles. Once a watering hole for the statesman Daniel Webster, the Inn is today recognized as a Distinguished Restaurant of North America serving breakfast, lunch, dinner and Sunday brunch in a cozy Tavern, the Music Room or the sun or moonlit Conservatory. The Beach Plum Spa offers luxurious massages, facials and body treatments for men and women. Venturing out of course, the Cape is your oyster.

24 Canal Road Orleans, MA, 02653 Phone: 800-772-6453
Launch your vacation adventure in Orleans
Near the Cape Cod National Seashore, the Inn proclaims itself the most affordable and family friendly of Orleans hotels. It's also the only Orleans hotel with indoor and outdoor pools. 62 deluxe rooms or large efficiencies include free Wi-Fi, full private bath, satellite TV, individual climate control and the entire resort is non-smoking. Kitchenettes are fully equipped with under-counter refrigerator, sink, cookware and utensils with a two burner stove or microwave in most. Complimentary continental breakfast is served daily and you'll find a game room and a very friendly staff. Many attractions are within walking distance, or drive along the National Seashore and enjoy its unbeatable beaches, trails, and charming villages for shopping and great food. Charter fishing and whale watching adventures from Hyannis and Provincetown start here.
66 Route 6A Orleans, MA, 02653 Phone: 508-255-1216 Toll-Free: 800-342-4300
Cozy, quaint and Cape Cod wonder-full
Perched on the elbow of Cape Cod, this charming, family friendly and pet friendly Inn is set in historic Orleans, the gateway to the National Seashore. Close to the finest beaches and restaurants, shopping and galleries, the local playhouse, museums, and lots of history, you can reach the rest of Cape Cod via the nearby Route 6 rotary and a short drive to Provincetown or Hyannis. Lodgings include 56 poolside, courtyard or woods-view rooms with refrigerators, microwaves, cable TV with HBO, private baths and telephones. There is a resort size pool, family picnic areas, barbecue grills, and a variety of indoor and outdoor games. Complimentary coffee and goodies are available each morning. A sweet spot for a lovely vacation getaway with award winning rose gardens, flowering trees and pines.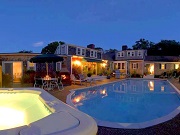 2504 Route 6A Barnstable, MA, 02630 Phone: 508-362-6823 Toll-Free: 800-909-6923
Recently voted "Best Mid-Cape B&B/Inn" for the 8th year in a row by Cape Cod Life.
The Lamb and Lion Inn, located in the heart of Cape Cod's historic district, was as well voted "One of the Top 12 pet-friendly destinations in the World" by CNN. Amenities include wood-burning fireplaces, suites with kitchens, an outside courtyard with solar-heated salt water pool, a year-round hot tub, a full-service yoga and spa studio and a unique "eat anytime and anywhere" breakfast. Guests can surprise their loved ones with unique packages such as the "Hunka-Hunka Burnin' Love" beer package, the "FUNtastic 5-Day Adventure Getaway" or the "Inn Has Gone to the Dogs" weekend. Whether your first time to Cape Cod or your 50th, you will love the inn's complimentary self-guided driving tours, which help guests find the Cape's hottest hot spots and most tucked-away treasures.