Cape Cod offers large variety of hotels and motels
Hotels and motels in Cape Cod, Massachusetts, service a wide range of needs, tastes, and budgets. Chain hotels in Cape Cod, Mass. towns such as Hyannis, Falmouth, Orleans, and Provincetown can range from basic, low-frills lodging to luxurious establishments with spas, fine dining, and many in-room amenities. Lodgings of all sizes and price ranges are available for children and families, and are near to beaches and family activities and attractions like the Cape Cod National Seashore.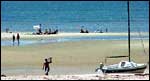 696 Shore Road North Truro, MA, 02652 Phone: 508-487-1041 Toll-Free: 888-768-7666
Easy does it at this Cape Cod beachfront lodging
Cape Cod's National Seashore Park is big enough for everyone with miles of endless beaches, biking and hiking trails, and dunes to explore and get lost in. Located directly across from this pristine setting, the Blue Sea is set on a beautiful beachfront with stunning views of Provincetown Harbor and Cape Cod Bay. Take the bus shuttle to P'Town's shopping, galleries, summer theater, whale watching, fishing and the best dining on Cape Cod. Choose from a variety of rooms including standards and efficiencies with ocean front and poolside views. All feature private bath, A/C, cable TV, coffeemakers and refrigerator. An indoor heated pool is here for your relaxation and a coin-operated laundry on site will keep you looking fresh.

24 Canal Road Orleans, MA, 02653 Phone: 800-772-6453
Lodging with your own oceanside backyard
Seaside ambiance and hotel amenities await the traveler here and the very friendly staff will ensure your stay is worth remembering. They'll point you to the pleasures of the many attractions along the National Seashore with its beautiful sandy beaches, hiking and biking trails and charming villages. You're never far from anywhere or anything Cape Cod has to offer from antiquing to charter boat fishing to whale watching and everything in between. This affordable and fully non-smoking lodging offers deluxe rooms or large efficiencies with free Wi-Fi, full bath, and satellite TV. Kitchenettes are fully equipped with under-counter refrigerator, sink, cookware and utensils with a two burner stove or microwave. It's also the only Orleans hotel with both indoor and outdoor pools. Complimentary continental breakfast is served daily.
1470 Iyannough Road Hyannis, MA, 02601 Phone: 508-771-4804
A delightful mix of historic charm and modern features
The new Best Western Cape Cod Hotel provides a delightful mix of historic charm and modern features that will make your stay in Cape Cod the perfect getaway. Starting with a healthy morning buffet we provide a comfortable and convenient atmosphere for our guests. Enjoy a swim in our indoor heated pool, relax in our sauna, exercise in our fitness center, or lounge on our private sun deck. We're five miles from the quaint shops of downtown Hyannis. Our comfortable rooms feature two double beds, hairdryers, irons and boards, 25" TVs with free HBO, pay-per-play Nintendo, pay-per-view movies, and coffeemakers. Some of our King Bed Rooms feature sofas, coffee tables, microwave and refrigerator, plus all our contemporary amenities. Our one spacious guest suite offers a relaxation room that is ideal for families who require some extra room.
Historic Shore Street Falmouth, MA, 02541 Phone: 508-540-3000 Toll-Free: 800-352-7100
Cape Cod quiet and cozy lodgings
This former sea captain's home was built in 1806 and originally had nine rooms. Today, there are six buildings with accommodations and amenities as unique and varied as the Cape itself. 80 non-smoking rooms offer authentic Cape Cod lodging from B&B to hotel to family resort. Choose from traditional, contemporary and family rooms, suites, vacation rentals with full kitchens, and an eight bedroom/eight bath cottage. Set in a secluded spot on one of Falmouth's most historic streets, you'll find restful solitude and all the activity your agenda and energies can take. Falmouth Village is loaded with scenery, charm and fun and you're close by Surf Drive Beach with a spectacular view of Martha's Vineyard and Nobska Lighthouse, just a short walk or drive to everything you came to enjoy.
543 Commercial Street Provincetown, MA, 02657 Phone: 508-487-1726
A unique Cape Cod vacation destination
Surfside Hotel & Suites in Provincetown, Mass., is an oceanside resort you will love. We've got a private beach where you can swim, sunbathe, or walk the beach.. We also have a heated outdoor saltwater pool! We serve a complimentary breakfast each morning, and for lunch and dinner there are plenty of great eateries nearby, from seafood restaurants to pizzerias. Explore enchanting Provincetown with its narrow streets and unique shops. Climb the tower at the Pilgrim monument. Tour the dunes of Cape Cod National Seashore, where artists once built shacks to escape life's cares. And be sure to take a whale watch cruise, where you'll get close enough to the sea mammals to get soaked when they start spouting.
657 West Main Street Hyannis, MA, 02601 Phone: 508-778-4949 Toll-Free: 866-469-8222
Tour the Cape from your comfortable lodgings at this convenient Hyannis resort
Why stay in a typical hotel room when you can relax in a spacious condo unit with a fully equipped kitchen, an outdoor patio or deck and plenty of room to stretch out in. Book your vacation at the Cape Winds Resort, which offers 34 one- and two-bedroom suites and two-level townhouses. The resort includes an indoor heated pool with retractable roof, jacuzzi, fitness facilities, a clubhouse with a fireplace and a BBQ/picnic area. There's a bocce court and facilities to play shuffleboard, horseshoes, volleyball and badminton. You're also a short drive from everything great about the Cape: beautiful ocean beaches, golf, lighthouses, a wide variety of restaurants, great shopping, museums, movies, theater, biking and hiking trails galore.
66 Route 6A Orleans, MA, 02653 Phone: 508-255-1216 Toll-Free: 800-342-4300
Make this your Cape Cod destination headquarters
Historic Orleans is another of Cape Cod's favorite places to visit with great nearby beaches, fine dining, unique shopping and galleries, and lots of…history. What better spot to be staying than at the gateway to the National Seashore in a natural paradise of rose gardens, flowering trees and pines. With views of the courtyard, woods or pool, all 56 rooms offer private baths, refrigerators, microwaves, and cable TV with HBO. Outdoors you'll find a resort swimming size pool, picnic areas and barbecue grills, and a variety of indoor and outdoor games for the whole family. You'll also find free coffee and goodies available each morning. You're within easy reach of the rest of Cape Cod, Provincetown, and Hyannis via the nearby Route 6 rotary.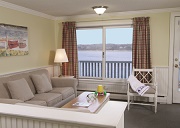 13 South Orleans Road - Route 28 Orleans, MA, 02653 Phone: 508-255-1203 Toll-Free: 800-343-2233
Leave your cares behind at The Cove
A Cape Cod vacation is a joy that will bring you back again and again. The Cove on the Waterfront, located in the elbow of the Cape Cod peninsula on a sinuous inland waterway, is a perfect resting or launching place for adventure – and it's open year-round. Depending on your choice of rooms or suites, you may have a kitchenette – ideal for families and groups – a private deck, water views, and even a fireplace. Wake to a refreshing breeze off the water, take a dip in the heated outdoor pool, and then plan your day on the glorious Cape. You are very close to the glorious beaches, ponds, and walking or biking trails of the Cape Cod National Seashore. Also enjoy cruises, shopping, golf, lighthouses, and plenty of family fun.
5200 State Highway (Route 6) North Eastham, MA, 02561 Phone: 508-255-3200 Toll-Free: 800-242-2131
Motel lodgings between a rock and a sandy place
Located just one and a half miles from the magnificent ocean and bay beaches, world celebrated Coast Guard Beach and Nauset Light Beach, you'll have direct access to the 26 mile long Cape Cod Rail Trail/Bike Path. 40 standard, spacious and comfortable motel rooms offer complimentary continental breakfast, free Wi-Fi, cable television, refrigerators, coffee makers, and private bath. Outdoors, you'll find a large pool, a wooden swing set with slide for the kids, and a large open area for gatherings and barbeque. Set at the junction of scenic Route 6 and Nauset Road, you're at the Cape Cod National Seashore afloat with great shopping, dining and family activities. Provincetown is just 20 miles up the road, while 26 miles back is Hyannis with more great Cape Cod fun.
134 Acapesket Road East Falmouth, MA, 02536 Phone: 508-548-4747 Toll-Free: 800-548-5556
Cape Cod lodging with a salt water chaser
On the waterfront in old Cape Cod this welcoming lodging features comfortable accommodations, modern amenities and activities for the whole family. You'll find a private boating beach with ramp and dock, rowboats and paddleboats, a heated outdoor pool, and barbecue grills all set on a beautiful ocean inlet. Popular local and historic landmarks and attractions are nearby from Plymouth Rock to Martha's Vineyard, sun-drenched sandy beaches, golf courses and fishing. Jump on a whale watch at the Woods Hole Oceanographic Institute for some out of the ordinary fun. All waterfront rentals feature a slider to a balcony or patio and each is heated and air conditioned with private bath, tub and shower, cable TV, microwave, refrigerator and coffee maker, and free high-speed wireless Internet access.