Farmers markets in the Cape Cod are rich with local foods, culture
Commercial and Ryder streets, across from Town Hall Provincetown, MA Phone:
Shoppers at this Provincetown community market will find organic vegetables, fresh blueberries, artisan cheeses, greens, baked goods, olive oil, and fresh fruit.
Dates and Hours in 2015: Saturdays, 11 a.m.-4 p.m.; mid-May - mid-October
336 Phinney's Lane MA Hyannis, MA Phone:
Come to the brewery weekly to buy a large variety of organic meats and produce, kettle corn, foccia and other breads, cookies, whoopie pies, cold pressed juices from fruits and vegetables, wine, eggs, smoothies, ice cream pops.
Dates and Hours in 2015: Fridays, 3-6 p.m. May 22-October 9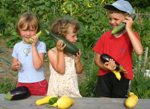 21 Old Colony Way Orleans, MA Phone: 508-237-9492
Here shoppers can expect to find Cape Cod grown vegetables, plants, honey, lobsters, soap, worms, flowers, bread and other local products.
2016 Dates and Hours: Saturday, 8 a.m.-noon; May 28-November 26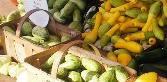 The Village Green, Old Main Street (164 Route 6A) Sandwich, MA Phone: 617-347-5192
Vendors at this summer-fall market include Oakdale Farms, J.H. Beaulieu meat and produce, Honey I'm Home, and Thyme After Thyme. Get fresh Atlantic lobster, flowers, soaps, crafts, gifts, and so much more.
2016 Dates and Hours: May-October on Tuesdays, 9 a.m.-1 p.m.

311 Old Main Street South Yarmouth, MA Phone:
Come to this open-air market in the heart of Cape Cod and spend the morning perusing vendor tables offering up fresh fruit, vegetables, baked goods, and so much more. Markets are open rain or shine.
2016 Dates and Hours: Thursdays and Saturdays, 9 a.m.-1:30 p.m.; Thursday market runs June 16 to September 15; Saturday market runs June 18 through September 17.
Behind Wellfleet Preservation Hall, 335 Main Street Wellfleet, MA Phone:
This market is full of fun and food -- vendors gather to offer you their best products for growing a garden, coffee, spices, dairy products, meat, handmade crafts, and much more.
Dates and Hours in 2015: Wednesdays, 8 a.m.-noon; May 20 to mid-October 15, plus a Christmas holiday market TBA
Enjoy fresh, locally raised and produced food throughout the year by joining local growers and food producers at the brand new Orleans Winter Farmers' Market.
Dates and Hours in 2015: December 6, 2014 to April 18, 2015; first and third Saturdays of the month: December 6 & 20, 2014; January 3 & 17; February 7 & 21; March 7 & 21; April 4 & 18.