Affordable Wedding Venues on Cape Cod Massachusetts (MA)
Historic Shore Street Falmouth, MA, 02541 Phone: 508-540-3000 Toll-Free: 800-352-7100
Affordable wedding destination with all the trimmings
Off season is a great time to visit Cape Cod and it's also an affordable time to celebrate your wedding at this unique inn in beautiful and historic Falmouth. Explore well-priced options from November through early June that are seldom available on the Cape during other times of the year. Your wedding party and registered overnight guests will enjoy 80 charming guest rooms and a complimentary hot breakfast bar daily. Plan a lobster clambake or themed wedding reception with dining and dancing indoors or in tented venues on site. The inn can provide customized decorations, personalized printed menus and whimsical props to go along with a cost-saving B.Y.O.B. Cocktail Service and memory-making rehearsal dinner. Call for available dates for your engagement party, rehearsal dinner, ceremony, reception, and guest accommodations.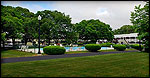 3900 State Highway Eastham, MA, 02642 Phone: 508-255-1132
Your Cape Cod wedding headquarters
When guests are traveling for your Cape Cod wedding, they'll find comfortable yet affordable accommodation at Ocean Park Inn in Eastham. We're nestled in the heart of Cape Cod, off Route 6 and just a quarter mile from the National Seashore. Cape Air Airport in Hyannis is just 20 miles away; Boston's Logan International Airport, 94 miles; and Rhode Island's TF Green Airport, 106 miles. Your guests are sure to enjoy their stay. The unspoiled beaches on the National Seashore stretch for miles. Visitors love surfing, swimming, splashing in the waves, building sand castles, or just strolling on the sand. Provincetown, a foodie's mecca, is just 20 miles down the road. Guests can take a dune tour and explore the fragile eco-system. Or have a maritime adventure with a whale watch cruise.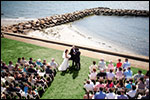 1 Lighthouse Inn Road West Dennis, MA, 02670 Phone: 508-398-2244
A romantic wedding with a price to make your dreams come true
An affordable wedding on Cape Cod is not a dream, nor is an oceanfront ceremony, breathtaking views, historic charm and unsurpassed service! It's all here at this charming Inn. Our extensive reception menu offerings include plated meal and food station packages at several different price points. Special rates for overnight accommodations, including a full breakfast buffet each morning, are offered to wedding guests in the spring and fall. There are no hidden fees, including no function room rental fee. Using the expertise and experience attained over twenty years at Lighthouse Inn, our wedding coordinator will guide and assist you through the entire planning process to insure your special day is everything you've dreamed of but still within your budget!