Cape Cod is a wonderland of fun and unusual things to do
Cape Cod has something for the whole
family lodging options
near the water, major attractions, great food, shopping and outdoor recreation. Browse museums, galleries and gardens.
Find a place to hunker down near the beaches
with scenic views and ocean breezes or get some pampering at a day spa. Do some contra dance at the tip of Cape Cod, take in some live theater, enjoy the sophisticated sounds of the Cape Cod Jazz Festival. Walk wildlife refuges and bird sanctuaries, play tennis and golf. Get out on the water for boating, fishing and whale watching. Bike to the beaches, walk the dunes.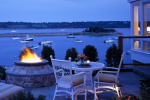 Route 28 on Pleasant Bay Chatham, MA, 02633 Phone: 508-432-5400 Toll-Free: 800-225-7125
Tots to teens to Moms and Dad's will find something to make their day
The family friendly resort features tennis, eighteen holes of championship golf, two beaches and two magnificent pools. Private cabanas offer views of Pleasant Bay and the Atlantic Ocean and all the relaxing extras. The Annual Cape Cod Jazz Festival, free and open to the public, has a lineup of the region's hottest jazz artists and is one of the most anticipated events of the summer. The Children's Center offers educational, fun and whimsical programming for children 2-12. The kids will love the high tech amenities, a nautical themed playground with a "tot lot" for the youngest children and "children's area" for those over five. During the summer there is an aquatic playground as well as Drive-In Movie Family Fun Night, Teen Gaming Night, tennis, swimming and sailing lessons.
75 Falmouth Heights Road Falmouth, MA, 02540 Phone: 508-548-4800
Great places start with a great journey.
As if Martha's Vineyard wasn't enough of a great place to travel to, getting there only adds to the fun. From May through October, climb aboard the Island Queen in Falmouth, MA on ol' Cape Cod and settle in for a sweet 35 minute mini cruise across beautiful and historic Vineyard Sound. The sea along the Massachusetts Coast is your soothing backdrop for 35 minutes of relaxation, conversation and a refreshing touch of sun, sky and salt air that fills the lungs and lifts the spirit. Passengers only are welcome aboard along with their bicycles, kayaks, paddle boards and pets. No passenger ferry reservations are required while groups of 20 or more can make group reservations.
Historic Shore Street Falmouth, MA, 02541 Phone: 508-540-3000 Toll-Free: 800-352-7100
An old-fashioned Cape Cod vacation like your grandparents remember
If you want to experience Cape Cod the way your grandparents remember it, the place to stay is ShoreWay Acres Inn in Falmouth. We're family owned and family run. The main part of our inn is an historic sea captain's home, built in 1806 and located in downtown Falmouth. That means we're within walking distance to everything -- the beach, the village, bird sanctuary, day spas, shops, galleries, museums, churches, trolley stop, library, and more than twenty restaurants, pubs, and sidewalk cafes. With short notice we can prepare a traditional Cape Cod clam bake -- with lobster, steamers, corn on the cob, and watermelon -- or a cook out, with hot dogs, hamburgers, and BBQ chicken. These meals are served on the lawn, so it's come as you are. Bare feet and bathing suits are fine.
The
Whydah Pirate Museum
, opening June 2016 at 674 MA-28 in
West Yarmouth
, is a 12,000-square-foot treasure house, so to speak, of pirate history and pirate lore. The brand-new interactive science museum welcomes people to see, touch, and handle authenticated pirate treasure, discovered in 1984 off the coast of Wellfleet. The Whydah was a fully-rigged British ship that traveled between Africa, the Caribbean, and Great Britain. In 1717, it was captured by the pirate Samuel Bellamy and used over the next year to board 53 vessels, collecting their riches and treasures. During a storm off the coast of Wellfleet the Whydah ship sunk in 1717. The Whydah Pirate Museum provides an interactive and fun learning experience for children and adults. Open daily.
The Brewster Store
on Route 6A in
Brewster
was built as a church in 1852 and converted to a general store in 1866. It has served residents and visitors to Cape Cod for more than 140 years. The Brewster Store features a broad assortment of merchandise: coffee, pastries and morning newspapers, penny candy, t-shirts and sweatshirts, toys, lamp parts, kitchen gadgets, original Coke in glass bottles, books, greeting cards and many unusual gifts. Put a quarter in the old nickelodeon to hear an old time tune, enjoy the roasted peanuts, or just sit on the benches and watch the world go by. Phone: 508-896-3744.
Come and join the
contra dance
, happening the third Friday of every month, at different locations around the Outer Cape, like Wellfleet and nearby towns. If you can walk you can dance, or alternately, sit on the sidelines and just enjoy the music. You don't need to bring a dance partner; everyone mixes around the group. There is a community potluck beforehand at 6:30 p.m. and dancing starts at 7:30 p.m. Contra dancing is the old time dance of New England; music – performed by live musicians -- is exuberant reels and jigs from the traditional repertoires of the British Isles, Canada and America. Everyone is welcome, including children. This is an alcohol-free event.
Pilgrim Spring Trail and Small's Swamp Trail
, part of the Cape Cod National Seashore, are easy loop trails about one mile long, accessible off Route 6 at the Pilgrim Heights area sign in
North Truro
. The trails wind around a kettle swamp and marsh and offer wonderful views of Pilgrim Lake, sand dunes, the salt meadow, and the Atlantic Ocean. A stone marker identifies the site of the first fresh water the Pilgrims found. Trails are marked with information about local history and nature. This is a fine, easy walk for people of all ages, with views of typical Cape Cod landforms and living creatures.
Never dismiss the Outer Cape as a romantic winter destination. Provincetown, Truro, and Wellfleet all have a core group of restaurants and bars dishing up warmth and sustenance. You will be looking for both after a vigorous walk onto the
Province Lands
, north of Provincetown. On a bright winter day, the views are glorious. Start at the Province Lands Visitor Center on Race Point Road, off Route 6. Walking routes can be adjusted for shorter and longer distances, with wonderful views of the Province Lands, Race Point Lighthouse, the Coast Guard Station, and more.
Does life stand still in Provincetown during winter? Summer visitors might think so, but, no, it does not. Many lodgings close down, but
Dyer's Beach House
in
Provincetown
landed on the brilliant idea of inviting an artist to live and work at the guest house all winter. The artist's work is displayed in guest rooms and sold at the guest house the following summer. In 2017, come enjoy the work of guest artist
Peg Reynolds
. Provincetown has a long history of innovative art. 508-487-2061.