Boston & Cambridge offer plenty of hearty food for casual dining for families
Casual dining is relaxed dining at some of the finest hotels and eating establishments in Boston.
Bring the family
for an
affordable weekend
or vacation and take to noshing and sampling great cuisines and light fare like great soups and salads. Farm-to-table American menus feature local and often organic ingredients in everything from charcuterie and pizza, to tapas style plates and flatbreads, the perfect lobster roll or burger. Don't forget to try the fabulous desserts with a spot of afternoon coffee or tea.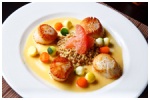 61 Exeter Street at Boylston Boston, MA, 02116 Phone: 617-536-5300 Toll-Free: 800-225-7676
Small plates to nosh, warm friendly service, there's always a reason to stop in. Open nightly 'til 2am.
City Table's free spirited approach to the menu allows guests more freedom to share and try a wide offering of starters, entrees and sides that put a creative twist on classic American fare. We embody a casual approach and an emphasis on fresh and organic ingredients.
City Table is an intimate gathering spot for pre-dinner or after work with an extensive beverage list featuring a variety of traditional cocktails and signature libations along with one-of-a-kind martinis and an impressive wine list with many selections available by the glass. City Table's full menu is served until 1am daily with cocktails until 2am.
10 Huntington Avenue Boston, MA, 02116 Phone: 617-262-9600 Toll-Free: 888-627-7216
Distinctive and international flavors in a relaxed setting
For casual dining in Boston's toney Back Bay, head for the Westin Copley Place Hotel, which features several restaurants with distinctive cuisine. Fogo de Chão Brazilian Steakhouse is a dining adventure, with gaucho chefs preparing 16 different cuts of beef, pork, lamb, and chicken. Try the Picanha, the signature steak, prepared with traditional light seasoning, or with a more robust garlic seasoning. The newly-opened ShabuMaru Restaurant features a unique and healthy Japanese hot pot dining experience unlike anything else in Back Bay. For breakfast, head to The Huntington Boston, open every day from 7 a.m. to noon. Menu favorites include smoked salmon benedict and smoked brisket breakfast tacos, made with avocado and charred tomato salsa. Bar 10 Boston is the place for a civilized nightcap or a light meal.
425 Summer Street Boston, MA, 02210 Phone: 617-532-4600 Toll-Free: 888-627-7115
Four restaurants indulge every preference or whim of the palate
For casual dining downtown, the Westin Boston Waterfront can't be beat. The hotel includes four great establishments. Sauciety, open for breakfast and lunch, is a modern American grill with a twist: we feature a selection of meats and fish that are pan-roasted or grilled; you customize your meal with a variety of flavorful sauces, spreads, and chutneys. MJ O'Connors is an Irish pub with an emphasis on seafood. Favorite entrees: butter poached lobster and steamed mussels in Thai curry sauce. City Bar Boston Harbor features a wide assortment of great whiskeys, and a menu that includes duck-comfit spring rolls and house-made potato crisps. Birch Bar, a waterfront bar, offers seasonally-inspired cuisine, made with fresh locally-grown ingredients. Find late-night menus at City Bar and O'Connors.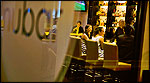 16 Garden Street Cambridge, MA, 02138 Phone: 617-547-4800
Delight your palate with fresh & creative dishes at this family-owned eatery
When staying at the Sheraton Commander, be sure to dine at Nubar, a Harvard Square bistro with a 60-year history that's become a mainstay of the Cambridge restaurant scene. The Guleserian family has owned and operated the establishment for three generations; it's named for Edward Nubar Guleserian, a former owner of the hotel. The staff is always enthusiastic and welcoming. Some of the vegetables and herbs used in dishes are harvested from a garden right outside the backdoor. Among the poplar dinner entrees: swordfish steak grilled with bood orange, saffron and mint; Portuguese littleneck clam stew chorizo; and pork osso bucco. The fabulous desserts include cannoli ricotta sweetened with almond and orange and flourless chocolate espresso torta with raspberry sauce.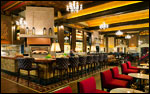 138 St. James Avenue Boston, MA, 02116 Phone: 617-267-5300 Toll-Free: 800-441-1414
Sip + savor.
OAK Long Bar + Kitchen, is the stunning new Boston restaurant in the heart of Back Bay. Sip a hand crafted cocktail. Savor the dramatic results of an extensive restoration and each thoughtfully curated detail. Sample a farm to table American menu featuring local ingredients and purveyors. From charcuterie and local cheeses to pizza and small plates to grilled meat and fish to the perfect burger, taste and enjoy OAK Long Bar + Kitchen.

Serving: Breakfast, Brunch, Lunch, Dinner, In Between and Late Night.
100 Stuart Street Boston, MA, 02116 Phone: 617-261-8700
Light fare in a setting to dazzle
Dine casually and participate in a variety of social activities at this hotel in historic Boston. Mix and mingle, sip and savor light fare and expertly prepared cocktails at the trendy and sophisticated W Lounge, an intimate urban garden setting with expansive ceilings. You're inside a bold, nature-inspired world of water, fire and earth elements with a flowing illustration stretching across half the room, complementing an authentic stonewall and natural hues. Mirror fragments sparkle throughout and a dynamic metal vine sculpture spans the space. Descend the grand staircase and meet by the corner fire pit or retreat to the semi-private seating area with a specially designed board game. Of simply sink into plush, oversized furniture and connect with the complimentary high-speed Internet access.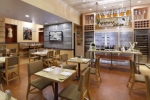 1360 Worcester Street Natick, MA, 01760 Phone: 508-653-8800
Great food with a touch of Julia Child
This hotel offers the finest creative cuisine at its signature restaurant, Pantry. Championing the art of American cooking for power breakfasts, social lunches, and business dinners, the Pantry is reminiscent Julia Child's kitchen with an uptick. Its treasure trove of design features weave the culinary tools of the trade into the room's architecture. The Violet Thorn is the hotel's chic lounge serving premium hand-crafted cocktails from seasoned mixologists, and a fine selection of small plates and flatbreads. The stunning interior design of the room blends fabrics and textures with special lighting; a water wall, fireplace and media wall to accentuate the venue's vibrant ambience.
39 Dalton Street Boston, MA, 02199 Phone: 617-236-2000 Toll-Free: 800-325-3535
Casual atmosphere with upscale dining
One reason the Sheraton Boston Hotel stands out are the great restaurants. Cafe Apropos, open from 6:30 a.m. to 11 a.m. (and 12 p.m. Sunday) is the place for breakfast or brunch. Enjoy a Belgian waffle with Vermont maple syrup, strawberries, and whipped cream, or Irish steel-cut oatmeal with sundried cranberries and chopped almonds. The atmosphere: casual and comfortable. Come to Side Bar and Grille, a casual eatery, for lunch, dinner, or a late night drink or snack. We're open until 2 a.m., and food is served until 12:30 p.m. Popular lunch menu items include the salmon BLT, made with Atlantic salmon and applewood-smoked bacon, the New England lobster roll, and the Reuben panini. There's also a Starbucks next to the lobby, with free wireless Internet access.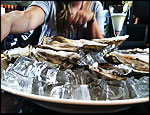 215 Charles Street Boston, MA, 02114 Phone: 617-224-4000
A touch of class and casual cuisine to match
Breakfast, lunch and dinner are served daily. But there's more at this elegant Boston hotel – popular drinking and dining establishments that offer cuisine and atmosphere that's everything from casually sophisticated, sultry and seductive, to lively and reinvigorating. CLINK's new American menu is a selection of tapas-style plates. Scampo's award-winning chef pairs simple rustic food, chic Italian design and a glorious open kitchen. Catwalk, the Liberty's newest bar, is a hotel-guest only space that floats above the striking lobby. Dinner service and the upscale bar menu feature small plates including Sashimi of Yellowtail with Black Garlic Ponzu and Sichuan Peppercorn Spiced Peanuts; and a twist on the classic with Ralph's Potato Chips with Smoked Truffle Salt.
One Hotel Drive Boston, MA, 02128 Phone: 617-568-6700 Toll-Free: 800-445-8667
You'll love eating at Hilton's Boston airport hotel
Keeping you nourished and on the go is a top priority at the Hilton Boston Logan Airport. the day with breakfast a Berkshires, offering dishes like Huevos Rancheros, and a full buffet. At Cafe Presto, grab a Starbucks coffee and snack while on the run, or pack a wholesome meal for your trip. Berkshires is our breakfast cafe. Enjoy something low-fat and high-energy, like Irish steel cut oatmeal or house-made granola with berries. Or treat yourself to something more indulgent, like our Maine Lobster Towers, a New England twist on eggs benedict. For lunch or dinner, head to Connolly's Publik House and enjoy local seafood favorites -- clam chowder, lobster roll, baked scrod -- as well as stone-baked pizza, salads, and sandwiches.