Berkshires and Pioneer Valley have comfortable & historic inns
From a pair of old brownstones on Beacon Street in the Greater Boston area to a rambling 1811 estate in the Berkshires, Massachusetts inns are smaller, quiet, extremely luxurious lodgings that absolutely reflect the historic character and regions of MA. Romanic and historic inns are scattered through the small town and rolling hills of the Berkshires towns of Great Barrington, Stockbridge, Lee, and Lenox, and the Connecticut River Valley towns of Springfield, West Springfield, Northampton, and Amherst. Mass. hotels and motels in the Berkshires place visitors close to wonderful attractions like Six Flags New England; the Zoo in Forest Park; the Catamount, Jiminy Peak, and Bousquet ski areas; Berkshire Theatre Festival; Norman Rockwell Museum; Eric Carle Museum of Picture Book Art; and Historic Deerfield.
30 Main Street Stockbridge, MA, 01262 Phone: 413-298-5545
Quintessential New England lodging with a remarkable and romantic history
As one of the oldest inns in America the Red Lion Inn embraces you in its warmth, charm, and historic legacy. Immortalized in Norman Rockwell's painting, "Stockbridge Main Street at Christmas," the inn has hosted five presidents and other notable figures and remains the centerpiece of community affairs and special occasions. Its guest rooms and common areas feature early American antiques, furnishings and china. There's a lobby fireplace with a curious cat, a cozy bar, magnificent farm to table cuisine and a sustainable sensibility about everything it does. There's also a fitness room, a porch with rocking chairs, and nightly entertainment at the Lion's Den. Outdoors, you'll find every conceivable cultural and recreational pleasure in the scenic Berkshires wonderland.
1090 Main Street Williamstown, MA, 01267 Phone: 413-458-9371
Colonial comfort, warmth, and hearty fare embrace guests here
People stay at inns because the word conjures warm images: small scale, intimacy, personal service, comfort, a friendly meal or drink in a candlelit tavern. All those images work together fluently at the Williamstown Inn on the campus of Williams College in the gorgeous Berkshires of Massachusetts. Classical columns that flank the entrance foreshadow comforts inside: a lobby fireplace, arched doorways and molding in Colonial colors, and indulgences like a heated pool, hot tub and sauna. Two dining facilities serve hearty American fare and a continental breakfast. Step outside and you can stroll a campus of green lawns and stone buildings; drive a winding road up to the vistas of Mount Greylock, or enjoy art, music or theater at nearby high-caliber museums and performance centers.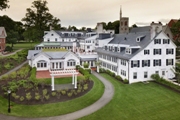 30 Boltwood Avenue Amherst, MA, 01002 Phone: 413-256-8200 Toll-Free: 800-742-0358
The essential New England inn experience
An historic New England college town needs an historic Inn and Amherst and the Lord Jeffery have been together since 1926. They continue after extensive renovation reinforced its historic charm and original character. Forty-nine stylish guest rooms offer a king, queen, or two double beds. Suite variations of each room type include pillowtop mattresses, high thread count linens, flat screen LCD HD televisions and complimentary high speed Internet access. A well-equipped fitness center features cardio equipment, free weights, two treadmills and an elliptical trainer. The "Jeff" has focused on environmental sustainability with organic bath amenities, a comprehensive recycling program and the distinction of being one of the greenest hotels located in the Pioneer Valley. Perfect for a classic New England wedding, social event or meeting.
81 Old Main Street Deerfield, MA, 01342 Phone: 413-774-5587
Contemporary comfort surrounded by history
Built as a small hotel in 1884 the twenty four room inn is small enough to feel cozy, while flat screen televisions, private bath, and chamois robes provide modern and luxurious touches. The inn has an excellent restaurant and tavern with mahogany dining bar, fireplaces, and inviting tables. Champney's scratch kitchen features old favorites with a contemporary twist and seasonal dishes all with local, farm fresh produce.
Yankee magazine says this is New England's best 19th-century inn. Stunning homes from the 18th and 19th century, many of them open to the public, line the mile-long Old Main Street.