Berkshires/Pioneer Valley/Mohawk Trail
1986 Fred Snow Road Becket, MA, 01223 Phone: 413-623-0100
Northern exposure with good snow; 32 km of trails for all levels; snowshoeing and ice skating; good for families; bed and breakfast inn
At 1650 feet elevation, Canterbury Farm and its 32 km of trails offer plenty of snow and views of Mount Greylock. Most trails are groomed every day and offer beginner, intermediate, and advanced terrain. Some trails are wide enough for ski skating; some of the back country trail have tracks only. Skis, snow shoes and ice skates for rent; lessons offered.

Dave's nature tours for groups go out every Sunday to observe habitats of beaver, otter, moose, bear. On the property is a cozy country B&B.
55 Lee Road Lenox, MA, 01240 Phone: 413-637-1364
Ten km of groomed trails adjacent to a luxury resort; ice skating; free spa; lodging packages
Cranwell Resort, Spa and Golf Club offers Nordic skiers and snowshoers 10 kilometers of groomed trails for all ski levels. Rossignol ski touring equipment for XC skiers is available for rent, as are Tubbs snowshoes and skier accessories.

Tamp down your Nordic-induced hunger at nearby Sloane's Tavern. Skiers and snowshoers using the property also may use the resorts spa and indoor pool. Winter Getaway packages for the resort are available.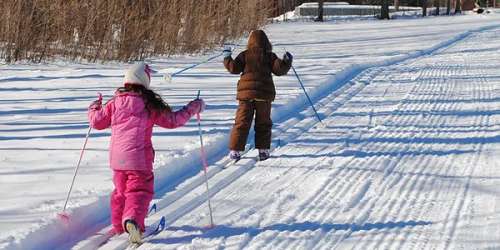 Maple Corner Farm, 794 Beech Hill Road Granville, MA, 01034 Phone: 413-357-8829
30 mk. of skiing and snowshoeing trails; lodge with food; rentals and lessons; 1,400-foot elevation
This family farm in the foothills of the Berkshires offers 20 kilometers of marked ski trails from beginner to expert, groomed for traditional and skating styles. Also, there is 10 km. of snowshoe trails. The trails venture through or past pastures, mountain streams, maple groves, forests, and hills.
A rental shop has plenty of skis and snowshoes for children through adult sizes. Group and private ski lessons are available. The ski lodge has a cozy wood fire and snack bar with hot foods. Behind the lodge is a warm-up area and beginner trails. Open for skiing 9 a.m. to 5 p.m. weekends and holidays, and 10 a.m. to 4 p.m. weekdays.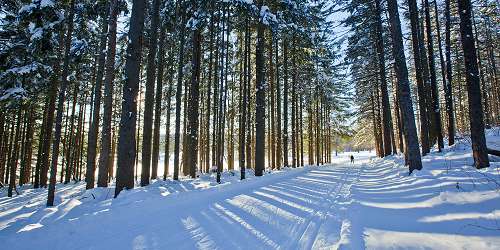 Notchview Reservation, 83 Old Route 9 Windsor, MA, 01270 Phone: 413-684-0148
40 km of trails, mostly groomed; long snow season; ski with your dog
Notchview Nordic ski area is owned and operated by the Trustees of Reservations, a conservation group that does an excellent job of caring for its properties. Variety of traisl ranges from KInderloop for children to backcountry trails for advanced XC skiers and snowshoers. Twenty-eight of a total of 40 trails are groomed. The 3100-acres property has scenic forest and open meadow. A high base elevation means lots of snow, even into March and April. Trailside shelters offer grand views across the surrounding Hilltown countryside. One area is groomed for skiing with dogs. Visitor lodge has a wood burning stove. Snowshoe rentals and ski equipment rentals.
64 West Hill Road Hawley, MA, 01339 Phone: 413-339-4265
25 km of trails for classical Nordic skiing and snowshoeing; lodge includes meals and bunk rooms, available for overnights by groups
Stump Sprouts is a small rustic resort high above the Mohawk Trail with dependable snow coverage throughout the winter. Twenty-five kilometers of trails designed for classical track XC skiing and snowshoeing include beautiful wooded glades that move into and through the nearby state forest. Great views from trail intersections.

The lodge has wonderful views in all directions, a fireplace, bunkrooms. Home-cooked served to weekend guests and midweek groups. The lodge is a destination for family reunions, clubs, small weddings, and informal business meetings.
Northfield Mountain Cross Country Ski Area
99 Millers Falls Road Northfield, MA, 01360 Phone: 800-859-2960
25 miles of varied-skill XC and showshoeing trails, including 800-foot mountain climb
Twenty-five miles of trails are groomed for classical and ski style skiing. Difficulty ranges from gentle to the 800-foot vertical climb up Tenth Mountain Trail. Center has a base yurt and a lounge, trailside warming hut open on Saturdays and Sundays; rentals of Nordic skis and snowshoes; and lessons. Six miles of snowshoe trails. Trail system open Wednesday- Sunday, 9 a.m. to 4:30 p.m. (not open on Monday and Tuesday). Passes are $12 a day; adult ski equipment rentals, $14 a day.
Hilltop Orchards Cross Country Skiing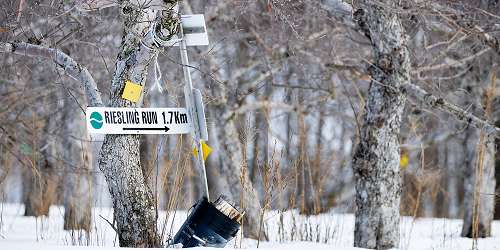 Hilltop Orchards, 508 Canaan Road / Route 295 Richmond, MA, 01254 Phone: 800-833-6274
Four miles of trails for XC skiing and snowshoeing; trails in woods and a orchard; snowshoeing; lodge with winery
In addition to its large apple trees, Hilltop Orchards has a 200-acre property devoted in winter to Nordic skiing and snowshoeing, with some places offering vast vistas of the Berkshire Mountains. At this Nordic Ski Center, trails are groomed for classic and skating-style skiing and snowshoeing. Wooded backcountry trails will thrill the more advanced XC skiers. John Morton, a seven-time participant in the Winter Olympics, designed the 4 miles of trails through the orchards and nearby woods. Equipment rentals. Join the Guided Full Moon Snowshoe and bonfire.

Skiers and snowshoers are welcome to free tastings of Furnace Brook Wine, the orchard's other non-traditional offering. Day trail fees are adults, $15 trail fees, youth, $12. Season passes available. Open daily 9 a.m.-5 p.m. Guests of the owner's Garden Gables Inn in Lenox ski for free.