Bed and breakfast inns offer quiet intimacy in Berkshires lodging
Massachusetts bed and breakfasts are intimate, home-like establishments, often located in older or historic houses, found in every region of MA, including the beautiful towns and rolling hills of the Berkshires and the Connecticut River Valley towns of Springfield, West Springfield, Northampton, and Amherst. As the B&B name promises, bed breakfasts in the Berkshires, including Great Barrington and Stockbridge, serve wonderful breakfasts, often with homemade pastries or traditional foods of Massachusetts. B&Bs in the Berkshires include farmhouses and estates dating from the early 1800s. B&B luxuries include pleasant sitting rooms, lush gardens, and hosts who can help visitors find all the local historic attractions and places to dine and shop.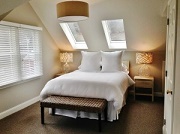 200 Warfield Road Charlemont, MA, 01339 Phone: 413-339-6600 Toll-Free: 888-339-8439
Charming upscale retreat in the Berkshire foothills
This enchanting, upscale B&B overlooks the scenic Mohawk Trail and Deerfield River and is adjacent to Berkshire East Mountain Resort. Two guest houses sit on a working farm in the Berkshires foothills. The Main House offers 9 bedrooms and 9 bathrooms, a kitchen, public gathering area with TV, a dining room, and DirecTV service for every room. A separate apartment has its own kitchen, living room, work space plus a bath and whirlpool tub. The "Bungalow" is a five room facility that includes king sized and queen sized beds, kitchen, gathering area and dining room adjacent with a 42" TV and three bathrooms.
,br> Nearby towns are rich in history, artisans, architectural wonders and antique shops, nyriad recreational activities and adventure.
81 Old Main Street Deerfield, MA, 01342 Phone: 413-774-5587
A bed, breakfast and the best of rural New England
Since 1884, the inn has been welcoming folks to the best documented small town in America. With an excellent restaurant and tavern, fireplaces, white rockers and bright Adirondack chairs, there is ample room and time to relax and take in the setting. Deerfield enjoys Historic Landmark status, while gorgeous homes and working farms line the mile long Old Main Street. Guestrooms in the main inn and carriage house have private bath, earth-friendly amenities, chamois robes, A/C, and television. Breakfast is served until 10am, with delicious field to fork choices from our scratch kitchen, including fresh-baked pastries.