Outer Cape Cod: Orleans to Provincetown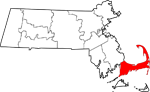 Outer Cape Cod: Orleans to Provincetown
Orleans to Provincetown, with stops in the Cape Cod National Seashore and the towns of Orleans, Eastham, Wellfleet, Truro, and Provincetown. Total distance is about 25 miles one way.
This drive can take two or more days for visitors who spend lots of time at beaches and other points along the way. Learn more at
Cape Cod Vacations
.
Map Link for this Scenic Drive Tour
Orleans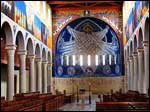 Church of the Transfiguration
. This beautiful church at 5 Bay View Drive welcomes visitors daily except Wednesdays. Built in 2000, the church is a modern structure lined with magnificent Italian mosaics. Frescos, stone carvings, glass art, and statuary throughout the church represent biblical images. Vespers is sung in Gregorian chant daily at 5:30 p.m. 508-255-1094
-- From the church, take Rock Harbor Road back toward the center of Orleans. Rock Harbor Road turns into Main Street. Continue along Main Street through town, following signs for Nauset Beach. Main Street turns into Beach Road. Follow to the beach.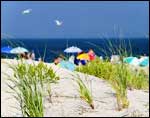 Nauset Beach
at 250 Beach Road. This is one of the best beaches anywhere. Get there early on warm sunny days but always bring a cover-up. If the wind is from the north or east it can be cool and foggy by late afternoon. This beach is in the Cape Cod National Seashore; fee for parking. Next to the beach is Liam's clam shack, known as the Lord of the (Onion) Rings. 508-240-3780.
-- From Nauset Beach, backtrack along Beach Road and Main Street through town and get onto Route 6 northbound. After entering the town of Eastham, watch for signs for the Salt Pond Visitor Center on Nauset Road.
Eastham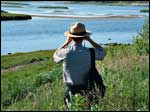 Salt Pond Visitor Center of the Cape Cod National Seashore
at 50 Nauset Road at Route 6. This is your first stop on this drive in the magnificent Cape Cod National Seashore, a preserve of nature and history. It includes beaches, ponds, walking and bicycling trails, lighthouses, museums, historic sites, and more. The two visitor centers, open daily in the summer, offer exhibits, walks, tours, family activities, gift shops and interpreters. 508-771-2144
Nauset Marsh Trail.
Walk out of the Salt Pond Visitor Center to begin this one-mile trail, which winds along the edge of Salt Pond and Nauset Marsh, crosses fields, and returns to the visitor center through a forest. This was originally a freshwater kettle pond formed by glaciers, but the ocean broke through and formed a channel connecting the pond to Nauset Marsh.
-- Turn right out of the Salt Pond Visitor Center parking lot and drive a very short distance east on Doane Road to reach Coast Guard Beach.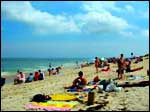 Coast Guard Beach
off Doane Road. Coast Guard Beach is a prime swimming beach during the summer season. The Great Beach, so named by Henry David Thoreau, starts here. This sandy strand offers opportunities to study coastal beach processes, including transport of sand and coastal erosion.
-- From Coast Guard Beach, drive north one mile along Ocean View Drive to Nauset Light Beach and lighthouse. Or, if arriving from Route 6, turn right on Brackett Road, left on Nauset Road, and right on Cable Road.
Nauset Light Beach
at Cable Road and Ocean View Drive. Nauset Light Beach consists of a broad, sandy beach. During winter months, the beach profile is considerably lowered, sometimes exposing the brick foundation of one of the Three Sisters lighthouses. Piping plovers, a threatened species, nest on the outer beach from early spring to early summer.
Nauset Lighthouse
at Ocean View Drive. The current beacon at Eastham was originally built in 1887 as one of the twin lights at Chatham. In 1923, it was moved from Chatham to replace the last of the Three Sisters Lighthouses. By 1996, the light was moved to its present location in the Cape Cod National Seashore.
-- From Nauset Lighthouse, take Cable Road west and turn right on Nauset Road to return to Route 6. Travel north on Route 6. After entering the town of Wellfleet, turn right onto Marconi Site Road (also the road to the Seashore headquarters).
South Wellfleet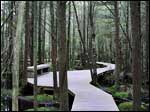 Atlantic White Cedar Swamp Trail
adjacent to the Marconi Station Site. The Atlantic White Cedar Swamp Trail is a one-and-a-half-mile nature trail that descends gradually in elevation into the swampy environment that hosts Atlantic white cedar and red maple trees. It is moderately difficult; use mosquito repellant in these woods.
-- Return to Route 6 North. Entering Wellfleet, take Main Street to East ComMercial Street to Wellfleet Center.
Wellfleet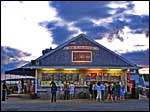 Wellfleet Center
along Main Street. Wellfleet is a beautiful small town with fun places to dine and shop, as well as a lovely waterfront with views of busty boating activity in Wellfleet Harbor.
-- Travel along Kendrick Avenue and follow it along the shoreline as it turns into Chequessett Neck Road. Follow to Great Island Trail parking area.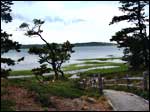 Great Island Trail
off Chequessett Neck Road. This trail leads to Great Island, which wraps around Wellfleet Harbor. The trail follows sandy stretches between elevated heights. Its higher elevations allow spectacular vistas emerging from a pitch-pine forest. This is a difficult trail and parts of it are submerged at high tide. Three miles, one way, to the Jeremy Point overlook.
-- To continue on Route 6, backtrack along the shore of Wellfleet Harbor and through center Wellfleet along Chequessett Neck Road, Kendrick Avenue, Commercial Street and out to Main Street.
North Truro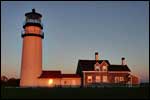 Highland Light (Cape Cod Light) and Highland House Museum
at 27 Highland Light Road. Built in 1797 and rebuilt in 1857, Highland Light (Cape Cod Light) is the oldest lighthouse on Cape Cod. It is situated on a cliff 120 feet above the ocean and its light can be seen 23 miles out to sea. Also on the same property is the Highland House Museum, formerly a grand hotel. The museum displays whaling and fishing gear, ship models, and shipwreck booty. 508-487-1121
-- Backtrack along Highland Light Road, cross Route 6 and turn right onto Route 6A and follow to Commercial Street in Provincetown Center.
Provincetown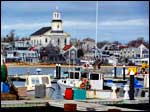 Provincetown Center.
This town, historically the home of Portuguese fishing families, later attracted artists because of its uniquely beautiful light. The town now brims with dining and shopping. It is also a gay and lesbian mecca, where gays and lesbians are comfortable and outgoing, both as hosts and as visitors. The center of town is congested and busy, but the far ends of the town are quieter neighborhoods of clapboard houses in flower-filled yards.
-- From the center of Provincetown, take Conwell Street toward Route 6. Cross Rote 6 and proceed along Race Point Road. Follow this road to the next three locations.
Beech Forest Trail
off Race Point Road. This trail provides a journey into the heart of a picturesque beech forest and offers great bird watching opportunities, especially in spring and fall. It skirts the shallow Beech Forest Pond. Easy walking. The extension loop has steep log steps and some soft sand.
Province Lands Visitor Center
on Race Point Road. The Province Lands Visitor Center of the Cape Cod National Seashore is a mile from Provincetown. The Visitor Center is surrounded by a deck where you can see wide expanses of the Province Lands dunes. Nearby is the beautiful Race Point beach, great for swimming and shore fishing. This beach is fully exposed to the Atlantic Ocean, and the surf can be heavy. 508-487-1256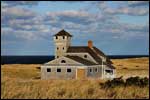 Old Harbor Life-Saving Station
at Race Point Beach off Race Point Road. Stretching 25 miles into the Atlantic and surrounded by shallow sand bars up to several hundred yards offshore, Cape Cod has been the site of more than 3,000 recorded shipwrecks. In 1872, the first federally built and staffed life-saving stations were created, nine on Cape Cod. In summer, rescue re-enactments are conducted on the grounds on Thursday evenings. 508-487-1256.
Map Link for this Scenic Drive Tour