Northern Berkshires: Nature, Art, Colonial Ways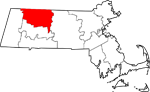 Northern Berkshires: Nature, Art, Colonial Ways
South Deerfield, Deerfield, Greenfield, Shelburne Falls, North Adams, Williamstown
This loop drive into the northeastern corner of Massachusetts travels through towns rich with art and history and nature museums, historic sites, and shopping. Total distance is 55 miles. The ideal plan would be to split the drive into two days of exploration. See more at
The Berkshires.
Map Link for this Scenic Drive Tour
South Deerfield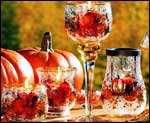 Yankee Candle Company
25 Greenfield Road is a beloved shopping adventure where you can stroll through the Bavarian Christmas Village and the Nutcracker Castle. Very popular for gift-buying at the Christmas season. Kids will enjoy making their own candles at the candle making museum.
-- Travel north on Route 5/10 about 3 miles to …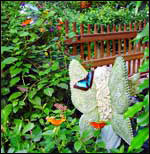 At the
Magic Wings Butterfly Conservatory and Gardens
at 281 Greenfield Road South Deerfield, open year-round, more than 3,000 butterflies enjoy their leisure and show off for visitors in an indoor tropical garden. Nice stop for winter or days of inclement weather. Enjoy walking in the garden and remember to stop at the gift shop here.
-- Travel north on Route 5/10 about 3 miles to …
Deerfield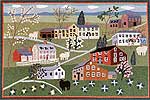 Historic Deerfield
is a village that, in effect, preserves Colonial New England New England life. There are 11 house museums; exhibitions of Paul Revere silver; special events for families, like open hearth cooking; nature walks; dining and shopping. Entertainment from the past for all ages. At the
Flynt Center of Early New England Life
at Historic Deerfield, visitors can peer into the daily lives of Colonial Americans through exhibits and a storage area called the Museum's Attic.
--- Travel north of Route 5/10 and cross to Route 2A for about 5 miles to …
Greenfield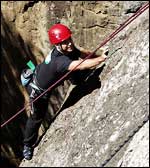 If the family is poised for more activity, or if you are headed northward after a relaxing tour of Deerfield, Rocky
Rocky Mountain Park
in Greenfield is fun for walking, bird-watching or peaceful contemplation (or for tiring children). The park consists of three trails that are extensions of a local and regional trail network.
-- Take Route 2 westward out of Greenfield and travel through Shelburne to Shelburne Falls, then take a right onto Main Street (Route 112) to reach the Bridge of Flowers.
Shelburne Falls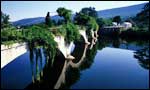 The
Bridge of Flowers
over the Shelburne River is open April 1 to October 30, displaying 500 varieties of flowers, vines, and shrubs that span across 400 feet. In 1908 the bridge served as a trolley bridge for the Shelburne Falls & Colrain Street Railway. After the railway company went out of business in 1928, the trolley bridge then transformed into a bridge of flowers, cared for by volunteer for eight decades.
-- Travel westward along Route 2, through the Mohawk Trail State Forest, about 26 miles to …
North Adams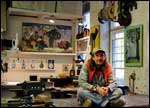 Lots of interesting places here to see art -- both historic and ultra-modern.
River Hill Pottery
at Eclipse Mill is a studio and gallery in a restored mill, featuring unusual woven clay baskets. Next, for a really different tone in the art world, visit
MASS MoCA
, the country's largest center for contemporary visual and performing arts, housed in a restored 19th century factory. Find shopping fun at
Berkshire Emporium & Antiques
, 59 Main Street, with more than 10,000 square feet of handmade items and two floors of antique furniture and nostalgic goods. (There's a bakery café, for your browsing break.)
-- Travel westward on Route 2 about 7 miles to…
Williamstown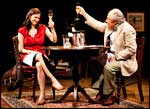 The leaders of cultural activities and visual and performing arts in Williamstown include
Williams College
, the
Williamstown Theatre Festival
, and
The Clark Art Institute
. The Theatre Festival happens at a Tony award-winning theater with summer performances featuring the finest American actors. The Clark is a fabulous art museum offering Impressionist, American and Old Master paintings in galleries bordered by 140 acres of woodland trails.
Shopping is fun at places like
Saddleback Antiques
, selling early American furniture, stoneware, primitives, folk art, Victorian items, rugs, and Civil War artifacts. For a lighter browse,
Ruby Sparks
offers fun, irresistible clothing and accessories. And
Where'd You Get That!?
sells gifts for the curious and brainy, like strategy games, puzzles, educational toys, humorous books, and cards.
Map Link for this Scenic Drive Tour