Cape Cod, Massachusetts
Shhh….Fall is Our Best Kept Secret!
---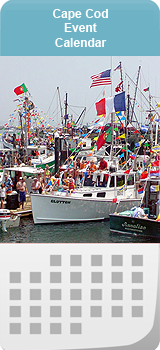 Find more great things to do and places to visit in this region.
Fall is every bit as glorious as spring and summer on Cape Cod, with possibly a bit less swimming and a bit more hearty beers, warm beverages, and crisp walks in your favorite bulky sweater. And the summer crowds have vanished! Plan a bike ride with view of the bay or ocean, look at works along the ever-lively Arts Trail, shopping in a village center, or take in any of the fun fall festivals. It's an ideal time for a game of golf early in the morning, a day of charter fishing, or a romantic dinner for two at dusk.
Put these festive dates on your Cape Cod to-do calendar: Cape Cod Scallop Fest on September 22-24, Yarmouth Seaside Festival on October 6-8, Cape Cod Brew Fest October 13, Wellfleet Oyster Fest October 13-14 and Halloween in Provincetown October 26-31. More events are atour Events Calendar at CapeCodChamber.org!"
And stay connected through the weekly Cape Cod Travel Guide blog! Get insider tips on whale watching, where to find the best lobster roll, the best bike rides, rainy day fun with your kids (or not), new attractions and upcoming events. Read all of the latest articles on Cape Cod in the "shoulder season" on our website, and tell us about your favorites on social media!
Come #FindYourCape today. For more information, visit www.CapeCodChamber.org or call 888-33CAPECOD. You can also find us on Facebook, Twitter, YouTube and Instagram at @VisitCapeCod!