Boston & Charlestown: Freedom Trail and Old Ironsides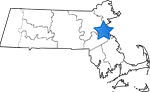 Boston & Charlestown: Freedom Trail and Old Ironsides
Boston and surrounding areas are sometimes called the Cradle of the Revolution because of the political agitation there before and during the Revolutionary War. This loop, of Boston and nearby Charlestown, can be done in a full day or preferably in two days, if you like to meander and browse, on foot or using city public transportation.
Map Link for this Scenic Drive Tour
Boston Tea Party Ships & Museum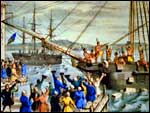 The
Boston Tea Party Ships & Museum,
at Congress Street Bridge in Boston, offers a place to relive the night in the Boston Harbor on December 16, 1773, when American Colonists took matters into their own hands to oppose British rule. The museum has interactive exhibits, two reenactment rooms with actors, a Tea Party Ship shop, and a Tea & Tavern Room. Its Visitor Information Center is a few feet away on the
Boston HarborWalk.
Freedom Trail Walk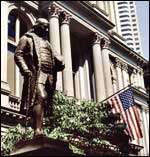 Freedom Trail Walk
from the
Boston Common
. Either with a costumed guide or on your own, step on to the Freedom Trail starting at the Boston Common, 139 Tremont Street, and walk the trail (designated by a red line along the sidewalk) past 16 places that played a role in the American Revolution. Enjoy the sights of the busy city in action as you explore places like the Massachusetts State House and the Old State House, King's Chapel and Old North Church, two burying grounds, Paul Revere's house, Faneuil Hall, and the site of the Boston Massacre. Guides offer historic background, but it is fun to explore on your own.
Black Heritage Trail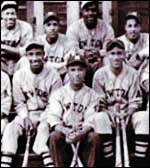 Black Heritage Trail
. The free African American community of 19th-century Boston, located on Beacon Hill, led the city and the nation in the fight against slavery. The 1.67-mile Black Heritage Trail is a walking tour that explores the history of this African American community. Guided walking tours are offered by the National Park Service daily in the summer. The last stop on the tour is the African Meeting House at 46 Joy Street, which also is the location of the
Museum of African American History
. The Abiel Smith School, the nation's first public school for African American children, is now an exhibit space and the museum store.
USS Constitution ("Old Ironsides")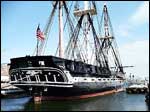 USS Constitution
("Old Ironsides"). The oldest commissioned warship afloat in the world became known as Old Ironsides during the War of 1812 when cannon balls from the British frigate HMS Guerriere bounced off the Constitution as if she were made of iron. She now sits at anchor at Bldg 5 of the
Charlestown Navy Yard
. Public tours of the ship are presented year-round by active-duty Navy sailors, but tour schedule varies by season (617-242-1812). The
USS Constitution Museum
at Bldg. 12 of the Navy Yard is open year-round and is great fun for kids.
Map Link for this Scenic Drive Tour